Accessibility
We strive to remove barriers and create fun experiences for everyone.
Cuyahoga Valley offers things to do that suit a wide variety of interests. There are accessible ways to enjoy almost every popular activity. We hope you Find Your Park here.

It helps to understand our basic geography. The national park is a skinny green space between two cities—with Cleveland, Ohio to the north and Akron to the south. Four routes run through the valley's flat bottomland, connecting us to these cities. People can paddle the Cuyahoga River, hike or bike the Towpath Trail, ride Cuyahoga Valley Scenic Railroad, and drive America's Byway. A network of other roads and trails branch up the valley walls to the highlands on either side. If you have limited mobility, the trails through the steep ravines are the least accessible. Fortunately, we have lots of other options.
Plan Your Visit
We understand that everyone experiences their disability differently. Explore the links on the right that describe your needs.
Park Brochure
The park's official brochure is available in two alternative formats: audio-only and Braille.
Contact Us
If you did not find answers to your questions in the section links, reach out to us at our general contact link here. We also welcome your suggestions for removing barriers and creating more enjoyable experiences.

The park's accessibility coordinator, Ranger Arrye Rosser, can provide trip-planning advice tailored toyour individual needs. Email her or leave a message at Boston Mill Visitor Center, 440-717-3890.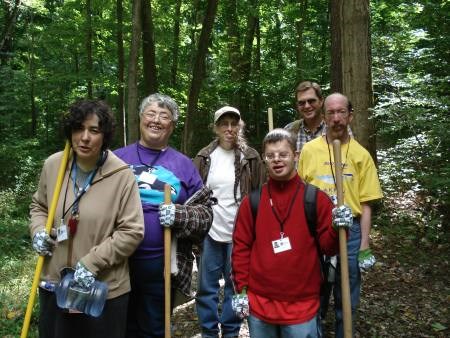 Want to get more involved? Consider becoming a Park for All Volunteer. Provide input on planning projects and find volunteer activities that match your interests and schedule. To learn more, contact the volunteer office at 330-657-2299 or volunteer@forcvnp.org.
Last updated: January 12, 2022