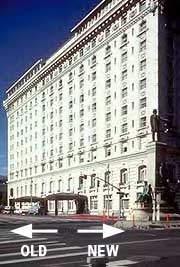 A new addition (right) that is an exact replica of the historic building (left) and cannot be distinguished from it, diminishes the historic character of the original building. Thus, this is not a compatible treatment. Photo: Richard Wagner

The Standards for Rehabilitation
allow for "alterations" as an integral part of the process of updating a historic building for a new or continuing use. Rehabilitation projects can involve a variety of changes to a historic building; some changes are more complex than others and require careful thought in the planning stages of a proposal. Incompatible rehabilitation work can result in loss of the 20% tax credit.
To help owners and developers select work approaches that will meet the Secretary of the Interior's Standards for Rehabilitation, helpful guidance is provided in this section for some of the especially problematic treatments for the exteriors and interiors of historic buildings.
Historic Building Exterior


Storefronts


Windows


New Additions


New Rooftop Additions


New Site Features


Adjacent New Construction on a Site
Historic Building Interior


Features, Finishes + Spaces


Floor Plan/Circulation Pattern


New Interior Features - Atriums

Note: Because each historic building comprises a unique set of circumstances (significance, condition, setting, and use), the guidance for each topic is, of necessity, general in nature. The specific work selected to bring a rehabilitation project into conformance with the Standards may vary. Each rehabilitation project is reviewed on a case-by-case basis.