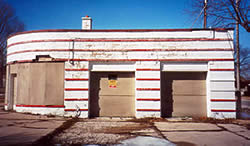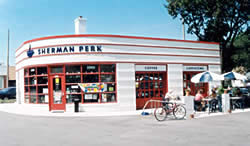 This vacant gas station (above) was rehabilitated for use as a coffee shop (below). Photos: Bob Olin, Sherman Perk

What is Rehabilitation?
"Rehabilitation" is defined in the regulations governing Historic Preservation Certifications (36 CFR Part 67) as:
The process of returning a building or buildings to a state of utility, through repair or alteration, which makes possible an efficient use while preserving those portions and features of the building and its site and environment which are significant to its historic, architectural, and cultural values.
Rehabilitation not only encourages the repair of historic buildings, it allows appropriate alterations to ensure their efficient contemporary use. Examples include the continued use of hotels, stores, and private residences, as well as the adaptation of vacant schools into apartments, warehouses into offices, and industrial buildings into commercial space.

Note: Because each historic building comprises a unique set of circumstances (significance, condition, setting, and use), the specific work selected to bring a rehabilitation project into conformance with the Standards may vary. Each rehabilitation project is reviewed on a case-by-case basis.