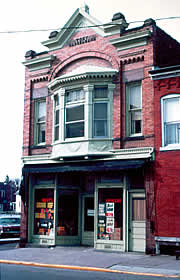 Retain and preserve remaining functional and decorative historic features, such as display windows, signs, doors, transoms, lower window panels, and cornices.
Pay close attention to the historic proportions of the storefront and how the individual architectural elements relate to each other, such as the height of transoms, amount of window glazing, width of columns or pilasters, recessed primary and secondary entrances, and lower window panels. Photo: NPS files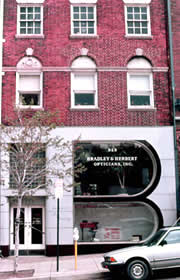 Retain later storefronts that have acquired significance.
Replace deteriorated or missing features based on remaining physical evidence.
Identify the remaining physical evidence. Use this information to determine the size and pattern of transoms and location of the historic entrances. Evidence uncovered during investigations may help provide the necessary documentation to design an appropriate storefront.