Frequently Asked Questions
General Information
Do I need an entrance pass?
Yes, you need either an Acadia or National Park/Federal Lands Pass. There are several different types of passes. Standard Acadia passes (valid for 7 days) are $35 per vehicle. You can purchase passes online or at information centers throughout the park.
See also Fees for specific locations and review all passes.

Where is the park located and what is the travel distance?
Acadia is located on Mount Desert Island along the coast of Maine. The park is 264 miles from Boston and 50 miles from Bangor, Maine.
See also Maps
What is the best driving route to take to Acadia from the south?
There are two routes:
Take I-95 north to Augusta, Maine; from Augusta take Route 3 east to Ellsworth and on to Mount Desert Island.
Take I-95 north to Bangor, Maine; from Bangor take Route 1A east to Ellsworth; from Ellsworth take Route 3 to Mount Desert Island.
See also Directions
Do I need a car to visit Acadia National Park?
You do not need a car when the Island Explorer Shuttle Bus is operating (late June to early October). Visit the Island Explorer website for specific details on car-free vacation options.
How many days should I spend in Acadia?
An average stay here is three to four days.
Is there any lodging in the park?
The park has two campgrounds on Mount Desert Island, one campground on the Schoodic Peninsula, and five lean-to shelters on Isle au Haut. There are many types of accommodations in nearby towns. Contact area Chambers of Commerce for lodging information.
What is there to do in Acadia?
There are many miles of shoreline to explore, 125 miles of hiking trails, and 45 miles of carriage roads. Kayaking and canoeing are popular activities. Two beaches offer salt water or fresh water in which to swim. A variety of ranger-led programs will introduce you to Acadia's diverse natural and cultural history.
See also Things to Do
What ranger-led activities are available?
Between mid-May and mid-October park rangers offer hikes, walks, boat cruises, talks, evening amphitheater programs, and children's programs. They also provide opportunities to view peregrine falcons and raptors.
See also Ranger Program Descriptions
What is there for children to do in Acadia?
Children of all ages can participate in the Junior Ranger Program. Many of the ranger-led programs are specifically designed for children and families.
See also Kid & Family Programs
Are pets allowed in the park?
Pets must be leashed and attended or otherwise physically restrained at all times. Pets are allowed in all park locations except Sand Beach, Echo Lake Beach, Isle au Haut campground, ladder trails, public buildings, and lakes that are public drinking water supplies. Please do not bring pets to ranger-led activities. Service dogs or sight-guiding dogs may accompany their owner to all park locations unless the area is closed to all visitors.
See also Pets
When does the Park Loop Road open and close each year?
The Park Loop Road closes on December 1, unless there is a significant snowfall that forces an earlier closure. The road reopens on April 15 if weather permits. A two-mile section of the road, one of the most scenic sections, remains open all year.
See also Directions
How long is the Park Loop Road and how long will it take to drive it?
Planning for three to four hours, including some stops, is recommended for the entire 27-mile road. An audio tour of the Park Loop Road on CD is available for purchase at Hulls Cove Visitor Center.
Where can I bicycle in the park?
There are 45 miles of carriage roads open to bikers and walkers. The Park Loop Road is also open to bikers, but there is no shoulder on the road. Biking the Park Loop Road is not advised during the busy part of the day (generally 10 am to 4 pm). You must bike with the traffic flow on the one-way section of the Park Loop Road. Bikes can be rented in nearby towns.
See also Bicycling
When does the Island Explorer Shuttle Bus run and where does it go?
The Island Explorer operates from late June and through Columbus Day. It travels between Bar Harbor, Northeast Harbor, Southwest Harbor, and various locations in the park.
See also Directions
What if I've lost something while visiting Acadia?
For items lost near Jordan Pond House, call (207) 276-3316. For all other areas, call (207) 288-3338 option 4 and option 4 again. When leaving a message please include the following information:
name

mailing address

telephone number

item lost

item description: name of manufacturer, model number, color, and any other specifics that will help us identify your property

date lost

location item was lost
You can also e-mail us.
If you wish to leave a report in person, stop by the Lost and Found Office located at Park Headquarters Dispatch Office.
How can I get more information about the area?
Local Chambers of Commerce can provide information about lodging, dining, activities, and more.
Vehicle Reservations

Vehicle reservations are required for Cadillac Summit Road from May 24 through October 22, 2023.

May 24 through June 30:
100% of the Cadillac Summit Road Sunrise and Daytime vehicle reservations will be available for purchase at 10:00 am (ET) two days in advance of the reservation date. This is a temporary arrangement that allows the National Park Service flexibility to close the Cadillac Summit Road for repaving. The dates for repaving are based on the weather, and vehicle reservations will not be sold for those days.

July 1 through October 22:
30% of the Cadillac Summit Road Sunrise and Daytime vehicle reservations will be available for purchase 90 days in advance of the reservation date.

70% of the Cadillac Summit Road Sunrise and Daytime vehicle reservations will be available for purchase at 10:00 am (ET) two days in advance of the reservation date.
How do I make a vehicle reservation?
Vehicle reservations cost $6. They are sold online in advance at Recreation.gov. They are not available for purchase at the park.

Please print or save a digital copy of the vehicle reservation with the confirmation QR code, which will be scanned to verify the reservation. Connectivity is unreliable in the park.
Is there a time limit on a vehicle reservation?
No. Vehicle reservations provide a timed entry, but do not require a departure time until 10 pm, when the road closes to vehicles.
If you leave the area with your vehicle, you need another reservation to re-enter.
Why are vehicle reservations required?
Acadia is among the most popular and smallest national parks in the U.S. with more than 4 million visits a year. Visitation has surged almost 60 percent in a decade, leading to severe crowding at many park destinations.
In 2019, the National Park Service completed a comprehensive Transportation Plan that may take a decade or longer to implement fully. The vehicle reservation system is one aspect of this larger plan to reduce severe traffic and parking congestion so visitors can plan ahead and have a more enjoyable visit.
Camping
There is no backcountry camping, "out-of-bounds" camping, overnight parking, or Winter Camping allowed anywhere in Acadia. There are many types of accommodations in nearby towns.

There are four campgrounds in Acadia:
Blackwoods Campground

Seawall Campground

Schoodic Woods Campground

Duck Harbor Campground on Isle au Haut
See Campgrounds for detailed information.
What is the difference between the four campgrounds?
Blackwoods is located on the east side of Mount Desert Island and closer to major portions of the park, carriage roads, and Bar Harbor.

Seawall is on the west side of Mount Desert Island, which is less crowded.

Schoodic Woods is our newest campground and is located on the Schoodic Peninsula.

Duck Harbor is located on the more remote island of Isle au Haut and is only accessed by boat.
Are there water and electric hookups in the park campgrounds?
Schoodic Woods Campground has water and electric hookups. Blackwoods and Seawall Campgrounds do not have hookups but each has a dump station.
Does my camping fee cover the entrance fee into the park?
No. The two fees are separate.
Is there backcountry camping in Acadia?
No, backcountry camping is prohibited because the park is very small, and the environment too fragile.
Are there private campgrounds on the island?
Yes, there are about 12 private campgrounds scattered around the island.
History
What is the origin of "Acadia?"
The term "Acadia" derives from historical descriptions first used by fishermen and traders brought across the Atlantic Ocean to France by explorers in service to Henry IV.
In our own day, many believe that the term is derived from the native Mi'kmaq term akadie or cadie, meaning a piece of land (generally with a positive connotation), which was rendered l'Acadie by the French who explored and settled present-day Maine and Maritime Canada. George B. Dorr's inquiries led him to conclude that "the word Acadia has never had a place in English geographic usage…the French word was Acadie, not Acadia.. [and] that after the treaty of Utrecht in 1713…the name even in the French form creased to apply to any region except historically."
In 1929, NPS Director Stephen T. Mather embraced the historic lineage of the Native American term, emphasizing that in renaming Lafayette National Park the federal government now prioritized a geographic term that was in use "before recorded explorations of the area by either the French or the English."
Is it Mount Desert Island or Mount Dessert Island?
Samuel de Champlain, a French navigator and cartographer, sailed by Mount Desert Island in 1604. He named it "Isles des Monts Desert," with the accent on the last syllable, as it is in the French language. He wasn't implying that it was a desert. The phrase means "island of barren mountains." That's why it's pronounced both as it is spelled and as the French meaning would be pronounced (dessert).
Park Regulations
What park regulations should I know?
There are a number of park regulations that you should know to help make your trip more enjoyable. Please Park Rules and Regulations
Weather
What is the weather like?
Acadia's weather is largely a product of latitude and marine influences. Mount Desert Island temperatures are more moderate than those of inland Maine. The Maine coastal climate has been ranked second only to the Pacific Northwest in annual precipitation, which occurs in every form. Ice storms are regular in winter and early spring, and rain is frequent in every month. Fog is common during June, July, and August.
When are blackflies and mosquitoes common at Acadia?
Blackflies are usually most numerous between mid-May and mid-June, but that varies each year. They breed in running water, so they will be more prevalent if it is a rainy spring. Mosquitoes vary depending on the weather and location.
What is the best time to see fall foliage?
The leaves start turning to fall colors in September, but the peak time is usually mid-October—anywhere from the first week to the third week of the month. The state of Maine provides foliage information online.
How much snow does Acadia receive?
Average snowfall in Acadia is about 60 inches.
What winter activities are there?
Hiking mountain trails in the winter is not recommended. Trail markers and icy patches are obscured by drifting snow, creating very dangerous conditions for hikers. Cross-country skiing and snowshoeing are popular when there is sufficient snow. Cross-country skis, snowshoes, and ice skates can be rented in Bar Harbor. There are no snowmobile rentals on the island.
See also Winter Activities
Wildlife
Where can I see puffins?
Puffins are seen off the coast of Maine. You must take a boat to one of these islands. Check with area Chambers of Commerce for boating companies that travel to these islands. Puffins aren't seen on or from Mount Desert Island.
Is Acadia a good birding park?
Yes. Acadia is an excellent park to watch spring warblers, sea ducks, and migrating birds of prey. Ranger-led birdwalks are offered from late spring to mid-fall. Peregrine falcon watch and hawkwatching programs are also available.
See also Birdwatching
Are there moose or bears in Acadia?
Both occur on the island, but are rarely seen.
Where can I see seals and whales?
Seals are best seen from boat cruises that leave from town harbors, including the park's four ranger-narrated boat cruises. Whale-watching trips are offered out of Bar Harbor.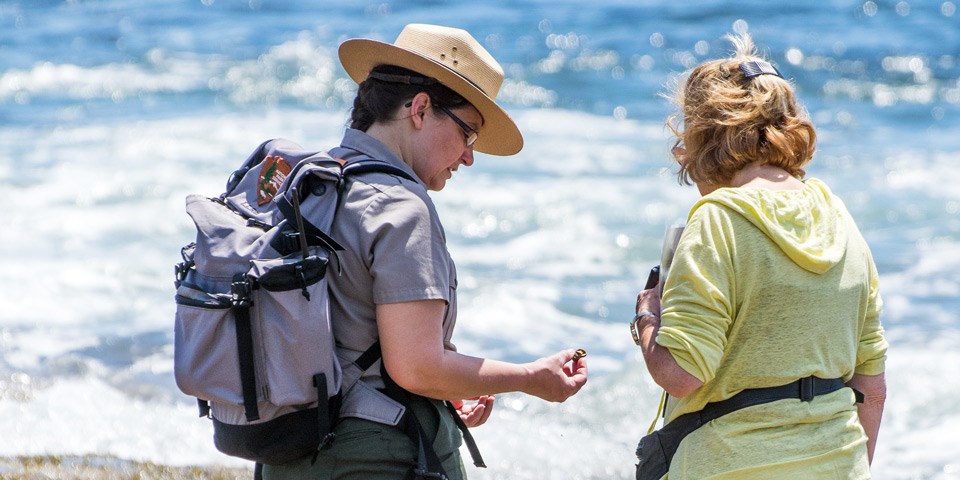 Last updated: November 20, 2023