Visiting in Winter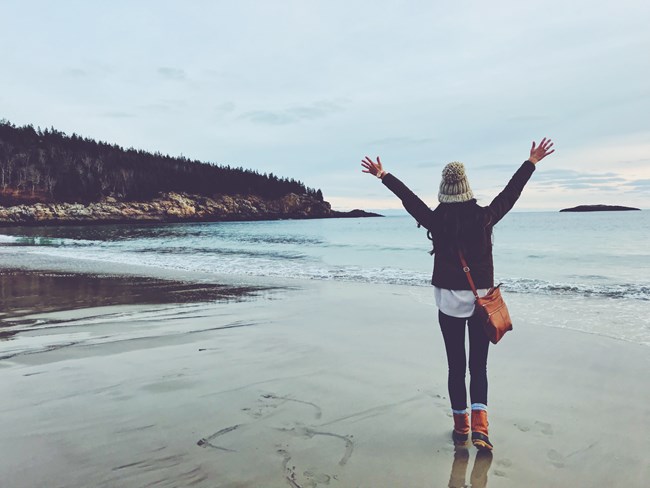 Getting Started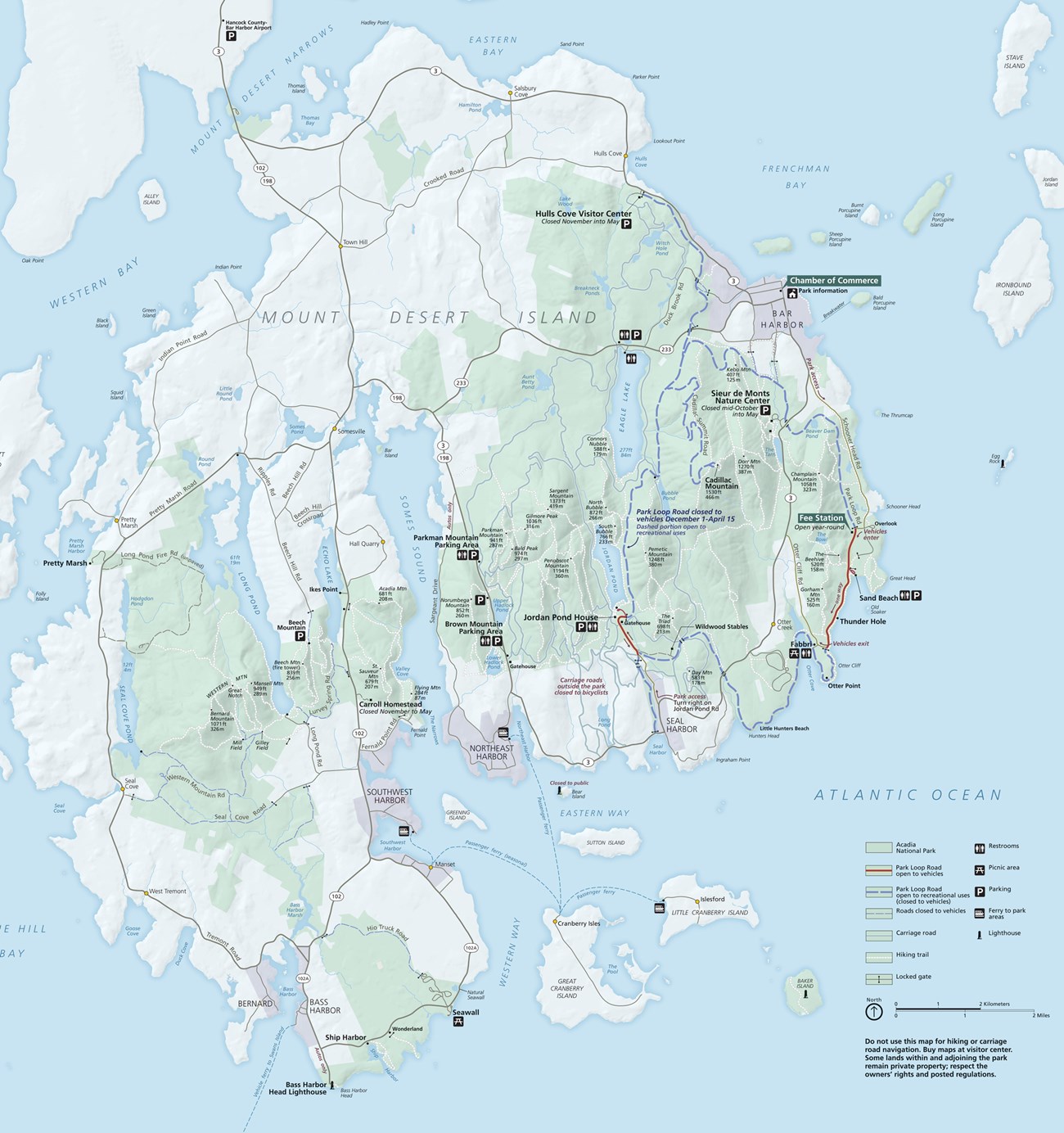 Scenic Drives
Although state and county roads on Mount Desert Island are plowed throughout the winter, only two short sections of the Park Loop Road are open to vehicles in winter, with the rest serving as designated snowmobile routes. Park roads are plowed and sanded only during daylight hours. Be prepared to encounter heavy snow and icy conditions.
Coastal Scenic Drive:
(Includes shoreline from Sand Beach to Thunder Hole and Otter Cliff.)
Follow Route 3 one mile south from downtown Bar Harbor. Take a left at Schooner Head Road and continue for 2.5 miles. At the intersection, turn right. At the next intersection after 0.1 mile, turn left onto Park Loop Road and into the entrance of a park fee station, which is open year-round for full-service sales of all types of park entrance passes. The next two miles of the Park Loop Road are open to one-way traffic along the scenic North Atlantic coastline. All vehicles must exit at Otter Cliff Road. The entrance to the Fabbri Picnic Area, with a restroom maintained year-round, is about 0.1 mile on the left. Continue west along Otter Cliff Road to Route 3 and turn right to return to Bar Harbor.
Jordan Pond Area:
Follow Route 3 from Bar Harbor to Seal Harbor. In Seal Harbor, take a sharp right turn at Jordan Pond Road. In about a mile, this road joins a short section of the Park Loop Road which remains plowed to the south end of Jordan Pond. Exit by backtracking.
Sargent Drive:
Sargent Drive skirts the shore of Somes Sound. Carved by glaciers, the steep granite walls drop to the sea forming a fiard, a coastal inlet similar to a fiord. Follow Route 198 toward Northeast Harbor. Continue past the junction of Route 233, driving 1.2 miles. Turn right at a sign indicating Sargent Drive.
Public Restrooms
Seven public restrooms are maintained across the park through winter –
Brown Mountain
Eagle Lake boat launch
Eagle Lake carriage road
Fabbri Picnic Area
Jordan Pond
Parkman Mountain Trailhead
Sand Beach
Winter Hiking
Have fun, but please put your safety first while exploring Acadia. Your safety depends on your own good judgment.

Expect unfavorable conditions and early darkness. Be prepared to turn back. Please do not rely on your phone as a map or a flashlight. Buy a detailed trail map.
Trails routinely become icy and snow packed. Routes that may be challenging in summer tend to be highly ill-advised in fall and winter. Instead, consider exploring Ship Harbor, Ocean Path, and carriage roads.
Crampons, cleats, ice grippers and other traction footwear may allow you to travel much more safely on icy trails without contributing to trail widening, but they can have the opposite effect and be dangerous walking on slick granite surfaces. Trekking poles are highly encouraged.
Guard against frostbite. Dress appropriately for conditions. Extreme temperatures and windchill can damage exposed skin. Beware of hypothermia, a condition where exposure to cold causes the body's inner core to lose heat. Untreated, hypothermia leads to mental and physical collapse.
Skating is possible on park lakes and ponds, but they rarely freeze smoothly and are seldom free of snow. You may encounter open water on larger lakes and ponds. Please be sure to check ice thickness before venturing out.
Dog sleds, dog carts, and skijoring with dogs are prohibited due to the 6-foot leash requirement.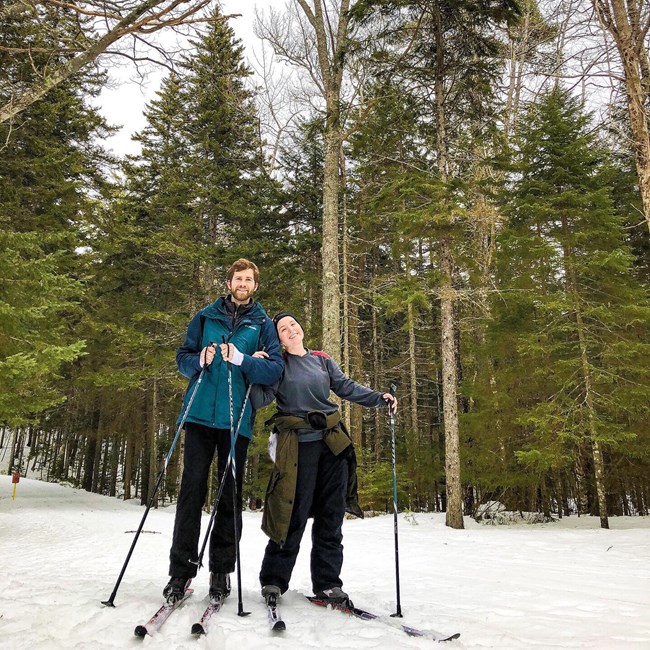 Cross-Country Skiing and Snowshoeing
Forty-five miles (72 km) of carriage roads in the park offer the perfect setting for cross-country skiing and snowshoeing. You may also cross-country ski on unplowed park roads. Be careful, as these are designated snowmobile routes.
Skiing on hiking trails can be difficult or impossible. Light snowfall may obscure trail routes. Usually, snow is too shallow to cover roots and rocks. Many trails are steep, and ice floes may block your path.
Ski equipment and rentals are available in local communities.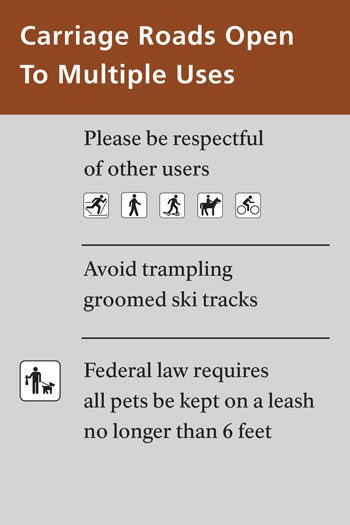 Carriage Roads Are Open To Multiple Recreational Uses
Permitted recreational uses include walking, running, bicycling, snowshoeing, and skiing.
Volunteers set tracks and groom sections of the carriage roads for cross-country skiing when snowfall depth exceeds six inches, and the roadbed is frozen.
Please be respectful of other users
Avoid trampling groomed ski tracks
Federal law requires that all pets must be kept on a leash no longer than 6 feet.
Looking For Information About Current Conditions?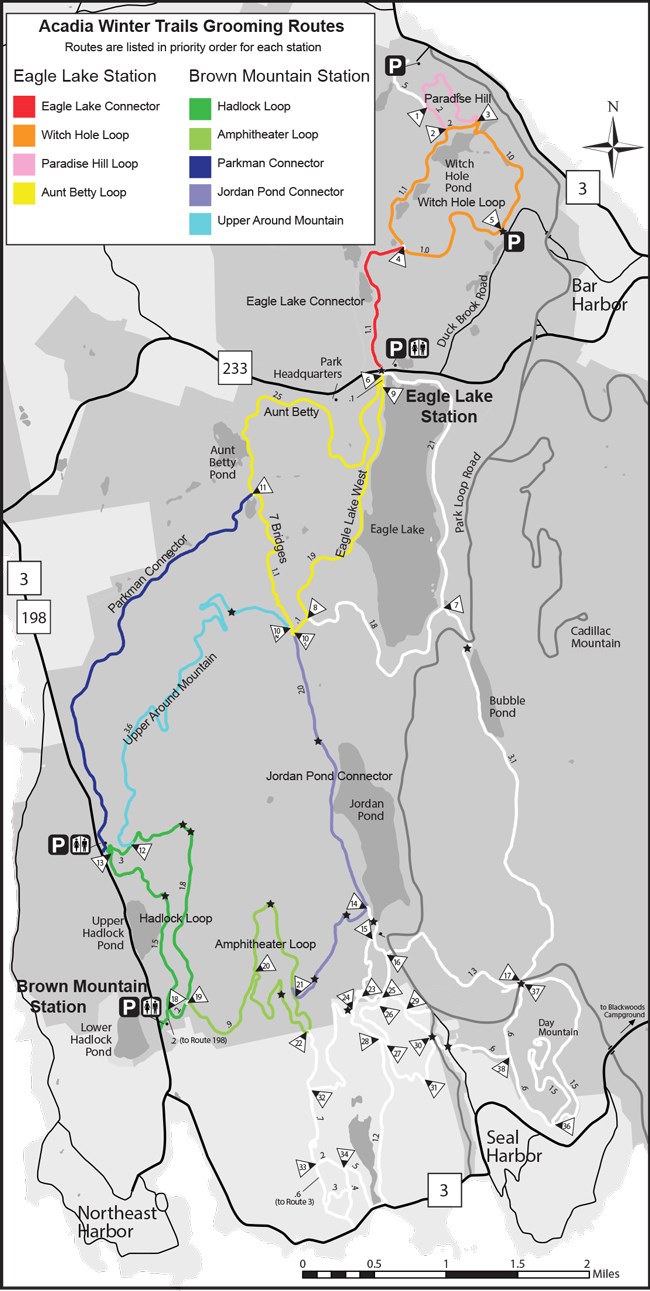 Ice Fishing
Ice fishing is a popular activity in Acadia when weather conditions permit. Freshwater fishing requires a state license, which can be obtained at town offices, local businesses, and online at www.maine.gov/ifw/

See Fishing for more information.
Dog Sledding and Skijoring
The use of dog sleds, dog carts, and skijoring with dogs is prohibited in the park due to the 6 foot (1.8 m) leash requirement per 36 CFR § 2.15(a)(2).
Snowmobiling
Snowmobile travel is allowed on the 27-mile (43 km) Park Loop Road system (including the road up Cadillac Mountain) and most fire roads. Maps of the east side and west side show snowmobile routes and parking.
Snowmobile regulations include:
All Maine state snowmobile laws are enforced in the park. Maine registration is required. As a reminder, tracked side-by-side (ATVs) are not permitted in Acadia National Park.
Snowmobiles are not allowed on carriage roads, except for the east side of Eagle Lake to make the connection to the Park Loop Road at Bubble Road.
Snowmobiles are not permitted off-road or on any hiking trails.
Maximum speed is 35 mph (56 km/h) on Park Loop Road and 25 mph (40 km/h) on all unpaved roads.
Yield to anyone not on a snowmobile (skiers, snowshoers, and hikers).
Turn on your white headlight and red tailight 1/2 hour after sunset to 1/2 hour before sunrise, and whenever visibility is less than 500 feet (152 m).
Towing people on sleds or skis is prohibited.
It is illegal to operate snowmobiles while under the influence of alcohol or drugs.
Drivers must be an least 14 years old to operate snowmobiles in the park.
Anyone under 18 years old must wear approved protective headgear.
Snowmobilers are encouraged to utilize the Hulls Cove Visitor Center parking lot to access the winter snowmobile routes. Snowmobile rental is not available on Mount Desert Island.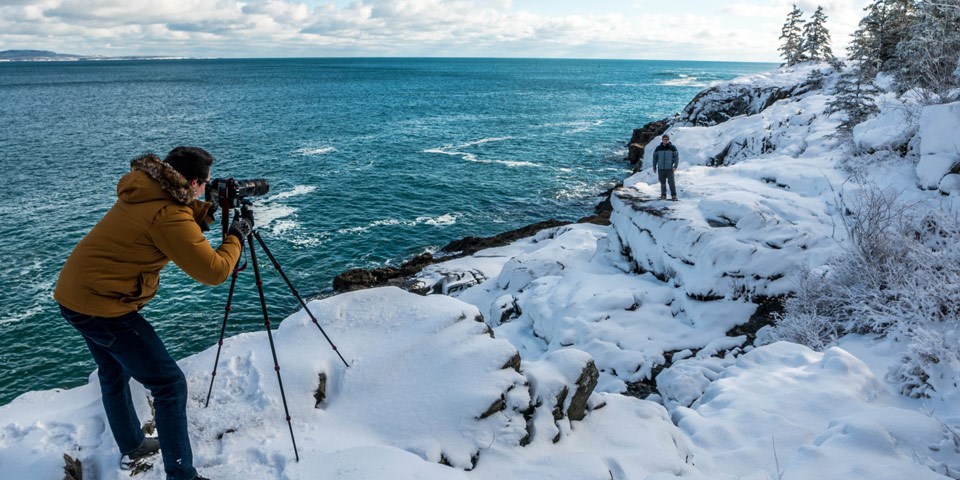 Last updated: April 13, 2023