Carriage Roads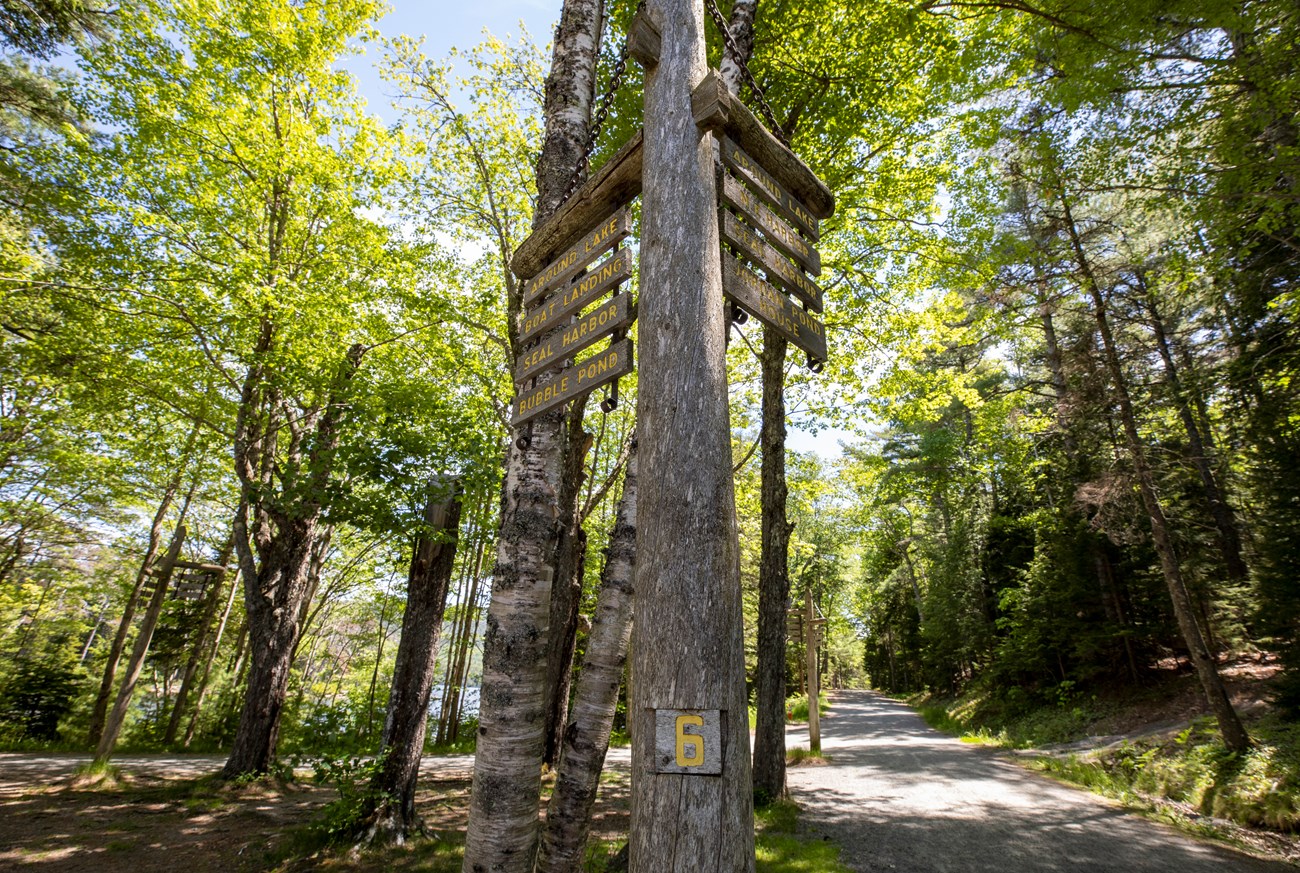 Travel With The Landscape
Forty-five miles of rustic carriage roads, the gift of philanthropist John D. Rockefeller Jr. and family, weave around the mountains and valleys of Acadia National Park. Rockefeller, a skilled horseman, wanted to travel on motor-free byways via horse and carriage into the heart of Mount Desert Island. His construction efforts from 1913 to 1940 resulted in roads with sweeping vistas and close-up views of the landscape.

The roads were built to preserve the line of hillsides and save trees, align with the contours of the lands, and take advantage of scenic views. Approximately 16 feet wide, the carriage roads are an example of broken-stone roads commonly used at the turn of the 20th century. Gate lodges act as impressive welcomes to the carriage road system, stone-faced bridges span streams, waterfalls, motor roads, and cliff sides. Granite coping stones used as guardrails line the roads, affectionately called "Rockefeller's teeth."

Today, carriage roads have multiple-user groups as they did in the past. Pedestrians, bicyclists, and horse-drawn carriages share in the beauty, access, and safety of these auto-free roads across the park. Certain roads are extremely popular, so exercise courtesy and caution, and avoid surprise encounters.
Same Roads, Different Recreation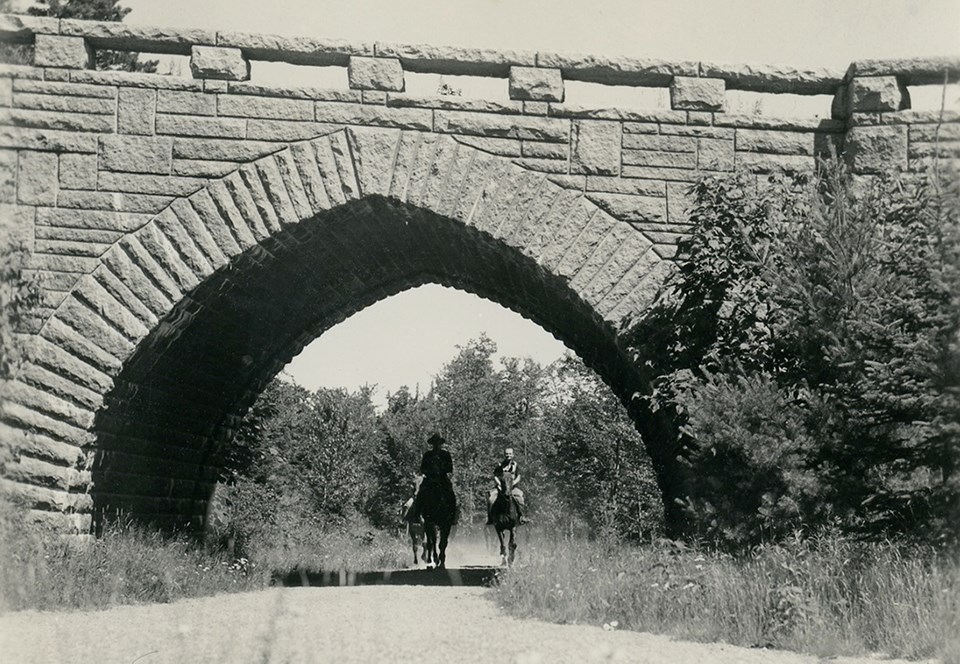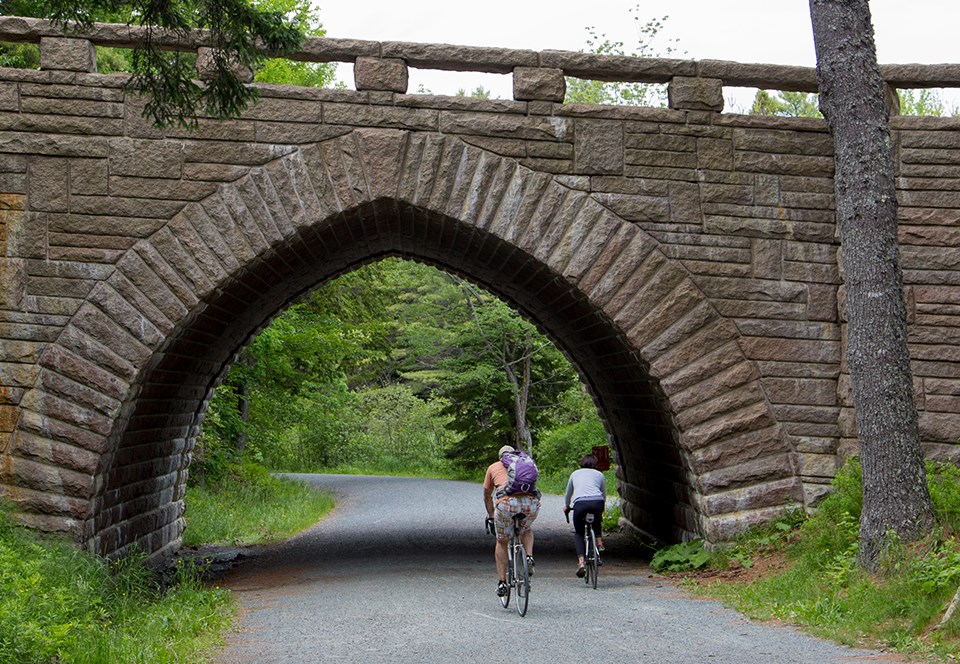 Left image
Eagle Lake Carriage Road in 1939
Credit: Courtesy National Park Service, Acadia National Park
Right image
Eagle Lake Carriage Road in 2019
Credit: Photo by Nathaniel X. Boëchat, Friends of Acadia, NPS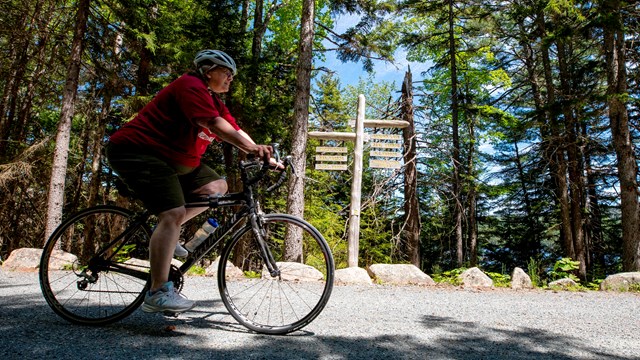 Bicycling
Explore the 45 miles of historic carriage roads on two-wheels.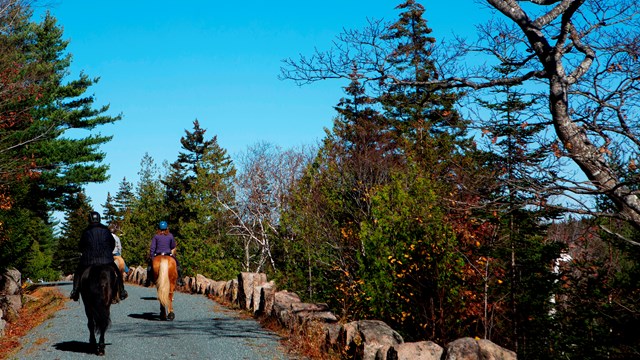 Horseback Riding & Carriage Road Tours
Learn more about how you can enjoy Acadia via a carriage ride with Wildwood Stables or on a horse of your own.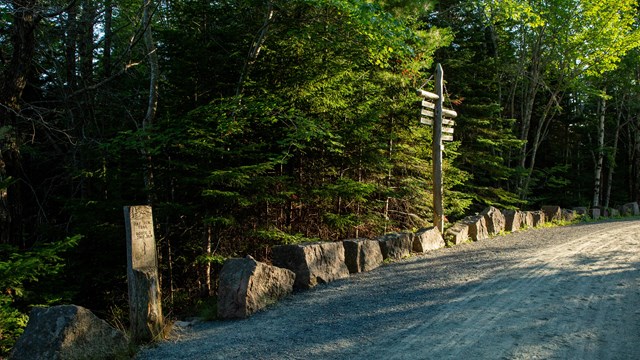 Hiking
Link together carriage roads and intersecting hiking trails to create longer loops around the park.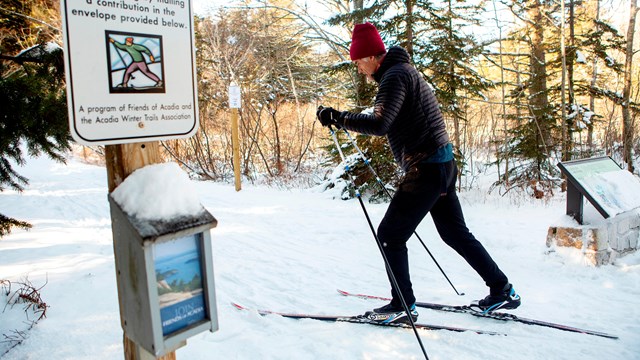 Winter Activities
During the winter months, explore Acadia's carriage roads by cross-country skiing or snowshoeing.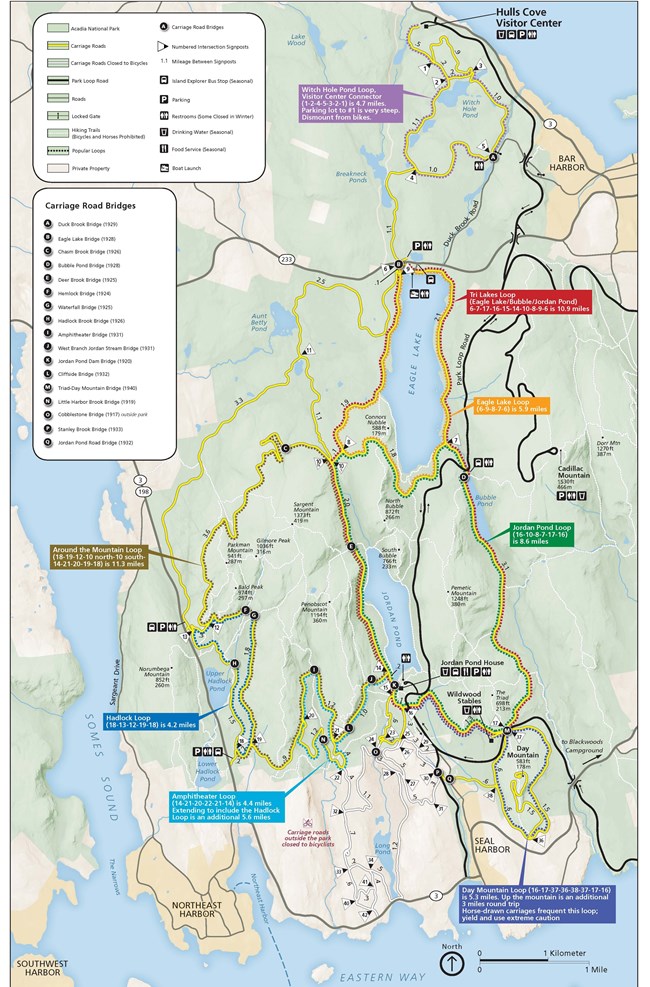 Rules and Safety Advisories
Use the Carriage Road Map for general orientation and review the rules and safety guidance below.
Carriage roads are closed to motorized vehicles, including Class 2 and 3 E-bikes, Segways, and Hoverboards. Exceptions are provided for individuals with disabilities.

Bicyclists yield to all users. Everyone yields to horses, which can be startled by suddent movements.

Bicycles are prohibited on privately owned carriage roads.

Hiking trails are closed to bicycles and horses.

Federal law requires that all pets must be kept on a leash no longer than 6 feet.

Horses are prohibited on the Witch Hole Pond and Paradise Hill Loops and the Eagle Lake Loops, except between intersections 7 and 8.

Use caution around heavy machinery and trucks used for carriage road maintenance.

Respect closures during spring mud season while underlying gravel remains vulnerable to ruts, potholes, and erosion.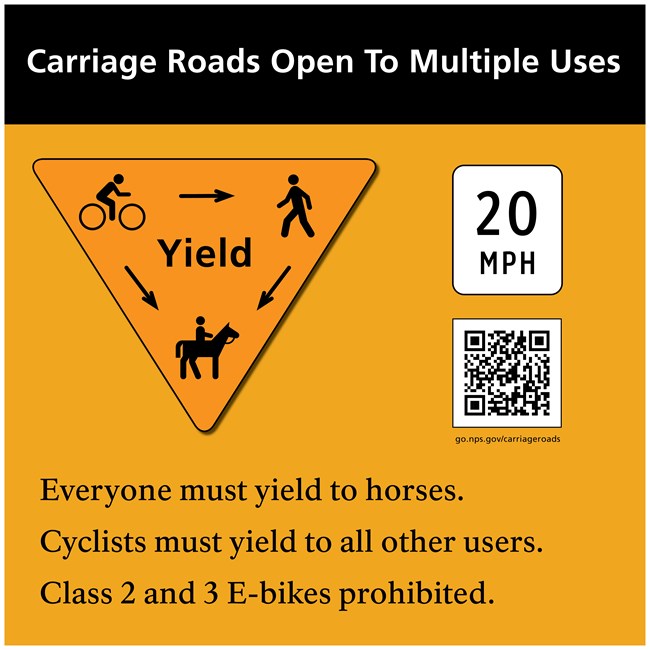 .
Learn More About Acadia's Historic Carriage Roads
Last updated: May 26, 2023