Avoiding Crowds At Peak Season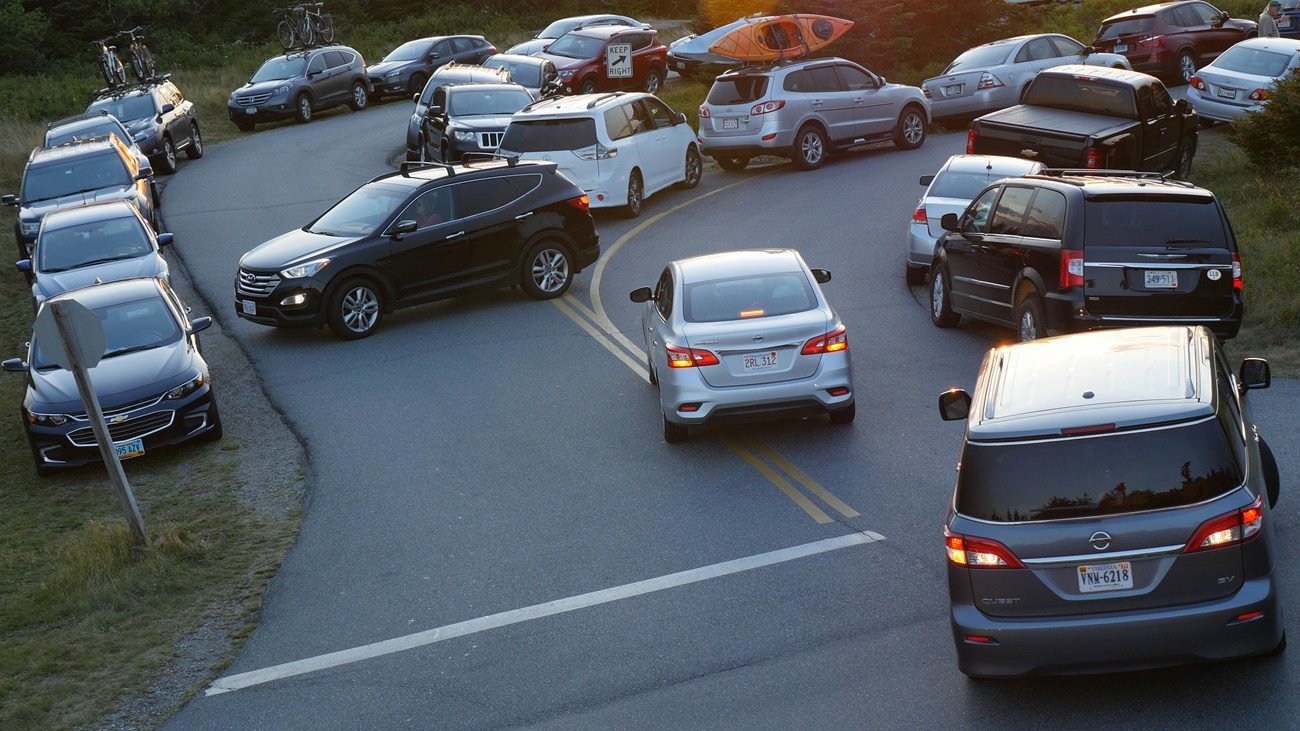 .
Tips To Reduce Stress from Traffic Congestion

During peak visitor season at Acadia National Park, typically from June into September each summer, parking is limited and tends to fill early each day. From May into October, access to the Cadillac Summit Road is managed by Vehicle Reservation System.

Visitors are encouraged to plan carefully and use the fare free Island Explorer shuttle service to access the Park Loop Road, carriage roads, and hiking trails.
Always visit Acadia with a back-up plan

Don't expect to find a parking space at popular sites

Park legally and responsibly

If a parking lot is full when you arrive, choose a new destination, try again at another time of day, or use a different form of transportation

The most congested areas that routinely fill to capacity are:
Jordan Pond and vicinity
Park Loop Road, especially between Sand Beach and Fabbri picnic area
Sand Beach parking lot, which is routinely full by 9 am
Eagle Lake Carriage Road Access, from Route 233
Acadia Mountain parking on Route 102
Echo Lake parking area
All of these areas, except Cadillac Summit, can be reached by using the Island Explorer shuttle bus system.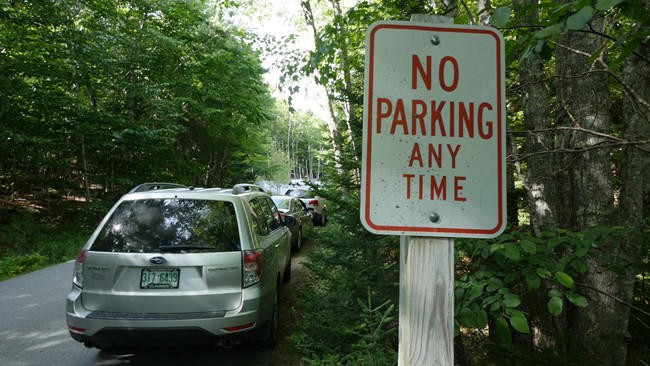 Park Legally and Responsibly
If you explore with a personal vehicle, please park legally and responsibly. Certain areas along the one-way section of the Park Loop Road allow right-hand lane parking. When parking in designated areas, make certain that all wheels remain on the pavement. Roadside parking outside of designated areas is prohibited. Oversized vehicles, such as recreational vehicles (or vehicles pulling trailers) cannot be accommodated in certain areas.
Low-Impact Transportation Options
Arrive before 8 am or after 5 pm. Most vehicle congestion occurs midday.
Avoid long lines by buying your Entrance Pass online, and printing a copy prior to your arrival.
Leave your car where you are staying, then walk on a village connector trail, ride your bike, or take the fare-free Island Explorer bus into Acadia.
Enjoy a car-free biking experience by using Acadia's carriage roads. Wear a helmet and watch your speed for a safer ride.
Enjoy a summit view by exploring one of Acadia's historic Hiking Trails. Stay on established trails and wear sturdy, enclosed hiking shoes for a safer hike.
Most ranger programs are now scheduled early or late in the day to avoid mid-day congestion, and to maximize parking availability. Some programs allow you to "drop-in" for short interactions with a ranger as you travel through the busiest areas of the park. Explore Ranger Program Descriptions and find dates and times with an online Calendar.
Experience Special Places in New Ways
Don't miss Acadia at night. Seek out a moonrise over a beach, shooting stars over a mountain, or owl calls echoing into the stillness of a forest trail.
Avoid Cadillac Mountain crowds at sunrise and sunset by picking a new place or new way to experience these magical moments. Watch sunrise along Ocean Drive or take a sunset boat ride.
Do your favorite things at new times of the day. Visit Acadia early morning or late afternoon to find less-crowded experiences.
Visit in winter, spring, or late fall, to experience Acadia at its most peaceful.
See Acadia in new ways, from a boat, an outer island, or another place new to you.
Make It a Maine Experience
Make Maine your destination, not only Acadia. Find the experiences and meet the people that make this place uniquely Maine.
Spend the middle of the day, the park's busiest time, exploring activities around Acadia in museums, libraries, historical societies, gardens, galleries, gift shops, and other local venues.
Doing It Without A Car
Take a Ranger-Guided Bicycle Tour or Boat Cruise
Baker Island Cruise
Carriage Road Bike Tour
Frenchman Bay Cruise
Islesford Historic and Scenic Cruise
Hire a Local Taxi, Uber, or Lyft


From Bar Harbor
Walk to Compass Harbor
Walk to Bar Island, at low tide only
Walk to Great Meadow
Walk to the Nature Center, Wild Gardens, Abbe Museum at Sieur de Mont Springs
Explore nearby Hiking Trails

Beachcroft and Champlain South Ridge
Dorr Mountain South Ridge Loop
Jesup Path and Hemlock Road Loop
Gorge and A Murray Young Path Route

Ride a ferry to the Schoodic Peninsula to explore with your bicycle, or you can get around on Island Explorer Bus #8
From Blackwoods Campground:
Walk to Otter Cove
Explore nearby Hiking Trails

Ocean Path
Cadillac Mountain South Ridge, to bus stop at Sieur de Mont Springs
Pemetic Mountain Loop

Take the Island Explorer Bus to Village Green, Sand Beach, or Sieur de Mont Springs
Make the Most of Island Explorer Routes
Leave your car where you are staying or park and ride from the Hulls Cove Visitor Center.

Learn more about the Island Explorer and park destinations served by bus routes.
No eBikes or motorized vehicles are allowed on Island Explorer buses.
Last updated: March 20, 2023