Pets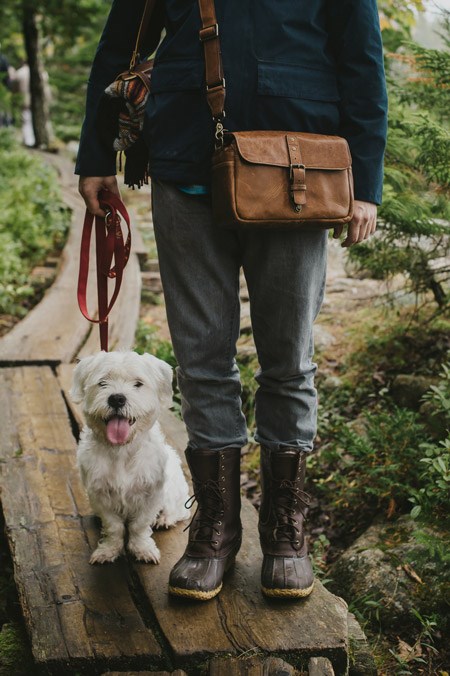 Enjoying Acadia With Your Pet
All pets must be restrained on a leash no longer than 6 feet (2 m).

Pets should not be left unattended. Summer sunshine poses a threat to pets in vehicles.

Pet owners are responsible for removing pet waste from campground, picnic areas, parking lots, roads, and other developed areas.

Service Animals may accompany their owners to all park locations.
Pet-Friendly Areas
There are 100 miles (161 km) of hiking trails and 45 miles (72 km) of carriage roads in the park where pets are permitted.

Blackwoods, Seawall, and Schoodic Woods campgrounds permit pets.

On Isle au Haut, pets are permitted for day hiking only.
Restricted Areas
Most lakes in the park are public water supplies. Pets and people may not swim in them.

Sand Beach (June 15-Sept 8) and Echo Lake (May 15-Sept 15) are off-limits to pets.

Public buildings

Ranger-led programs

Wild Gardens of Acadia (Sieur de Monts)

Duck Harbor Campground
Park Trails Closed to Pets
Precipice

Beehive

Ladder Trail to Dorr Mountain

Beech Cliffs Trail

Perpendicular Trail (Mansell Mountain)

Jordan Cliffs Trail between Penobscot East Trail and the carriage road
Park Trails Not Recommended For Pets
Acadia Mountain

Flying Mountain

Giant Slide

Cadillac Mountain- west face

Bubble and Jordan Ponds Path, between the carriage road and The Featherbed pond

Norembega Goat Trail

Bubbles-Pemetic Trail

Penobscot Mountain (Spring) Trail

Upper Beachcroft Trail

Upper Gorge Trail


Last updated: October 26, 2018