News Release
Zion National Park records second busiest year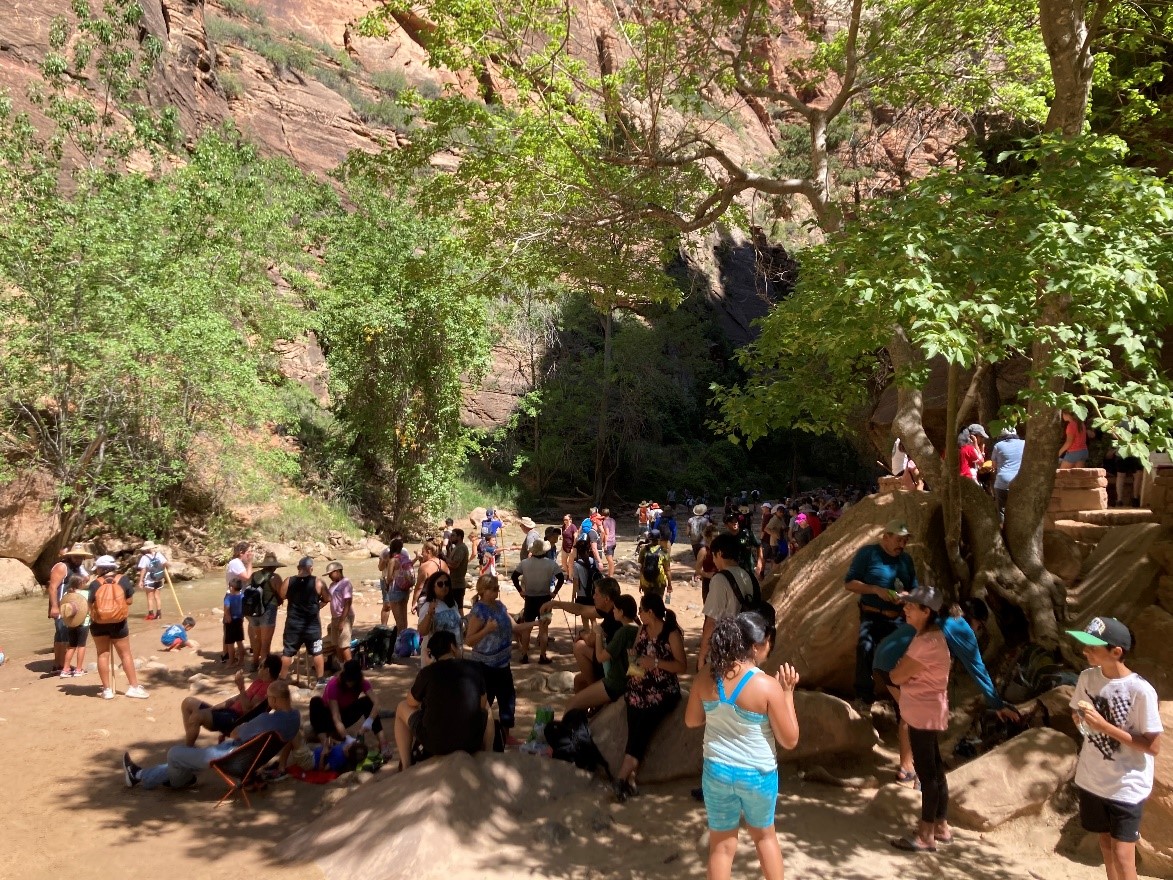 News Release Date:
April 28, 2023
SPRINGDALE, Utah – Zion recorded 4,692,417 visits to the park in 2022, which is its second busiest on record. This is more than 200,000 greater than the total number of visits recorded in 2019.  
By the numbers 
Zion hosted record high numbers of visits in 6 of the last 10 years. Learn more about how Zion staff welcome visitors on our park statistics webpage, and check out these highlights:   
Zion hosted more than 5 million shuttle boardings – up more than 20% from 2021. 
Zion recorded more than 82,000 visits over Memorial Day Weekend in 2022. About one third of all national parks – more than 150 – recorded fewer than 82,000 visits in all of 2022. 
Zion maintenance staff provided nearly 2000 miles of toilet paper in park restrooms. This is nearly enough to stretch from Zion to Washington, DC. 
Park rangers responded to more than 120 calls that required search and rescue operations in 2022. 
Park rangers answered more than 26,000 phone calls and emails – an average of more than 70 every day of the year – to share information about visiting Zion.  
"We are glad that many people are getting outside to enjoy their parks and public lands, but it does present challenges for park staff protecting park resources, maintaining public health, and sustaining facilities," Zion National Park Superintendent, Jeff Bradybaugh said. "We continue to protect Zion so that the millions of visitors who travel to experience the park's iconic scenery and who patronize regional businesses continue to enjoy their time here."  
In 2023, Zion National Park staff will continue its visitor use research and planning. The work will result in a plan with management alternatives to conserve the landscapes, plants, animals, and history that make Zion special and ensure visitors are able to continue to enjoy them. We will ask for your comments when we share the plan. 
Plan like a park ranger 
Zion is glad to welcome visitors from across the United States and around the world. Enjoy a happy, healthy visit by following some basic tips: 
Have a plan...and a back-up plan.  
Enjoy the unexpected. Just because you planned to visit a particular trail doesn't mean it's a good idea on the day you visit. Take advantage of the opportunity to discover something new if conditions aren't right to do what you planned. 
Check the forecast before you hit the trail. Know the likelihood of extreme heat or cold and flash flood potential. 
Wear layers to be ready for changing weather conditions. 
Drink water and bring food to eat. Be sure to pack out what you bring with you on the trails. 
Bring a flashlight in case you end up on the trail longer than you expect.   
Conditions at Zion can change quickly, and you need to prepare before you visit the park. Use the free tools provided by the National Park Service on our park Website, and the NPS App so that you know before you go. When you get to the park, ask a ranger what to expect, and do not take risks that will affect you, other visitors, or rescuers. 
www.nps.gov/zion
About the National Park Service. More than 20,000 National Park Service employees care for America's national parks and work with communities across the nation to help preserve local history and create close-to-home recreational opportunities. Learn more at www.nps.gov, and on Facebook, Instagram, Twitter, and YouTube
Last updated: May 1, 2023