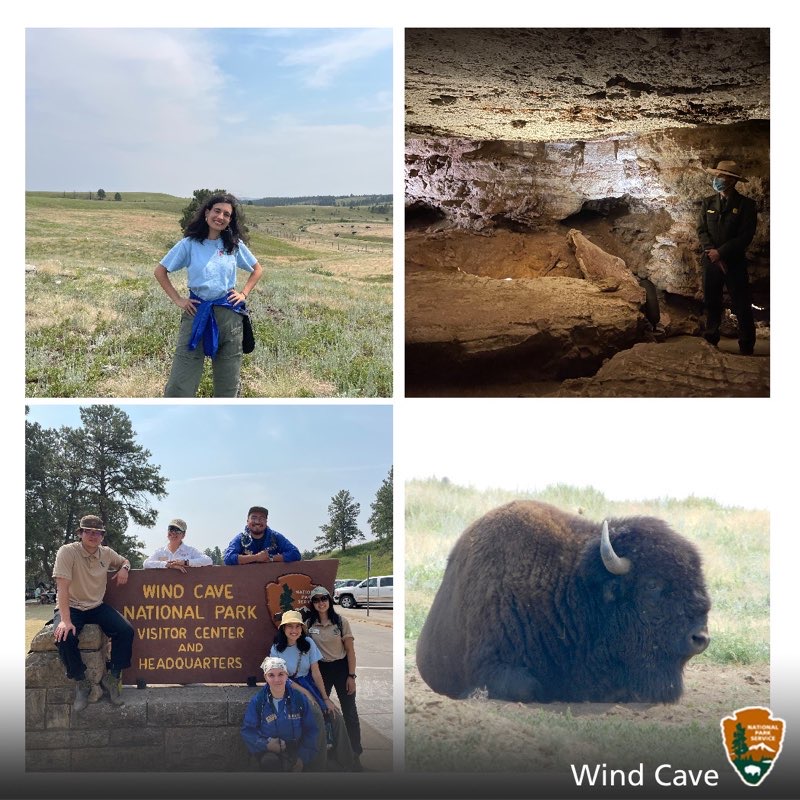 Sparking new connections with national parks? There's an app for that! The NPS App is a great tool when visiting a national park—like having a ranger in your smartphone to guide you. It has features for the first time visitor to the avid park traveler to sPark deeper connections in different ways. Check out these suggestions below to get started experiencing or discovering something new with your national parks using the NPS App, but also be sure to explore its other many features.

Start by downloading the NPS App to your phone or tablet. This free app is currently available for iOS and Android devices through the App Store and Google Play.
sPark Discovery: Find a Park Anytime, Anywhere
Did you know there are more than 400 national parks? Most don't have "National Park" in their name, and many are closer to home than you may realize. When you open the NPS App, it automatically shows you the nearest national parks at the top of your screen wherever you are! When you Find a Park, there many ways to filter your search to discover parks based on your interests.
sPark Creativity: Create Virtual Postcards
Unleash your creative side with custom virtual postcards using your own photos of national parks! Choose the park you are visiting in the NPS App, then select the Photos icon at the bottom of the screen to get started. You can turn your family photos, stunning landscape shots, wildlife sighting snaps, fun selfies, and any other photos into something to share with family and friends using the app. They are also great for posting on social media using #FindYourPark and #sParkConnections.
sPark Collaboration: Collect Passport Stamps
Whether you are an avid or casual collector of national park passport stamps, the NPS App can help you find more. The Passport To Your National Parks® program is a collaboration with our official partner America's National Parks™ which provides in-park and virtual stamps for national parks. When you are exploring a park in the NPS App, you can often see a list of Passport Stamp Locations to help you add to your collection.
sPark Innovation: Watch Webcams
The NPS App is continuing to evolve by adding innovative features to help you experience national parks. Stay connected with your favorite national parks anywhere by watching webcams, including of wildlife, volcanoes, stunning landscapes, night skies, iconic skylines, and more. When you open the app, click on the Webcams icon to pull up a list to explore.
sPark Opportunities: Volunteer with Us
Join our team as volunteer to help care for your national parks! Many parks use the NPS App to advertise open volunteer positions, especially longer term options. Select a park you are interested in and check for a Volunteer Opportunities section. (You can also find more volunteer opportunities, including for one-time events, by contacting the park or checking their online event calendar.)
sPark Preservation: Visit Places
The National Park Service preserves many special natural, historic, cultural, and recreational places for current and future generations. Come experience them for yourself. When you open a park in the NPS App, explore the What To See section to discover places throughout the park to plan which you will visit. What breathtaking view will you find? Where will you go to retrace history? What iconic landmark or memorial will you visit for reflection?
sPark Action: Find Things to Do
Need suggestions of what to do when you visit a park to maximize your time and meet your interests? When you find the park you are visiting in the app, simply open the Things to Do section to see some highlighted ways to experience it—hiking, water sports, wildlife watching, indoor activities... Or you can explore Self-Guided Tours if you are interested in ranger-suggested itineraries to guide you through your visit.
sPark Curiosity: Join Events
What are you curious about? The National Park Service preserves and protects many special places with fascinating stories, natural wonders, and ways to play. Satisfy your curiosity by joining a ranger program or event to learn more about countless topics related to history, culture, nature, and recreation. See a list of All Events happening at parks today when you open the NPS App. If you are visiting a specific park, open it in the app and check the Park Calendar to see what ranger-led programs are coming up.
sPark Memories: Make a (Check)List
Whether you are marking past memories or planning ahead to create new ones, the NPS App lists can help you out! You can use the Visited list to mark off national parks that you have been to and have already created memories. The Favorites list is a good tool to flag national parks or specific places within parks that you would like to get to for even more memory-making.