Frontcountry Camping at Voyageurs
Frontcountry Camping
Frontcountry camping is accessible directly by boat. Like all campsites at Voyageurs, both frontcountry and backcountry, it requrires traveling by watercraft to arrive at your site. Backcountry Camping requires traveling by boat to the trail head where visitors then hike and/or canoe from where your boat is docked towards inner Kabetogama Peninsula.

If you do not have boat acess and want to drive your vehicle to a campsite on land, there are public and private campgrounds within the surrounding gateway communities.

If you want to rent a canoe from the mainland to explore Rainy, Kabetogama, Namakan, Sand Point, or Crane Lakes (instead of the Backcountry), Local Area Businesses offer rentals. To avoid competing with these local businesses, the National Park Service does not rent canoes for the large lakes from visitor centers.


The Basics for Traveling to your Frontcountry Campsite
Parking: Camping Permit holders can park their vehicles overnight at any park visitor center for up to 14 days during their trip.
Travel by watercraft to your campsite (visitors must either use their own boat, rent a vessel, or use a water taxi).
Permits and Prices
There are two ways to get a permit:
Plan ahead and Prepare
Have a basic understanding of camping rules and regulations before you start your trip. Make sure to secure a boat, watercraft, or water taxi to travel to the trail head and secure plans for pick-up at the end of your backcountry itinerary.

Items below are required; our safety page also shows camping supplies that can help make your trip safer and even more enjoyable.
Camping Permit - Printed and placed in clear box at campsite

Permits are available to print using your recreation.gov account no earlier than 5 days before your trip

One Personal Floation Device (PFD) for every individual using a boat or canoe
Food Storage Plans for Bear Safety (can your cooler fit in the bear box)
Trash Plans (Please Pack it in, Pack it out - everything you brought to your campsite must go with you when you leave.)
Fishing Permits (if fishing is part of your plans)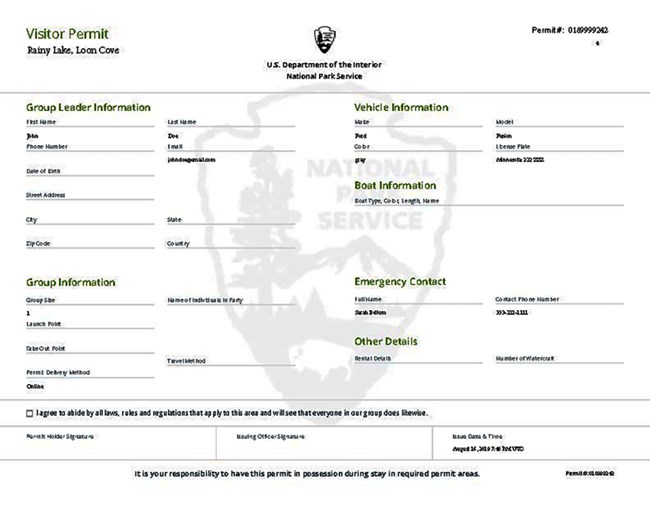 After you get your permit:

1. You will get a confirmation email. Be aware, though: this email is not your permit.
You can view your permit by logging onto Recreation.gov and clicking "My Permits" in the upper right corner.
2. You can print your permit up to 5 days in advance of your trip.
There are restrictions on refunds if you need to cancel after your permit is printed, so be certain your group's plans are finalized before printing.
Google Chrome is the supported browser for accessing permits; if you have trouble printing a permit, try this browser.
When you begin your trip, bring your printed permit with you and place it in the clear box at your campsite.
Select the type of campsite you need below for step-by-step instructions to make a permit.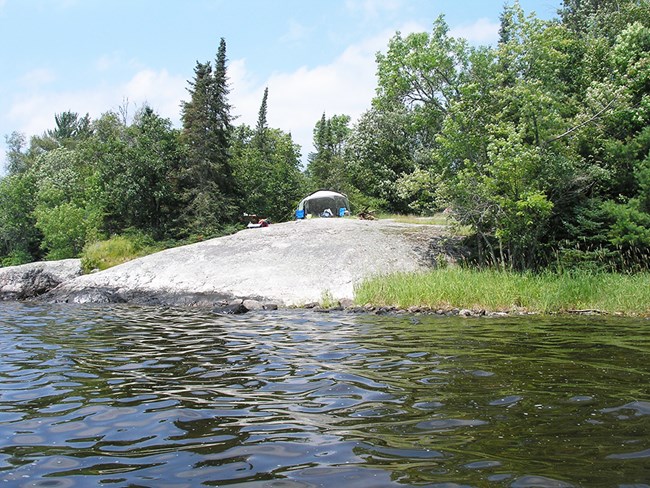 Check-In, Checkout, and Parking (Frontcountry)
Check-in and Checkout times
Check-in for your first day at a Frontcountry campsite begins at 3 pm. Visitors have 24 hours from their check-in time to set up at their reserved site. Checkout is at 12 noon on the day after your last night.
Between noon and 3 pm, unused campsites may be used temporarily for swimming, picknicing, etc. Only visitors who
reserve a canoe in the Backcountry
need to stop at a visitor center before checking in. All others may go straight to their campsites if they have a valid printed permit.
Example: Lee has reserved a Frontcountry campsite on Sphunge Island, and his start date is August 8. He will camp overnight there that evening, as well as August 9, and will leave on August 10.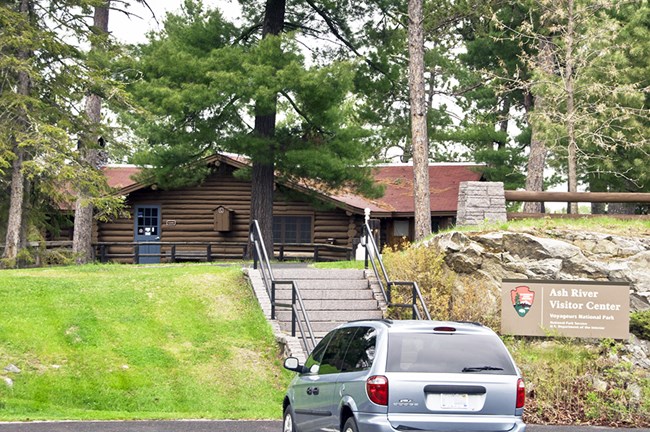 Check-in for his campsite is at 3 pm on August 8. If he arrives earlier, he may find people at his site. If the site is unoccupied, he can arrive as early as noon; check-in is still at 3 pm.

Because this is a Frontcountry site, he does not need to check in at a visitor center beforehand (although he is welcome to do so anyway if he wants to learn about the park, purchase maps, etc.)

Checkout is at noon on August 10.
Check-in and checkout times for Frontcountry sites are different than Backcountry rules. Check the
Backcountry camping page
for check-in times at Backcountry sites.
Parking
Tent campers in Voyageurs can park their vehicles for free overnight at any park visitor center for up to 14 days during their trip. If you prefer to park somewhere else, consider asking about parking arrangements at the local resorts and businesses near the park.

Links to More Information About Camping

For Paddlers Camping on the Large Lakes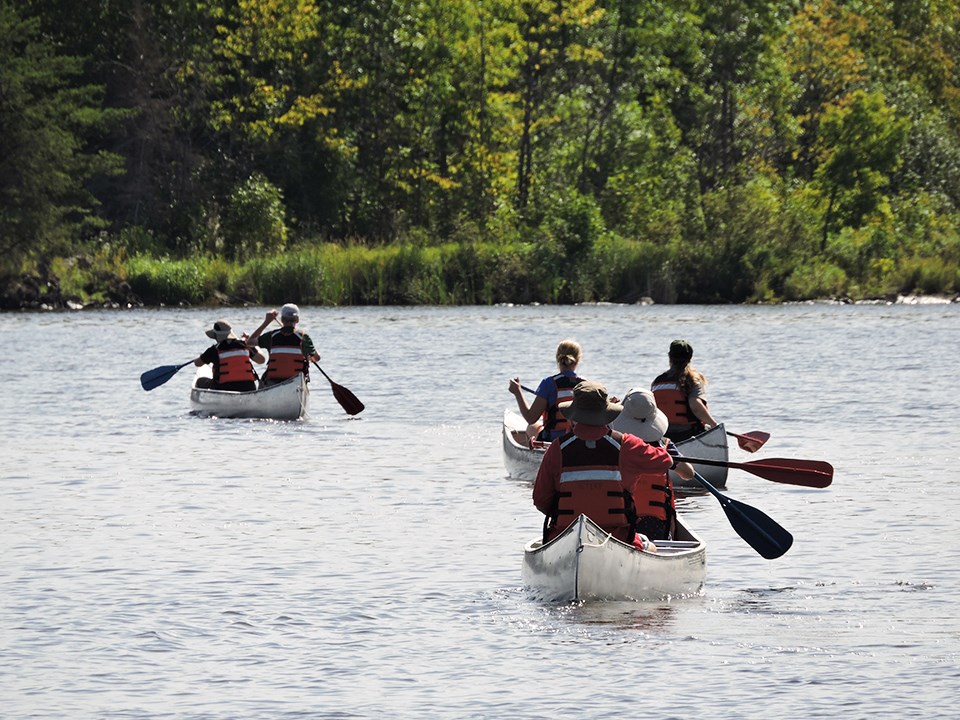 If you plan to paddle on Rainy, Kabetogama, Sand Point, Namakan, or Crane Lakes to your campsite, the tips below can make your trip safer and more enjoyable.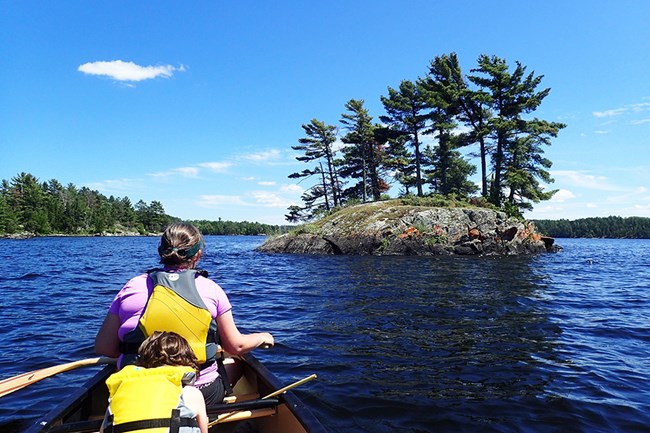 If it looks too rough to leave, don't. Even if you are already at one campsite and have a permit for another one, your safety is the top priority. If you're stuck at a site, either of these options are possible:

Stay at the site. If it is vacant, you may be able to get a permit. If others arrive at the same site, it is not uncommon for multiple groups to stay at a single site during bad weather. Safety for both groups is the highest priority.
If campsite disputes occur, consider calling Park Headquarters (see contact information at bottom of page) or any other visitor center for assistance.
Request a water taxi if it is safe to do so.

Have a Plan B. Windy conditions—especially winds over 10 miles per hour and winds from the northwest—can make headway very challenging for paddlers of any ability due to the size of the lakes. If you have doubts on the day you expect to depart, consider staying on the mainland at one of the nearby public campsites or private lodges until conditions calm down.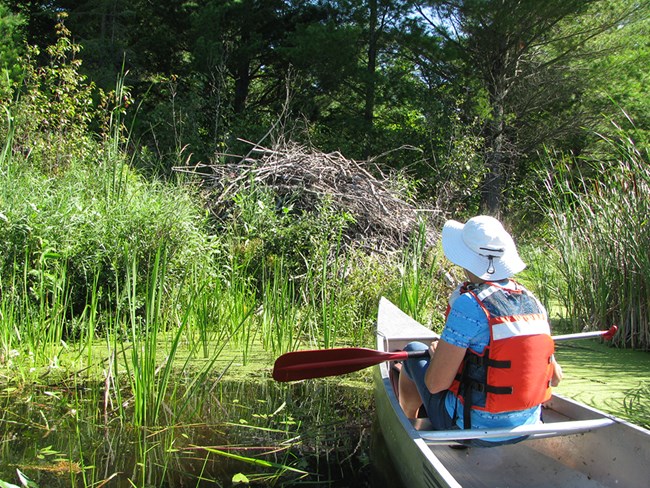 Learn team rescue and self-rescue techniques if you don't know them already. The American Canoe Association and U.S. Coast Guard have some good reference materials for rescue training.
Make a float plan and leave it with somebody you trust on the mainland with instructions to call the park if you do not check in by the time you're supposed to have left. A basic float plan includes:

Full names and contact information of everybody in your group
Your full itinerary, including campsites and routes
Dates you will enter and depart
Emergency contact information
The forecast you expect to encounter during your trip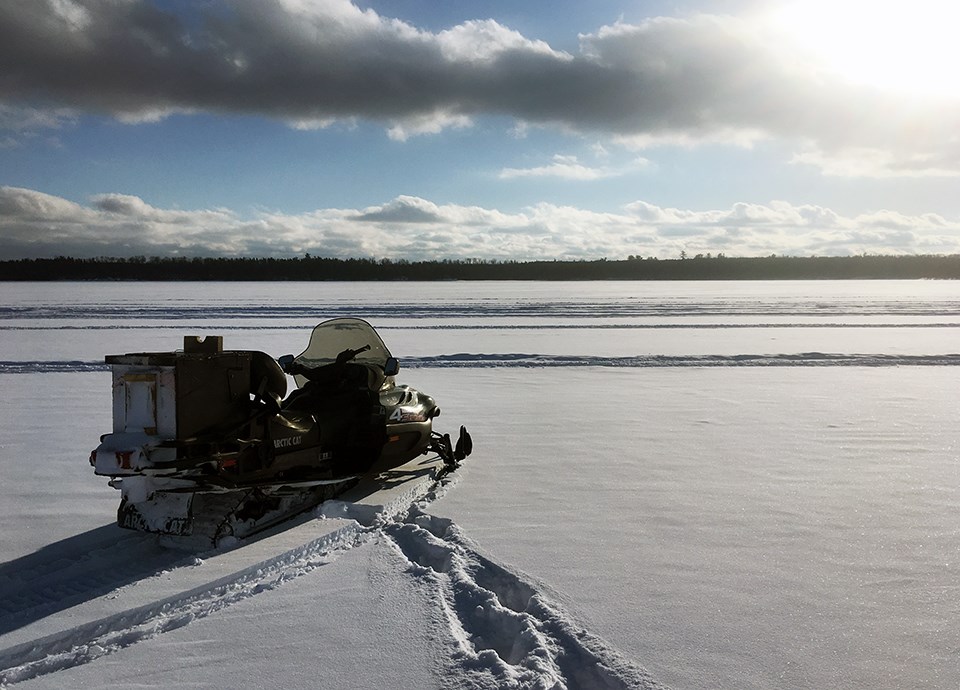 The park's campsites are open all year, and winter camping is an exhilarating, memorable opportunity in Voyageurs for those who are prepared. Driving the park's ice roads, snowmobiling, cross country skiing, and snowshoeing are all unique ways to travel to your campsite.
Recommended Winter Camping Gear Checklist
| | | | |
| --- | --- | --- | --- |
| Snowshoes (regardless of how you get to your campsite) | | | Tools to maintain gear (e.g. extra straps, duct tape, rope, patch kit) |
| | | | |
| Insulated, water resistant outer coat and snow pants | Long undergarments (upper and lower) | Gloves or mittens with removable shells | |
| | Sleeping bag (rated to at least -50 Fahrenheit) | Sleeping pad and additional padding to insulate bottom of tent | Enough food for at least one extra day |
| | | Camp stove fuel (plus at least one day's worth of extra fuel) | At least 2 extra layers of clothing, gloves, and hats |
| | | | |
| | | Emergency signaling device (e.g. mirror, flare, SPOT) | |
| | Sunglasses (to prevent snow blindness) | Portable hand and foot warmers | |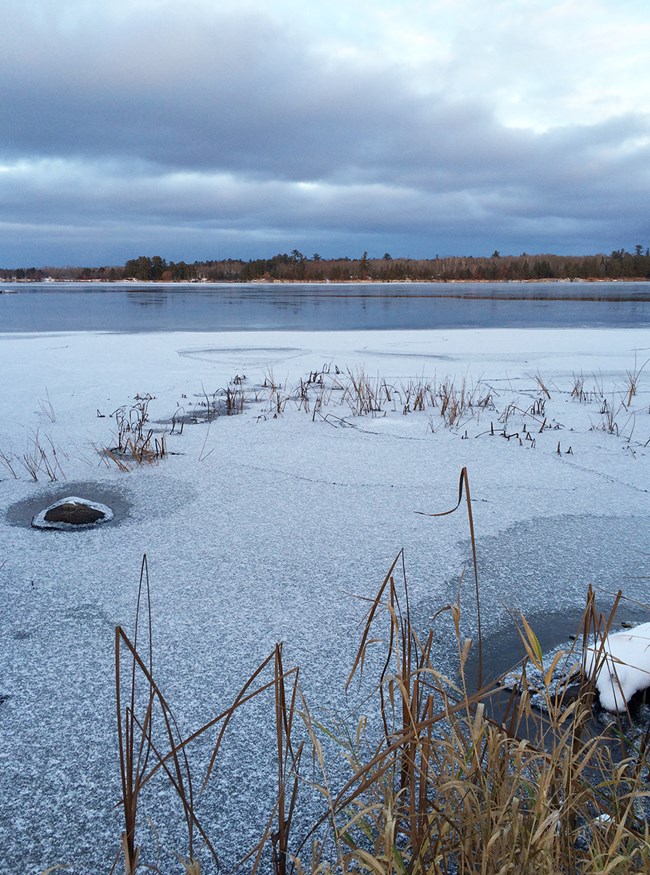 Before your winter trip:
1. Check the park's winter
ice and trail conditions report
and/or
social media page
, which are updated regularly with safety information. The Minnesota Department of Natural Resources has excellent information about
ice safety
as well.
2. Make sure you have a way to communicate beyond a cell phone
. Cell phones are often unreliable in cold temperatures. Radios and emergency signaling devices are more reliable in an emergency.
3. Write down an itinerary
with your start/end dates and route, and leave it with somebody you trust to call the park in the event of an emergency.
4. Check
visitor center hours
if you plan to purchase gear or maps.
5. Get a permit.
Campsites are available at a reduced price from October 1 through April 30 annually.
6. Review
camping rules and regulations
, plus the
Superintendent's Compendium
if you have questions about what activities are permitted (e.g. ice fishing) while camping.
7. Review the
Winter Safety
page.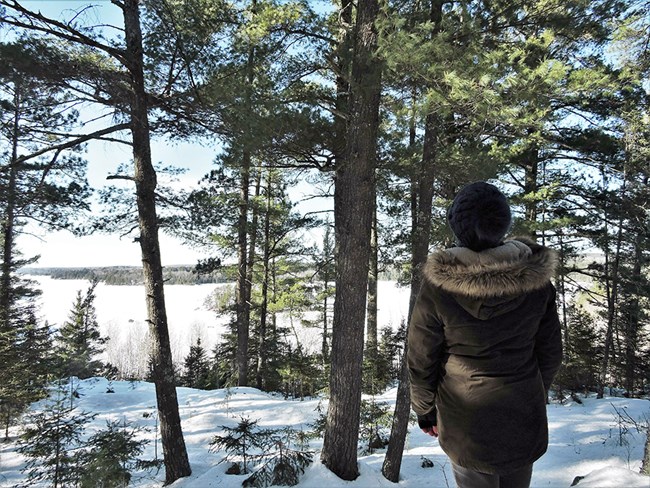 8. See which
resorts and businesses
are open year-round
if you plan to purchase gear, hire a winter guide, or stay overnight at a resort either before or after your trip.
9. Plan to cover less ground
and to spend more time setting up/breaking down camp. Everything takes longer during winter.
10. Test your equipment in cold temperatures.
Stoves, fuel, and water filters don't work as well in the cold, so test them in cold conditions before you have to rely on them. Also test your shelter to ensure it has enough ventilation to prevent carbon monoxide poisoning (especially if you are using an ice fishing house).
11. Learn the symptoms of
frostbite and hypothermia
, and how to treat them.
12. Triple-check your clothing.
Having enough layers and the right kind of clothing (e.g. packing wool or synthetics, not cotton) can become a matter of survival while enjoying an inspiring and powerful Voyageurs winter.
Back to top
Last updated: March 25, 2021