Frontcountry Camping at Voyageurs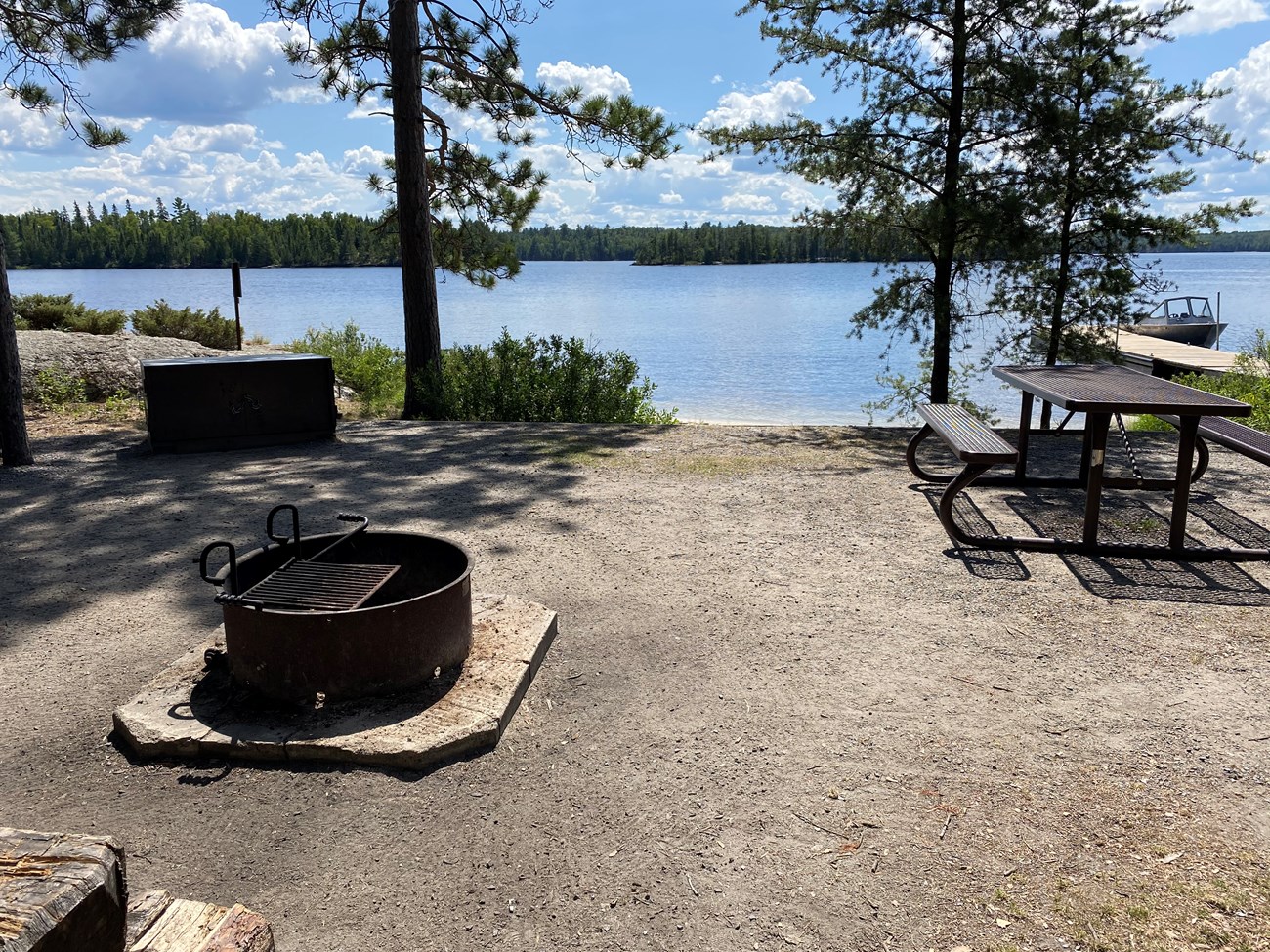 Frontcountry campsites are located on the shores and islands of the park's large lakes - Rainy, Kabetogama, Namakan, Sand Point, and Crane. They require traveling by watercraft from any mainland boat launch.

Voyageurs National Park has four water access points at the Rainy Lake, Kabetogama Lake, and Ash River Visitor Centers, and the Crane Lake Ranger Station. There are also public and private boat launches outside the park.

The park does not rent watercrafts of any kind on the large lakes. If you do not have a watercraft, there are local businesses that offer water taxi service and a variety of boat rentals, from canoes and kayaks to fishing boats and pontoons.
The Basics of a Frontcountry Camping Trip in Voyageurs
Do some research: Frontcountry campsites can be as far as 27 miles away from the nearest boat launch, so be sure to select sites that are within a safe distance to travel for your level of navigation experience and type/size of watercraft.
Make a reservation: Once you're ready to make a reservation, go to the Voyageurs National Park Camping Permits page on recreation.gov. Here you can view campsite info and photos, search for campsite availability, and build an itinerary. Use these step-by-step instructions to make your reservation. You can also call Recreation.gov's national call center at 1-877-444-6777.
Print your permit within 5 days of your trip start date by logging into your recreation.gov account and selecting Reservations from the menu. Click on the Print Permit button next to the correct trip. This button is disabled until 5 days before your trip. It can also be helpful to have a digital copy/screenshot on your phone to keep with you.
Parking: Camping permit holders can park their vehicles overnight at any park visitor center boat launch parking lot for up to 14 days during the dates of their trip, free of charge. Know which visitor center boat launch is closest to your campsite.
Travel by watercraft to your campsite. Visitors must either use their own boat, rent a vessel, or use a water taxi. The waters of Voyaguers are expansive; be prepared with GPS or navigation charts.
Post your permit inside the display box that you'll find attached to a bear-proof food locker at your campsite.
Enjoy your camping trip in Voyageurs National Park!
Plan ahead and Prepare
Have a basic understanding of camping rules and regulations before you start your trip.
Make sure to secure a watercraft or water taxi to travel to and from your campsite.
Items below are required. Our safety page lists camping supplies that can help make your trip safer and more enjoyable.

Camping Permit - Printed and placed in clear display box at campsite.
One Personal Floation Device (PFD) for every individual riding in the watercraft(s).
Food Storage Plan for Bear Safety.

Bear lockers are 52" wide x 36' deep x 21" high, or equal to two 48-quart coolers. Will yours fit?
Only properly sealed and locked bear-resistant coolers can be kept outside of bear lockers.
Bear-proof food canisters can also be used following the manufacturer's instructions.

Trash Plan - Please pack it in, pack it out - everything you brought to your campsite must go with you when you leave.

There are trash and recycling receptacles at every visitor center boat launch to use upon your return.
DO NOT burn trash in fire rings.

Fishing Permits if fishing is part of your plans.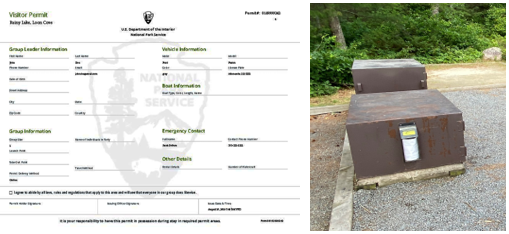 Important Camping Permit Information
When you make a camping reservation, your confirmation email IS NOT your permit.
Permits need to be printed from the Reservations section of your recreation.gov account within 5 days of your trip.
Your printed permit must be placed inside the clear display box you'll find attched to a bear locker at your campsite.
If you forget your permit, stop at a visitor center during business hours to have it printed.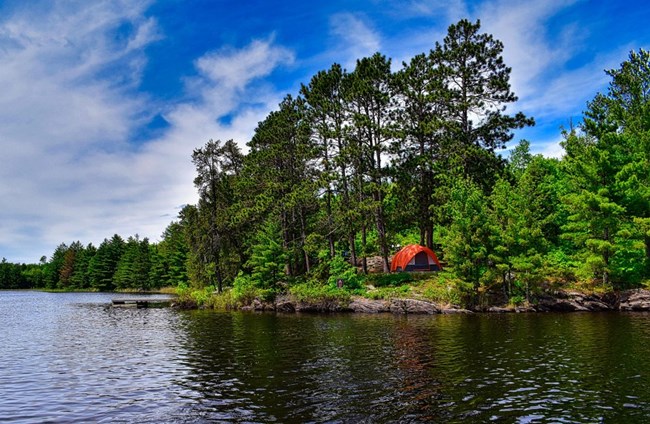 Check-In Times & Procedures
Voyageurs has no entrance booths or check-in stations; simply arrive at a visitor center boat ramp, launch your boat, and head for your campsite with your valid printed permit. Stop at a visitor center if you need to have your permit printed.
You can arrive at your frontcountry campsite no earlier than 3 pm on your day of arrival.
Visitors have 24 hours from their check-in time to set up at their reserved site. After this time, reservations at reported vacant sites can be voided and made available to the public.
Check-Out Times & Procedures
Vacate your campsite no later than 12 noon on your day of departure.
Between noon and 3 pm, unused campsites may be used temporarily for swimming, picknicing, etc.
You do not need to stop in at a visitor center to check out. Simply load your watercraft and be on your way.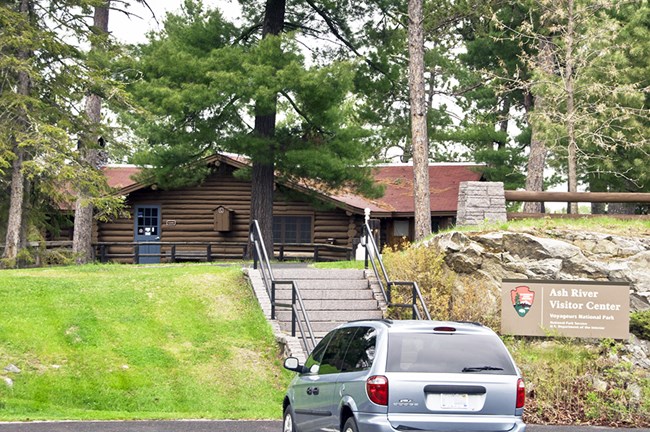 Parking
Tent campers in Voyageurs can park their vehicles overnight and free of charge at any park visitor center for up to 14 days during the dates of their permit.

While it is not required to check in or out at visitor centers when you arrive or depart, our friendly interpretive park rangers would be happy to assist you in any way! Stop in for information, helpful resources, to learn about the rich cultural history of Voyageurs National Park, or to browse our bookstores and gift shops.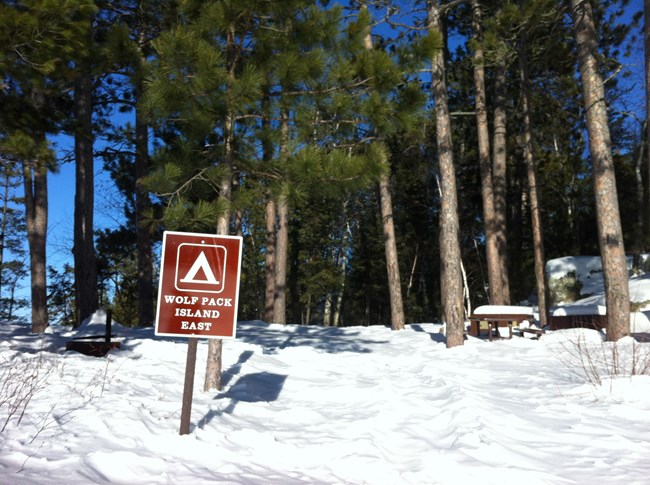 Winter Camping
All of the same campsites in the park that are used in summer are also available for winter camping! This takes place during the park's non-peak season (rates listed in the table below), but reservations/permits are still required and all park regulations still apply.

The main difference with winter camping is how to access your campsite. They can be reached on foot (snowshoe or ski) and by snowmobile when proper winter conditions and safe ice are present. Safe ice and ideal temperatures for enjoyable winter camping are most typical in the months of February and March, but ice-out dates can vary widley, determining the length of the season.

Before venturing out onto the ice, always check the forecast and the most recent Winter Trails Report which is updated weekly throughout the winter.

With the proper precautions and winter safety guidelines in mind, Voyageurs National Park is an ideal winter adventure destination!
Voyageurs National Park

Frontcountry

Permits and Prices
Permit Type

Reservation Service
Fee (per transaction)

Low Use Season Fees

(per night)

High Use Season Fees

(per night)

Earliest Dates to Purchase Permit

Small campsite without dock

$10

$10

$22

For High-Use Season (May 15 – Oct 15): Available the previous November 15th


For Low-Use Season (Oct 16 – May 14): Available the previous April 15th

Small campsite with dock

$10

$10

$26

Large campsite without dock

$10

$10

$28

Large campsite with dock

$10

$10

$32

Campground small site

$10

$10

$26

Campground large site

$10

$10

$32

Group Campsite

$10

$10

$60

Backcountry campsite without canoe

$10

$10

$16

Backcountry campsite w/
overnight canoe

$10

n/a

$30

For High-Use Season (May 15 – Oct 15): Available the previous November 15th


**Rentals not available Oct 16 – May 14**

Day use rental canoe or rowboat
(Backcountry only)

$10

n/a

$14 per night or day

Houseboat

$10

n/a

$15/night

Available the previous November 15th

**Income generated from overnight camping and permits is used to improve and maintain amenities, clean sites, clear and repair backcountry trails, and support the operation of the reservation system**
Links to More Camping Resources
Last updated: August 21, 2023