Frontcountry Camping at Voyageurs
Frontcountry Camping
Frontcountry camping is accessible directly by boat. Like all campsites at Voyageurs, both frontcountry and backcountry, it requrires traveling by watercraft to arrive at your site. Backcountry camping requires traveling by boat to the trail head where visitors then hike and/or canoe from where your boat is docked towards inner Kabetogama Peninsula.

If you do not have boat acess and want to drive your vehicle to a campsite on land, there are public and private campgrounds within the surrounding gateway communities.

If you want to rent a canoe from the mainland to explore Rainy, Kabetogama, Namakan, Sand Point, or Crane Lakes (instead of the Backcountry), Local Area Businesses offer rentals. To avoid competing with these local businesses, the National Park Service does not rent canoes for the large lakes from visitor centers.


The Basics for Traveling to your Frontcountry Campsite
Parking: Camping Permit holders can park their vehicles overnight at any park visitor center for up to 14 days during their trip.
Travel by watercraft to your campsite (visitors must either use their own boat, rent a vessel, or use a water taxi).
Permits and Prices
There are two ways to get a permit:
Permit Type

Reservation Service
Fee (per transaction)

2021 Low Use Season Fees

(per night)

2022 Low Use Season Fees

(per night)

2022 High Use Season Fees

(per night)

Earliest Dates to Purchase Permit

Small campsite without dock

$10

$0

$10

$22

For High-Use Season (May 1 – Sept 30): Available the previous November 15th


For Low-Use Season (Oct 1 – April 30): Available the previous April 15th

Small campsite with dock

$10

$0

$10

$26

Large campsite without dock

$10

$0

$10

$28

Large campsite with dock

$10

$0

$10

$32

Campground small site

$10

$0

$10

$26

Campground large site

$10

$0

$10

$32

Group Campsite

$10

$0

$10

$60

Backcountry campsite without canoe

$10

$0

$10

$16

Backcountry campsite w/
overnight canoe

$10

n/a

n/a

$30

For High-Use Season (May 1 – Sept 30): Available the previous November 15th


**Rentals not available Oct 1 – May 14**

Day use rental canoe or rowboat
(Backcountry only)

$10

n/a

n/a

$14 per night or day

Houseboat

$10

n/a

n/a

$15/night

Available the previous November 15th

**Income generated from overnight camping is used to improve and maintain amenities, clean campsites, clear and repair backcountry trails, and support the operation of the reservation system**
Plan ahead and Prepare
Have a basic understanding of camping rules and regulations before you start your trip. Make sure to secure a boat, watercraft, or water taxi to travel to the trail head and secure plans for pick-up at the end of your backcountry itinerary.

Items below are required; our safety page also shows camping supplies that can help make your trip safer and even more enjoyable.
Camping Permit - Printed and placed in clear box at campsite

Permits are available to print using your recreation.gov account no earlier than 5 days before your trip

One Personal Floation Device (PFD) for every individual using a boat or canoe
Food Storage Plans for Bear Safety (can your cooler fit in the bear box)
Trash Plans (Please Pack it in, Pack it out - everything you brought to your campsite must go with you when you leave.)
Fishing Permits (if fishing is part of your plans)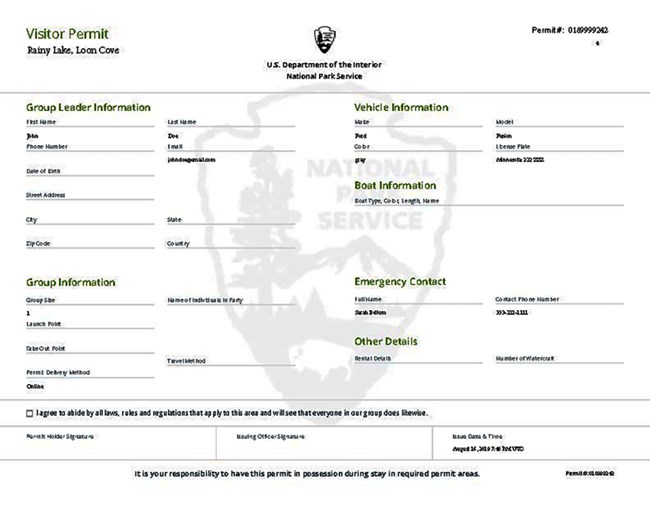 After you get your permit:

1. You will get a confirmation email. Be aware, though: this email is not your permit.
You can view your permit by logging onto Recreation.gov and clicking "My Permits" in the upper right corner.
2. You can print your permit up to 5 days in advance of your trip.
There are restrictions on refunds if you need to cancel after your permit is printed, so be certain your group's plans are finalized before printing.
Google Chrome is the supported browser for accessing permits; if you have trouble printing a permit, try this browser.
When you begin your trip, bring your printed permit with you and place it in the clear box at your campsite.
Select the type of campsite you need below for step-by-step instructions to make a permit.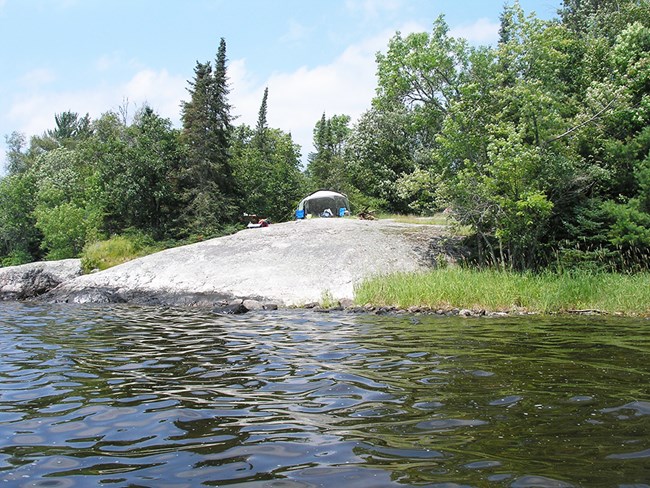 Check-In, Checkout, and Parking (Frontcountry)
Check-in and Checkout times
Check-in for your first day at a Frontcountry campsite begins at 3 pm. Visitors have 24 hours from their check-in time to set up at their reserved site. Checkout is at 12 noon on the day after your last night.
Between noon and 3 pm, unused campsites may be used temporarily for swimming, picknicing, etc. Only visitors who
reserve a canoe in the Backcountry
need to stop at a visitor center before checking in. All others may go straight to their campsites if they have a valid printed permit.
Example: Lee has reserved a Frontcountry campsite on Sphunge Island, and his start date is August 8. He will camp overnight there that evening, as well as August 9, and will leave on August 10.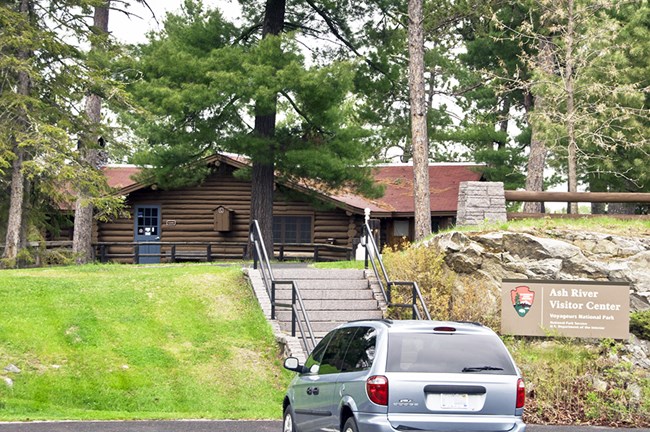 Check-in for his campsite is at 3 pm on August 8. If he arrives earlier, he may find people at his site. If the site is unoccupied, he can arrive as early as noon; check-in is still at 3 pm.

Because this is a Frontcountry site, he does not need to check in at a visitor center beforehand (although he is welcome to do so anyway if he wants to learn about the park, purchase maps, etc.)

Checkout is at noon on August 10.
Check-in and checkout times for Frontcountry sites are different than Backcountry rules. Check the
Backcountry camping page
for check-in times at Backcountry sites.
Parking
Tent campers in Voyageurs can park their vehicles for free overnight at any park visitor center for up to 14 days during their trip. If you prefer to park somewhere else, consider asking about parking arrangements at the local resorts and businesses near the park.

Links to More Information About Camping
Last updated: September 12, 2022