Camping at Voyageurs National Park
Notice to Backcountry Users: All backcountry reservations for lakes that offer canoes must be made at least 4 days in advance to allow staff ample time to make key pick-up arrangements while park buildings are closed. A park ranger will reach out to the email address and/or phone number associated with your reservation 4-7 days prior to your trip to provide key pick-up instructions.

Considerations for Safe Camping: Voyageurs National Park is fortunate to have widely dispersed campsites across an expansive network of waterways, making it more possible to recreate outdoors while still complying with social distancing guidelines. The park suggests the following when planning summer camping trips, to be in accordance with federal and state efforts to prevent the spread of COVID-19:
Recreate close to home, at locations that are within your local travel recommendations

Do not visit any recreation areas if you are sick, have symptoms of COVID-19, or have been exposed to someone with COVID-19

Complete all purchases and fill your gas tank completely before leaving home to minimize stops

Be aware that visitor centers may be closed

Bring supplies that allow your group to maintain proper hygiene throughout the trip, such as hand soap/sanitizer, disinfecting cleaner and sanitizing wipes

Wash hands often with soap and water for at least 20 seconds, especially after going to the bathroom, before eating, and after blowing your nose, coughing, or sneezing

In common areas and parking lots, maintain a 6-foot distance from others at all time

Avoid camping and boating with people who aren't members of your immediate household

At boat landings, give those ahead of you plenty of time and space to finish launching or loading before you approach
Please visit the Voyageurs National Park Association webpage for information on how to enjoy Voyageurs, stay safe, and protect the park and others.

To stay in accordance with proper social distancing for safety of visitors, park partners, and staff, the park has modified the following operations through the 2020 season:

Rainy Lake and Kabetogama Lake Group Campsite reservations: those reservations already made will be honored. Through the remainder of the summer operational period these sites will be managed as large individual campsites.
King Williams Narrows and Mukooda Campgrounds: those reservations already made will be honored. Through the remainder of the summer operational period site A in each campground will remain open for reservations but sites B through E will be closed.
All campsites in Voyageurs are accessible only by water.
However, there are also
drive-up campsites near the park's borders
for tents, RVs, and car campers.
For winter campers
, campsites in the park may also be accessible by foot and snowmobile.
For spring, summer, and fall camping, select the method you'll use to camp to start planning your trip.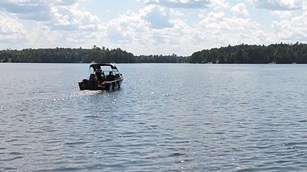 I have a boat, paddle craft, or shuttle
Learn how to get an overnight permit to camp in Voyageurs using your own watercraft, a rental, or a hired water taxi.
I'm using a houseboat
Learn how to get a permit for staying overnight in your own houseboat or a rental.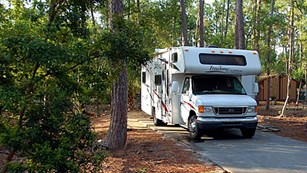 I'm using an RV or car to travel to camp
If you're traveling by RV or car and do not have access to a boat, there are many camping options for you either near or next to the park.
Last updated: May 30, 2020