Camping at Voyageurs National Park
All campsites in Voyageurs are accessible only by watercraft.
All Frontcountry and Backcountry campsites are water-based, require a permit, and can only be accessed by boat. Most campsites in the park are Frontcountry sites, meaning they are directly accessible by boat. 15 of our campsites are in the Backcountry, meaning the trail head is only accessible by water before you start your hike in.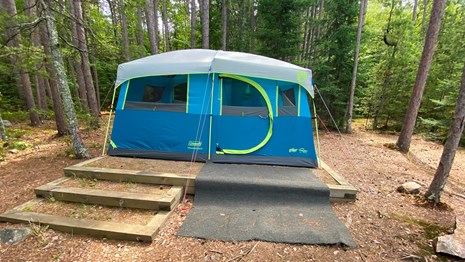 Front Country Camping
Camping is accessible only by watercraft. Camp sites are considered front country as they are directly accessible from boat.
Types of Campsites and Amenities Available
Here's a breakdown of all the campsite types Voyageurs National Park offers.
Winter Camping: campsites in the park may also be accessible by foot and snowmobile.
If you are looking for camper (RV) camping, car camping, or drive-up camping, there are also private and public campsites located in the surrounding communities outside the park's boundaries.
Last updated: October 13, 2021