Houseboating
Houseboating is one of many ways to get out to explore the solitude of Voyageurs National Park but have the amenities of home at your finger tips. All houseboat rentals are commercially operated by companies located just outside the park boundaries. For more information on those companies and houseboating opportunities from our gateway communities, visit our Lodging page.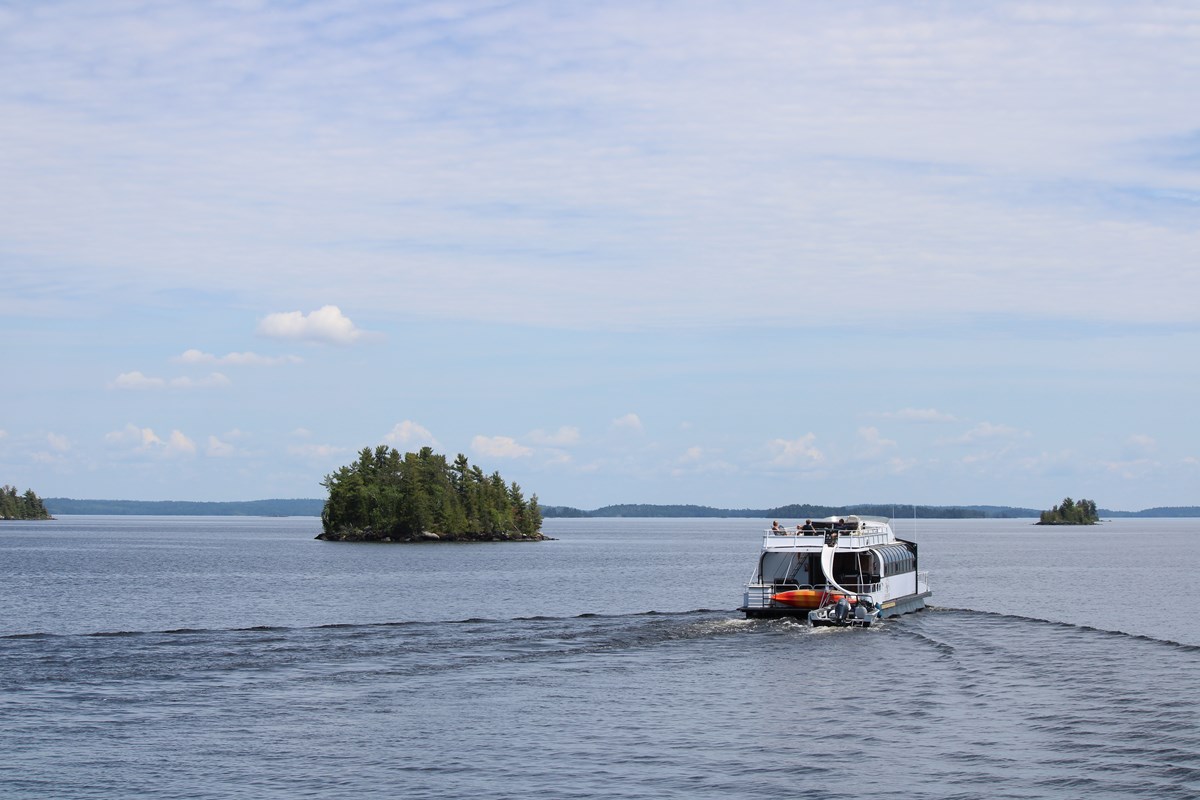 Houseboats
A houseboat is defined as a registered vessel that contains sleeping facilities, cooking and food storage facilities, and a no-discharge toilet. Cabin Cruisers and Sailboats with the required facilities fit in the definition of a houseboat.
All houseboats are required to have a permit for overnight stays from www.recreation.gov or the call center at (877) 444-6777.
There is no limit to the number of houseboats allowed in the park at one time.
Reservations will not be site-specific, but rather issued per houseboat for overnight stays.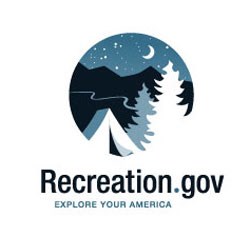 How do I make a reservation?
Online at www.recreation.gov.
When making an online reservation:
Enter Voyageurs National Park in search bar.
Choose Voyageurs National Park Houseboat Permits.
Click on build itinerary. *Use search filters in order from left to right to find available dates.
By phone at 1-877-444-6777.
The National Call Center hours are as follows:
March 1- October 31- 9:00 am to 11:00 pm (CST)
November 1- February 28- 9:00 am to 9:00 pm (CST)
Houseboat Reservations
Reservations will be available starting November 15 annually; for all of the next summer season.
There will be a $15 nightly fee in additional of a $10 reservation service fee per transaction.
If you cancel a reservation before printing the permit, you will forfeit the $10 reservation fee.
Do not print your permit until you are certain of your plans. Once your permit is printed, there are no modifications, cancellations, or refunds available.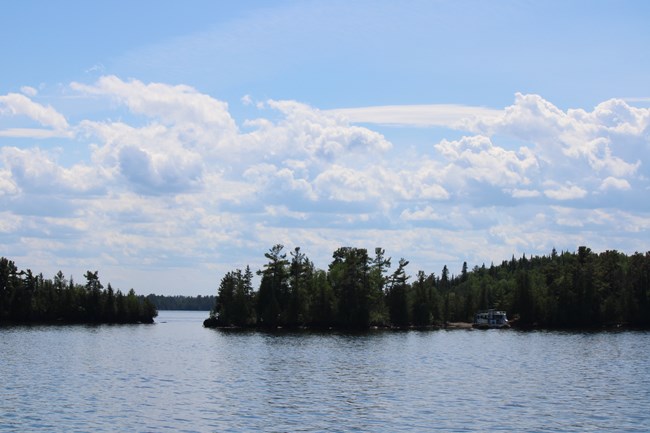 Houseboat Sites in the Park
Designated houseboat sites may be used on a first-come, first-served basis.

There is a limit of two-houseboats per designated site.

Houseboats may stay at an undesignated site as long as they are at least 200 yards away from any developed site or structure.

Houseboat users who wish to have a fire, may do so in existing metal fire rings, only at designated houseboat sites.
Houseboats may not moor overnight at docks in Voyageurs National Park.

Cabin cruisers and sailboats may stay overnight at tent sites with an advanced campsite reservation.
How much does it cost?
| | | |
| --- | --- | --- |
| Site (for entire summer season) | Reservation Fee | Amenity fee |
| Houseboats | $10 per transaction | $15 per night |
Where do I get a permit?
Once a reservation is made online or by phone, a confirmation email will be sent to the permit holder.
You can print your permit from your recreation.gov account at anytime after making your reservation, but be certain of your plans before printing, as this action officially issues your permit.
Once a permit is printed, you have confirmed your reservation and no refunds will be given.
Permits must be brought to the park and placed in a rear window of the houseboat. If renting a houseboat, please check with the specific houseboat company on the placement of the permit.
If a permit does not accompany you to your site, your reservation is void. No refunds will be given.
Permits are non-transferable.
If you lose or misplace your permit, stop at one of the park's three visitor centers for assistance.
Houseboaters Who May Want to Tent Camp
Houseboats cannot pitch a tent at a houseboat site. Tent camping is only allowed at designated sites.
Houseboaters wishing to pitch a tent, must go to www.recreation.gov and reserve a tent site for those in the party who want to tent camp.
Houseboats may not moor at a tent site and must be moored at least 200 yards away from any developed site.
Houseboats are allowed to stay overnight in the two group campsites: R-74 on Rainy Lake and K-54 on Kabetogama Lake. The group must have a permit for the group site plus a permit for each houseboat. The group campsite limit is a minimum 14 and a maximum of 30 people.
Where can I buy a map of the houseboat sites?
Voyageurs National Park has partnered with National Geographic who now publishes the official camping map. This map shows the most up-to-date campsites, houseboat, and day-use sites within the park and may be purchased at any of the park's three visitor centers or by going to www.jnpa.com.
How do I cancel a reservation?
Cancellations must be made by phone to Recreation.gov. Call 1-877-444-6777 to cancel a reservation. You cannot call a park office to make a cancellation or a change in your reservation.
If you cancel a reservation before you print the permit, you will forfeit the reservation fee of $10.00.

If you cancel a reservation after you print your permit, no refund will be given.
Last updated: November 15, 2021