Backcountry Camping and Canoe Rentals
Experience the Backcountry at Voyageurs
All Backcountry adventures start with a boat ride to a trail head on the Kabetogama Peninsula. A water vessel is needed to access the trail head as you can only arrive by water. Set-up camp at our backcountry campsites by hiking to and/or canoing on the smaller lakes within the Kabetogama Peninsula.

Backcountry Canoes are provided on certain lakes within the peninsula to the public—both for overnight camping and single-day use— and can be reserved on Recreation.gov.

Our photo gallery shows campsite pictures and amenities at each Backcountry site.
Looking for Frontcountry Experiences?
Frontcountry camping is accessible directly by boat and do not require the extra hiking or canoing invovled with Backcountry Camping.

If you do not have boat acess and want to drive your vehicle to a campsite on land, there are public and private campgrounds within the surrounding gateway communities.

If you want to rent a canoe from the mainland to explore Rainy, Kabetogama, Namakan, Sand Point, or Crane Lakes (instead of the Backcountry), Local Area Businesses offer rentals. To avoid competing with these local businesses, the National Park Service does not rent canoes for the large lakes from visitor centers.


The Basics for Traveling to your Backcountry Campsite
Parking: Camping Permit holders can park their vehicles overnight at any park visitor center for up to 14 days during their trip.
Travel by watercraft to a trailhead (visitors must either use their own boat, rent a vessel, or use a water taxi).
Follow your map and hike the trails into the Backcountry.
Some backcountry sites also require the use of a canoe after hiking to reach the site location. These are available for rent by the park and staged at the end of the trail. Remember to bring your Personal Flotation Device (PFD) hiking as the park only provides the canoe and paddles.
Permits and Prices
There are two ways to get a permit: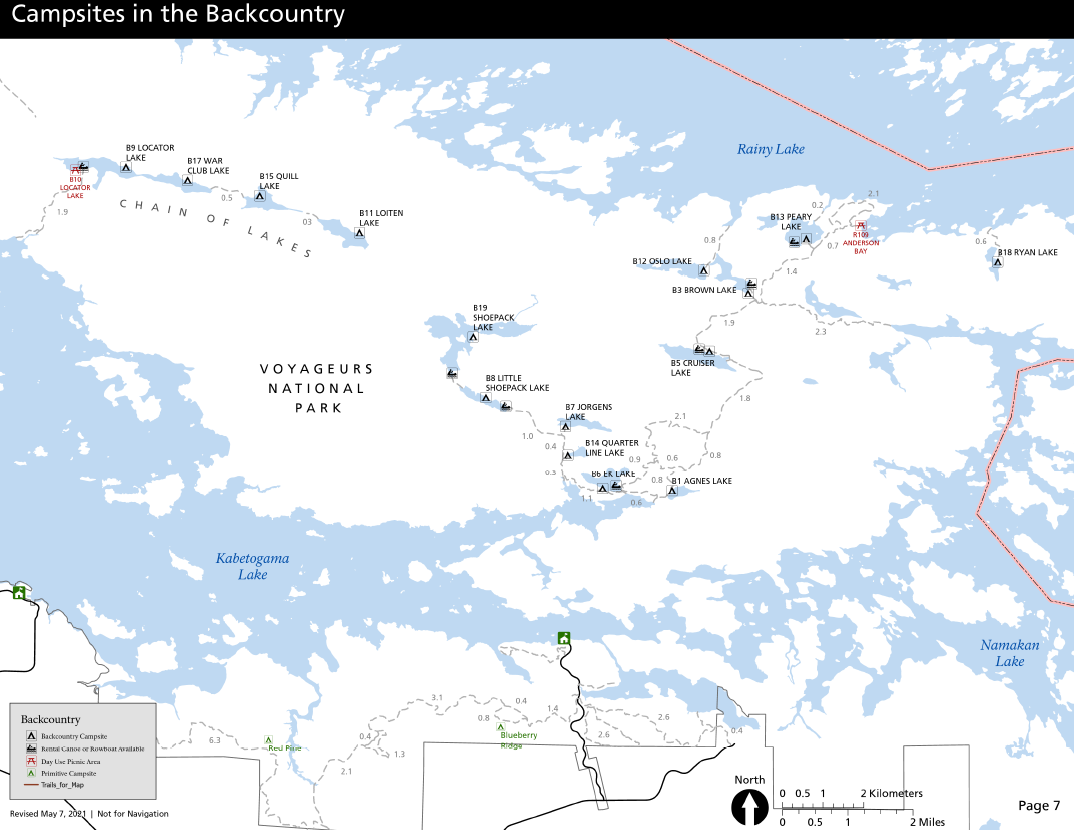 Backcountry Site Name and Number
Distance from Closest Trailhead (approximate)
Canoe Needed
to Reach Campsite?
Total Number of Watercraft Available for this Backcountry Location
Locator Lake (B9)
2.75 miles
Yes
4 campsite canoes (1 for each campsite), 3 additional canoes, and 2 rowboats. All staged at the end of Locator Lake trail.
War Club Lake (B17)
3.75 miles
Yes
4 campsite canoes (1 for each campsite), 3 additional canoes, and 2 rowboats. All staged at the end of Locator Lake trail.
Quill Lake (B15)
4.75 miles
Yes
4 campsite canoes (1 for each campsite), 3 additional canoes, and 2 rowboats. All staged at the end of Locator Lake trail.
Loiten Lake (B11)
5.75 miles
Yes
4 campsite canoes (1 for each campsite), 3 additional canoes, and 2 rowboats. All staged at the end of Locator Lake trail.
Ek Lake (B6)
0.1 mile
No
1 canoe
Jorgens Lake (B7)
1 mile
No
0
Little Shoepack Lake (B8)
2.4 miles
Yes
1 canoe
Shoepack Lake (B19)
3.9 miles
Yes
1 rowboat (staged on the south shore of Shoepack; it is automatically included with the canoe at Little Shoepack Lake)
Cruiser Lake (B5)
4 miles
No
1 canoe
Brown Lake (B3)
2.1 miles (hiking) or 1.5 (canoeing)
No
1 canoe on north shore (Rainy Lake side)
Quarter Line Lake (B14)
0.5 miles
No
0
Peary Lake (B13)
1.2 miles
No
0
Oslo Lake (B12)
0.5 miles
No
0
Agnes Lake (B1)
0.4 miles
No
0
Ryan Lake (B18)
0.4 miles
No
0
Plan ahead and Prepare
Have a basic understanding of camping rules and regulations before you start your trip. Make sure to secure a boat, watercraft, or water taxi to travel to the trail head and secure plans for pick-up at the end of your backcountry itinerary.

Items below are required; our safety page also shows camping supplies that can help make your trip safer and even more enjoyable.
Backcountry Permit - Printed and placed in clear box at campsite

Permits are available to print using your recreation.gov account no earlier than 5 days before your trip

One Personal Floation Device (PFD) for every individual using a boat or canoe
Key for Backcountry Canoe Rental (if needed and reserved)
Supplies for a bear hang (20+ feet of material to hang a bag)
Non-live bait and Fishing Permits (if fishing is part of your plans)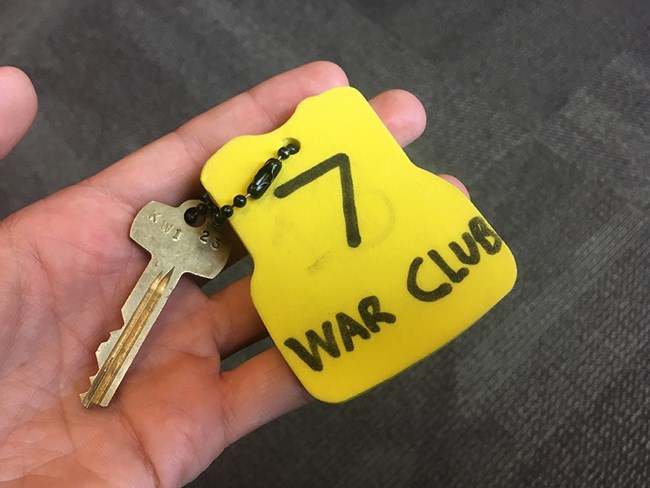 Backcountry Canoes
Where to Find Backcountry Canoes
The National Park Service provides canoes, rowboats, oars, and paddles in the Backcountry for public use on:
The Chain of Lakes (made up of Locator, War Club, Loiten, and Quill Lakes)

Ek Lake

Shoepack and Little Shoepack Lake

Brown Lake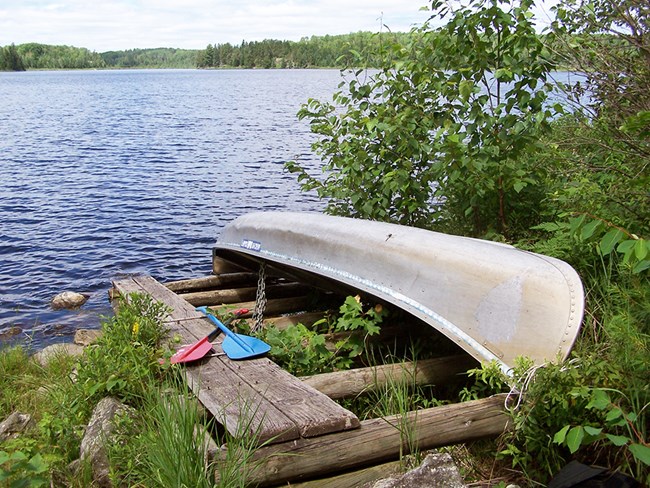 Backcountry canoes are locked on racks at the ends of the trails leading to each of these lakes. Visitors with valid permits may check out keys at any
open visitor center
up to 24 hours in advance of their trip (some visitor centers are seasonal—remember to check the open hours beforehand).
The Park Service only rents canoes for the Backcountry. If want to rent a canoe from the mainland for use on the larger lakes like Rainy or Kabetogama (instead of the Backcountry), check out our
Local Area Businesses
that provide rentals.
Backcountry canoes can be used in two ways: single-day use (also known as day rental) and associated with an overnight
backcountry camping permit
.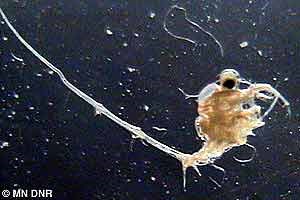 Why the Park provides Backcountry Canoe Rentals
To prevent aquatic invasive species from spreading, visitors are not allowed to bring their own watercraft (e.g. boats, canoes, kayaks, tubes, floatplanes) into the park's Backcountry lakes.

Kabetogama, Sand Point, Namakan, Rainy, and Crane Lakes contain the invasive Spiny Water Flea. Using boats already staged in the Backcountry help prevent this detrimental species from spreading to fish habitats in the Backcountry.

Back to top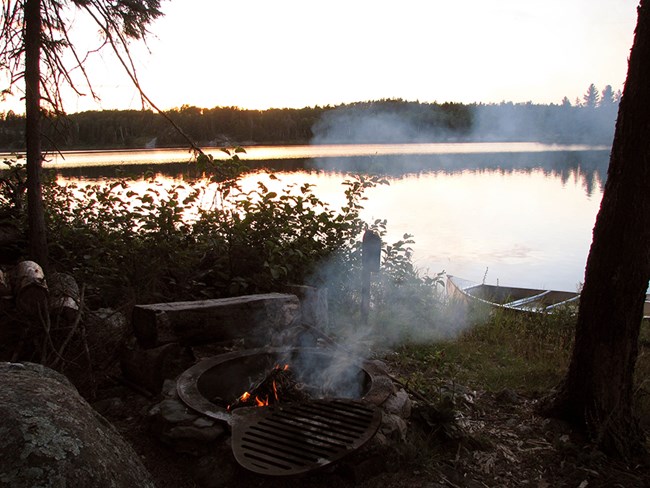 How to Get a Backcountry Canoe
Canoes for Backcountry Camping
When you purchase a Backcountry camping permit for the Chain of Lakes, Shoepack, and Little Shoepack, one backcountry canoe is automatically included in your permit so you can access the campsite.

Most sites only have one canoe. However, the Chain of Lakes has extra canoes and rowboats that can be added to your reservation. When you reserve a permit for a Backcountry campsite on the Chain of Lakes, the reservation website will ask if you wish to add boats before you finish your order. Simply select the number and types of additional watercraft you need for your group.

Backcountry Canoe Rentals (Single-Day Use)
Visitors can also rent canoes or rowboats in the Backcountry to use during the day without camping overnight. To rent a canoe online, click the "Reserve Day Use Rental" button on the Recreation.gov opening page for Voyageurs and select the date you want.

The key to unlock your canoe must be checked out from a visitor center during business hours and returned to any visitor center by the end of the day. If you need to drop your key off after visitor centers have closed, you can use the key drop box located near each of the three buildings.
Canoe Safety and Rules in the Backcountry
In addition to following rules for Frontcountry campsites, Backcountry visitors must:
| Rule or Regulation | Backcountry Camping | Day Use Canoe Rental |
| --- | --- | --- |
| Use only the number of boats shown on your permit (no additional canoes or rowboats). This ensures that other visitors can access their own reserved boats. | X | X |
| Pick up key for a reserved Backcountry canoe at a visitor center up to 24 hours in advance of your trip, and return keys to any park visitor center within 24 hours after your trip is done. A valid, printed permit is needed to check out a key. | X | X |
| Bring 1 life jacket for each person in your Backcountry boat and wear it. | X | X |
| Use non-live bait only, if fishing | X | X |
| No pets allowed on Backcountry trails | X | X |
| Return the canoe to the same location you found it | X | X |
| You may check into your backcountry campsite no earlier than 12pm noon on your arrival day, and must depart no later than 11am on your day of departure. Be mindfull that the next visitor may be waiting for your canoe to be returned to the launch area. | X | |
| Maximum stay is 7 days per year in the Backcountry | X | |
| Bring a rope to hang your food from bears (bear poles are provided at each Backcountry campsite) | X | |
Back to top
Last updated: June 23, 2021