Be A Junior Ranger

Want to learn even more about your parks and earn cool badges while you are here? Different educational programs are available to Junior Rangers at Redwood National and State Parks. All are fun, informative, and free!

Redwood Junior Ranger Activity Booklet
Visit any
information center
and pick up a free Redwood Junior Ranger Activity Book. Or, you can download the
junior ranger booklet
(PDF) and print a copy before leaving home. Then, complete the activities at your own pace while exploring the parks with your family.
When you're done, return the completed booklet to any visitor center (summer 9am-5pm / winter 9-4pm) and get sworn in and recieve your badge!
Sorry, but we do not mail out junior ranger badges.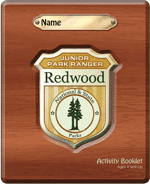 The Redwood Junior Ranger Activity Book is available in these languages!
Junior Ranger Librito de actividades (Spanish, PDF 7.4 MB)
Junior Ranger 활동 소책자 (Korean PDF 5.6 MB)
Junior Ranger Aktivitäten-Heft (German, PDF 7.2 MB)
Junior Ranger 活动手册 (Chinese-simplified, PDF 7.6MB)
Junior Ranger Sách Hướng Dẫn Các Hoạt Động (Vietnamese, PDF 7.3 MB)
Junior Ranger младший рейнджер (Russian, PDF 7.3 MB )

Ranger-Guided Program (available June - August)
From games and crafts to hikes and watching wildlife, explore some of the best places in California and make new friends along the way. To get started, children ages 7 to 12 should check our calendar or visit any information center for the time and place of the next Junior Ranger activity (typically about 1 hour long). Get an official state park badge after completing your first activity. There's even more prizes to be won, but you don't have to earn them here. You can continue at over 70 other state parks around California!
Here at Redwood National and State Parks, we're proud of our Junior Rangers. They're true partners in helping preserve these special places for future generations. Thank you!

Last updated: July 8, 2021