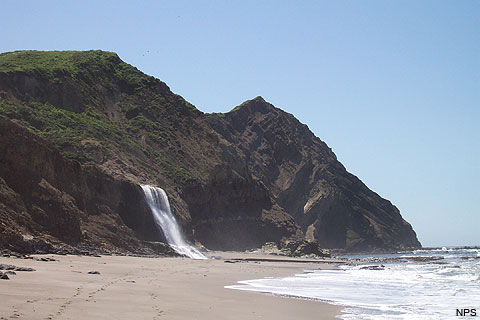 Alamere Falls is a beautiful waterfall deep within the Phillip Burton Wilderness, a dramatic sight as it cascades over a ~30 foot tall cliff onto the south end of Wildcat Beach. While no easy trek—a 13-mile (20 km) minimum round-trip hike is required—this spectacular spot is a popular—and sometimes—crowded visitor draw. But take note: it is also the site of multiple search-and-rescue operations each year. Beware getting too close to cliff edges and be mindful of coastal erosion!
Wilderness areas are places of refuge—protected and managed to allow for relaxation, self-reliance, opportunities for solitude, and natural quiet. To maintain this extraordinary wilderness character, this area is free of mechanized equipment. Devices such as radios, boomboxes, and portable speakers are prohibited. Dogs, other pets, and bicycles are also prohibited. Please refer to our Bicycle Riding and Pets pages to see where you can, respectively, ride your bike and bring your dog in the Seashore.
Wilderness also means the imprint of human development is limited: there are no restrooms near Bass Lake or Alamere Falls. Vault toilets are available at trailheads and Wildcat Campground. Please pack out everything you pack in. Help us keep this extraordinary wilderness wild! Leave no trace.