Current Conditions
Park Roads
All Park Roads are currently open, except for:
Beginning Saturday, December 28, 2019, the western end of Sir Francis Drake Boulevard may be closed on weekends and federal holidays when the Winter Shuttle Bus System is operating.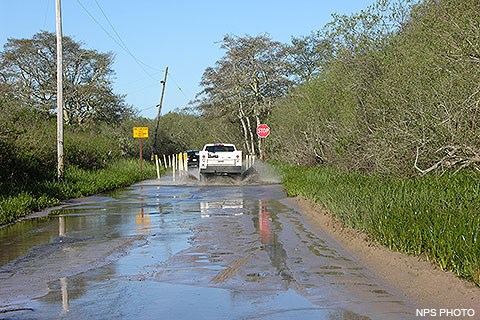 Poor Road Conditions along Sir Francis Drake Boulevard
As of April 2019, there are three locations along Sir Francis Drake Boulevard west of of the Mount Vision Road junction at which the road is reduced to one lane. Stops signs are located at both ends of each site where the eastbound lane has been undermined by the adjacent creek and part of the lane has collapsed. The westernmost location is perpetually flooded with an inch or two of water and may be flooded with several inches of water after rain storms and during very high tides. (See photo to the right.) Potholes may quickly form in this section of the road and drivers who do not slow down risk damaging their vehicles. Please observe all stop signs and, in the flooded sections, slow to a few miles per hour and proceed with caution.
Additional Sources for Road Conditions
After wind and/or rain storms, many roads to and from and within Point Reyes National Seashore may be blocked due to flooding, mud slides, downed trees, and/or power lines. Reports of closures and re-openings of roads are received too frequently to keep this page up-to-date. For emergency road and weather conditions in West Marin, visit Point Reyes National Seashore's Twitter feed, the National Weather Service San Francisco Bay Area's Twitter feed, the Marin County Department of Public Works' Twitter feed, the Marin Sheriff Department's Twitter feed, the Marin Fire Department's Twitter feed, the California Highway Patrol: Marin's Twitter feed, or tune in to KWMR, 90.5 FM.
For more information on road closures in Marin County and the Bay Area, check the Marin Sheriff Current Emergency Information, the California Department of Transportation's Current Highway Conditions, and CHP Traffic Incident Information (select "Golden Gate" from the "Communication Centers" drop-down menu in the upper left corner, then look for "Marin" in the "Location" and/or "Area" columns) websites.
Park Trails
Visit our Trail Advisories and Closures page for the latest trail updates.
Warning: Hazardous conditions near north end of the Tomales Point Trail. In January 2017, part of the bluff at the north end of Tomales Point collapsed. The bluff top may be unstable & another collapse could occur. Please don't attempt to reach the northern end of Tomales Point by going off-trail to the east of the collapse. More...
Warning: Fissures reported near the Chimney Rock Trail. Cracks were reported on a portion of the bluff near the Chimney Rock Trail on December 21, 2015. These fissures could indicate the possibility of a weakening cliff face in the area. The land may be unstable and a collapse or erosion could occur. Visitors are reminded to stay on designated trails. More...
Warning: The Arch Rock trail has been closed until further notice. New hazardous conditions on Arch Rock were reported to the park on Thursday, March 19, 2015. On Saturday, March 21, 2015, a portion of the land at the Arch Rock overlook collapsed into the waters 70 feet below. More...
Health and Safety Warnings/Advisories
There are currently no health and safety warnings/advisories for the Point Reyes area in effect.
Annual Seasonal Health and Safety Warnings/Advisories
Annual Quarantine of Sport-Harvested Mussels - May 1 through October 31
Every year, the California Department of Public Health (CDPH) announces an annual quarantine of sport-harvested mussels gathered along the California coast. The quarantine is in effect from May 1 until October 31 and applies to all species of mussels that are recreationally harvested along the California coast, including all bays and estuaries. The quarantine is in place to protect the public against poisoning that can lead to serious illness, including coma and death.
CDPH's Marine Biotoxin Monitoring Program's Annual Mussel Quarantine - Frequently Asked Questions (FAQs)
Wildlife
In spring, there are plenty of opportunities to see a wide range of animals. Elephant seal pups are still hauled out on beaches near Chimney Rock through April, and adult females return later in spring to molt their skin. Gray whales are migrating past the Point on their way to the Bering and Chukchi seas. Female harbor seals haul out on sandbars and beaches in Drakes Estero, Estero de Limantour, Tomales Bay, and Bolinas Lagoon to give birth and raise their pups. Please note that when seals and other pinnipeds haul out, they are extremely vulnerable to human disturbance, with the pupping and molting seasons being an especially vulnerable time for harbor seals. Please read the "How You Can Help" section on our Harbor Seals page for more information. Many species of birds migrate from, to, or past Point Reyes during the spring. Tule elk can be seen year-round on Tomales Point. Please visit our Wildlife Viewing page for more information.
Closures to Protect Harbor Seals
NOTICE: From March 1 through June 30, an annual recreational closure of Drakes Estero is implemented to protect the harbor seals during their pupping season, a very sensitive time of the year for these pinnipeds. The closure applies to kayak and canoe usage but is applicable to surfers, windsurfers, abalone divers, recreational fishing, and other water sport users around harbor seal colonies in the area. Double Point and the western most point of Limantour Spit are also closed to all human activity during the pupping season. Hog Island in Tomales Bay is closed during this same time period for nesting and roosting sea birds such as double-crested cormorants and brown pelicans.
more...
Closures to Protect Western Snowy Plovers
NOTICE: Point Reyes Beach Closure - May 25 through September 2, 2019 [i.e., Memorial Day weekend through Labor Day weekend]
A closure of the beach area between the North Beach parking lot and the mouth of Abbotts Lagoon is in effect on weekends and federal holidays every summer to better ensure the survival of federally-threatened western snowy plover nests and chicks within this area on busy weekends. All public use is prohibited. Reproductive monitoring of western snowy plovers at Point Reyes has previously demonstrated that chick mortality is higher on weekend days than weekdays. Disturbance by park visitors in plover breeding areas can separate chicks from the adults, and the chicks may then not be able to forage efficiently, thermoregulate properly, and hide from predators. In 2013, for example, of the 11 newly hatched chicks in the proposed closure area, only 3 survived past the July 4 weekend.
Map of Beach Closure (322 KB PDF)
Closures to Protect Elephant Seals
NOTICE: Drakes Beach Elephant Seal Colony - year-round
The Drakes Beach elephant seal pupping area as delineated by signs at the western-most end of Drakes Beach is closed to all entry due to seal activity at all times of the year. This closure is necessary to protect an established elephant seal colony from disturbance and protect the public. The elephant seal colony is used all year. No management action other than closure is sufficient.
Interactive Map Illustrating the Locations of the Elephant Seal-related Closures Referenced Above
Visitor Services
Visitor Centers
The Bear Valley Visitor Center and the Lighthouse Visitor Center are usually open throughout the year. Since Operational Changes took effect on May 1, 2013, the Lighthouse Visitor Center is now, for most of the year, only open Fridays through Mondays; closed Tuesdays through Thursdays.
more...
Lighthouse Restoration Project Began on Monday, August 6, 2018
On Monday, August 6, 2018, Point Reyes National Seashore began a large restoration project on the historic Point Reyes Lighthouse. This website's 2018 Lighthouse Restoration blog and our social media platforms on Facebook, Twitter, and Instagram will keep you up-to-date, so bookmark these and check back in the near future. The lighthouse area will be closed to all foot traffic, such as from August 6, 2018, through ~Friday, June 21, 2019, and we apologize for that in advance. The necessary improvements will make your future experience even better.
Map of the temporary closure in the Point Reyes Lighthouse Area - Monday, August 6, 2018, through early summer 2019 (317 KB PDF)
The Kenneth C. Patrick Visitor Center at Drakes Beach is open from 10 am to 4:30 pm on Saturdays and Sundays and federal holidays until further notice.
Ranger Programs
Visitors are invited to join a park ranger to learn more about Point Reyes and its history, wildlife, and/or geology during Ranger's Choice Programs.
Bookstores
The PRNSA Bookstore at Drakes Beach is open Saturdays and Sundays, some Fridays, and most federal holidays (except for Columbus Day, Veterans Day, Thanksgiving Day, and Christmas Day) from 11 am to 4:30 pm; closed Mondays through Thursdays, some Fridays, and on Columbus Day, Veterans Day, Thanksgiving Day, and Christmas Day.
Drakes Beach Café is indefinitely closed.
Latest News
If you're looking for more information about what is happening at Point Reyes National Seashore, visit our News Releases page, our Facebook page, and/or Twitter feed for the most up-to-date news.
Last updated: May 25, 2019