Kids & Youth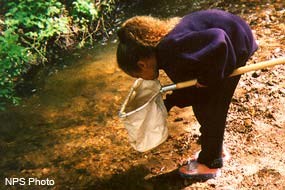 Plan Your Adventure Like a Junior Ranger!
Visit the NPS's Junior Ranger Park Explorer page to help you plan your visit to Point Reyes or other national parks.
Wildlife Viewing
The highlight of many children's visit to Point Reyes National Seashore is seeing the diverse wildlife that make their home or pass by here. Point Reyes National Seashore is home to nearly forty species of land mammals, and at least a dozen species of marine mammals. Nearly half the bird species of North America have been spotted here. The park is home to one of the largest populations of tule elk and a thriving breeding ground for the once nearly extinct northern elephant seals. Jutting 10 miles into the Pacific Ocean, Point Reyes offers one of the best spots for viewing the migrations of the California gray whale.
Junior Ranger Program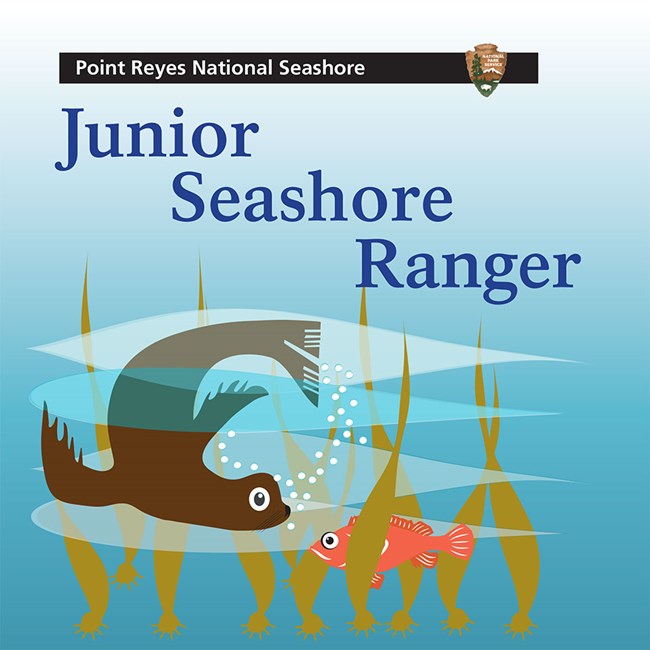 Point Reyes National Seashore offers lots of fun opportunities for kids. While at Point Reyes, children can discover the wonders of wildlife-watching, hike along a variety of trails, build sand castles, watch for whales, seals and sea lions, discover the lighthouse, check out our visitor centers with interactive displays, or become a Junior Ranger! Pick up a Point Reyes Junior Ranger activity booklet at one of the park's visitor centers and complete the age appropriate section of the booklet. Explore the history of the Coast Miwok people, or study the park's marine life (such as elephant seals and gray whales), or learn about the Point Reyes Lighthouse and maritime history. When finished, stop by one of the visitor centers to receive a Junior Ranger patch.
Don't have enough time to finish the book while you are in the park? No problem! Send your book to the following address when you complete it:
Bear Valley Visitor Center
Point Reyes National Seashore
1 Bear Valley Road
Point Reyes Station, CA, 94956.
A ranger will check your work and mail the book back to you with a badge!
---
You can also become an Underwater Explorer Junior Ranger by downloading and completing the Underwater Explorer Junior Ranger activity booklet (37.2 MB PDF) [Ahora disponsible en español! (38.4 MB PDF)]. To receive a Junior Ranger Underwater Explorer Badge and a Park Ranger's signature, please mail your signed pledge (page 35) to the National Park Service's Submerged Resources Center, the address for which can be found on page 2 of the booklet.
Point Reyes Summer Camp
Would you like to live in and explore Point Reyes for 4 to 6 days this summer? Do you like to explore mudflats, hike, tidepool, look for critters and have fun? If you are interested in receiving summer camp information, visit the Point Reyes Summer Camp website. The Point Reyes National Seashore Association runs this facility, and fees are charged.
School Reports
Do you need information to complete a school report? Information on wildlife, geology, plants, Coast Miwok Indians, the Point Reyes Lighthouse, and many other subjects is available through our Nature & Science and History & Culture pages.
High School Students
Are you interested in an internship, service learning project, or summer job? We offer a variety of opportunities including paid summer internships for students. Applications for science or science education positions are available online.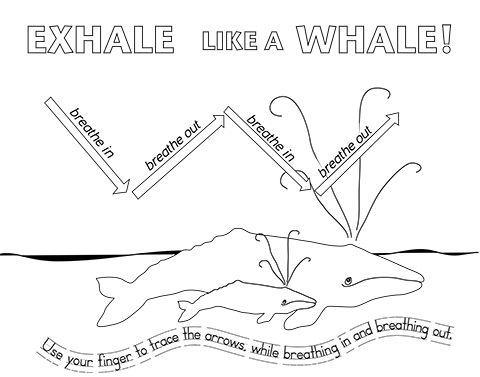 Coloring Activities
Exhale Like a Whale
Gray whales journey over 10,000 miles on their annual migration. The whales are slow swimmers, travelling at speeds of three to five mph. They take deep rhythmic breaths to help them on their journey.
Parents, try this coloring sheet with your kids to help focus on breathing and mindfulness throughout the day. Save the coloring sheet to your computer. Print out on an 8½x11 in piece of paper. Color in the sheet. Use your finger to trace the lines, while breathing in and out anytime you need to focus and slow down throughout the day.
Just keep swimming! We're all on this journey together.
Exhale Like a Whale Coloring Activity (149 KB PDF)

PEAK Online
The Promoting Environmental Awareness in Kids (PEAK) program is designed by the Leave No Trace Center for Outdoor Ethics to teach elementary school aged youth about the outdoors and the responsible use of our shared public lands. It is based on the seven principles of Leave No Trace. The PEAK program is now also available as an interactive, online course! This course can serve as a stand-alone education tool or as a great supplement to your existing Leave No Trace education curriculum.
Stay tuned for interactive learning opportunities at this site...

Adobe® Acrobat Reader® may be needed to view PDF documents.


Last updated: March 3, 2023