Whale Watching at Point Reyes
Click on the following links to find out more about viewing opportunities for these species and to learn about their habitats and behaviors:
Birds ¦ Coho Salmon ¦ Elephant Seals ¦ Tule Elk ¦ Whales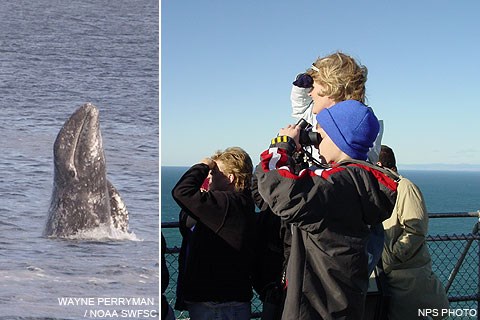 Gray Whale Migration
There is a mystery about these beautiful giants. Like humans, they breathe air, have warm blood, and give birth to live young. However, their home is in the depths of the dark ocean where so much is concealed from our probing human eyes. As gray whales migrate along the Pacific Coast, we may have a brief chance to view them before their return to a world that remains mysterious.
Engaging in the longest migration of any mammal, the California gray whale (Eschrichtius robustus) swims ~16,000 kilometers (~10,000 miles) each year, spending about one third of its life migrating from the cold, nutrient-rich waters of Alaska, to the warm, shallow lagoons of Baja California. Along the way, these incredible animals can often be seen from the shores of Point Reyes. What drives the gray whale to undertake this incredible annual round trip from Alaska to Baja? Food and reproduction. They feed for the majority of the year in cold, food-rich waters off of Alaska, but then need to migrate south to the warm, salty lagoons of Baja California where they give birth in the winter.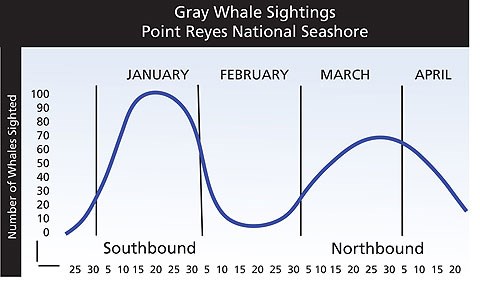 When is the Gray Whale Migration?
While some gray whale begin their migration from Alaskan waters in October and others don't return to Alaska from Baja California until June, here at Point Reyes National Seashore, the peak of the southern migration usually occurs in mid-January and that of the northern migration in mid-March. Late April and early May afford visitors the best opportunity to see mothers and calves close to shore.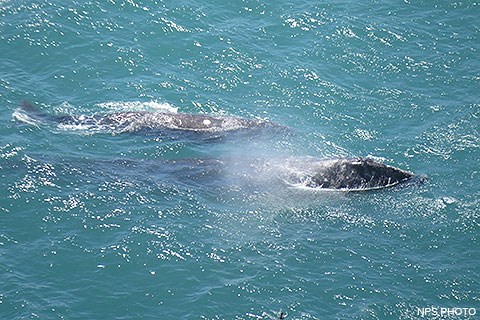 Why is Point Reyes a Good Whale Watching Location?
The headlands of the Point Reyes Peninsula offer one of the finest spots to view the gray whale along the California coast (weather permitting). Offshore lies the Gulf of the Farallones (protected by the Greater Farallones National Marine Sanctuary), which provides a 32-kilometer (20-mile) wide "highway" along which the whales cruise. Similar to automobile travel on U.S. roadways that run north to south, gray whales travel in the western lane (farther out to sea) as they migrate south past Point Reyes in December and January, and in the eastern lane (closer to shore) as they migrate north past Point Reyes in March, April, and May. The Point Reyes Peninsula juts 16 kilometers (10 miles) into the Pacific Ocean, allowing land-based visitors to get closer to the middle of the "highway," rather than only being able to view the whales from the eastern "sidewalk." As a result, whale watchers can potentially see many more whale from the Point Reyes Headlands (e.g., the Chimney Rock and the Point Reyes Lighthouse areas) than from along the park's beaches or most other locations along the California coastline.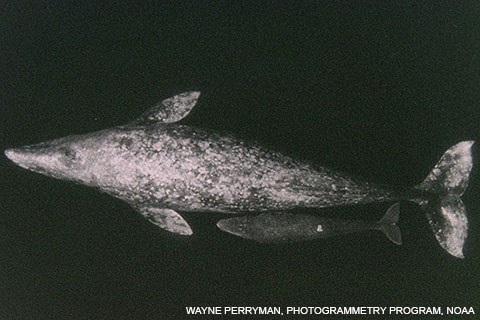 Learn More
Visit our Gray Whales at Point Reyes page.
Download the Pacific Gray Whales Resource Newsletter for more information about the gray whale. (396 KB PDF - Adobe® Acrobat Reader® may be needed to view this file).
Numerous ranger-led programs are offered during the Whale and Elephant Seal Season.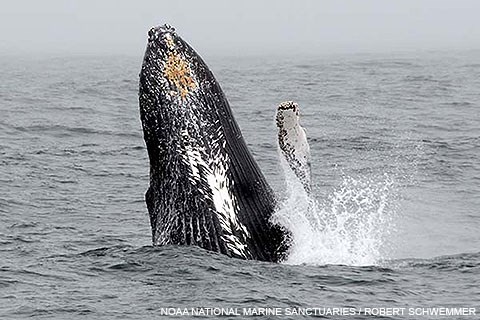 Other Species of Cetaceans
While Point Reyes is well known for being a great location for watching the gray whale migration during the winter and spring, a lot of visitors are surprised to see whales during the summer and fall. The waters off of Point Reyes, which are protected within the Greater Farallones National Marine Sanctuary, are some of the most diverse and productive in the world. This important marine ecosystem provides feeding grounds for many species of invertebrates, fish (including white sharks), birds, and marine mammals, including dozens of endangered or threatened species. After the gray whale, the humpback whale is the next most sighted whale at Point Reyes. Humpback whales migrate north from waters off of Mexico and Central America, where they spend the winter, to the Gulf of the Farallones, where they feed during the summer and fall. And extremely lucky visitors might get to see blue, fin, minke, or sperm whales. Common dolphins, bottlenose dolphins, and harbor porpoises can also frequently be seen, with orcas irregularly making an appearance.
Other Whale Watching Locations
Some of the best places to view whales from shore besides Point Reyes National Seashore are listed below:
(drive times and distances are approximate)
North of Point Reyes National Seashore
Sonoma Coast State Park
Bodega Head and beaches and blufftop trails of Sonoma Coast State Park - Phone: 707-875-3483. From Highway 1 take Westshore Road to the end of Westside Road. Approximately one hour north of Point Reyes.
Jenner
North Jenner Beaches, from Jenner to Sonoma Coast State Park's Russian Gulch. Jenner is approximately 17.5 kilometers (11 miles) north of Bodega Bay.
Fort Ross
Fort Ross State Historic Park - Phone: 707-847-3286. 19 kilometers (12 miles) north of Jenner on Highway 1.
Blufftop pullouts along the Eckert Acquisition of Fort Ross State Historic Park. These locations are informal, day-use-only, gravel pullouts along Highway 1 overlooking the ocean approximately 13 kilometers (8 miles) north of Jenner and approximately 6 kilometers (4 miles) south of Fort Ross. Please observe and heed all "No Parking" signs and do not park on the highway.
Stillwater Cove
Stillwater Cove Regional Park - Phone: 707-847-3245. 5 kilometers (3 miles) north of Fort Ross on Highway 1.
Salt Point
Salt Point State Park - Phone: 707-847-3221, 16 kilometers (10 miles) north of Fort Ross on Highway 1.
South of Point Reyes National Seashore
Marin Headlands
Golden Gate National Recreation Area - Phone: 415-331-1540. Take Alexander Avenue exit off Highway 101, north of Golden Gate Bridge. Use Conzelman Rd. to Point Bonita, or Bunker Rd. to Rodeo Beach.
Point Montara
Point Montara Lighthouse - Phone: 650-728-7177 (hostel). Highway 1 & 16 Street, less than 0.8 kilometer (0.5 mile) south of Montara (15 minutes south of San Francisco). Call ahead for more information on day use.
Highway 1 Bluffs
Bluffs along Highway 1 south of Pescadero to Pigeon Point Road. Please observe and heed all "No Parking" signs and do not park on the highway.
Pigeon Point
Pigeon Point Light Station State Historic Park - Phone: 650-879-2120. 30 kilometers (19 miles) south of Half Moon Bay (about an hour south of San Francisco). Half Moon Bay is about 30 minutes south of San Francisco.
Año Nuevo
Año Nuevo State Park - Phone: 650-879-2025. Highway 1 at New Year's Creek. 43 kilometers (27 miles) south of Half Moon Bay on Highway 1.
Whale watching by boat
Our Outfitters & Tours page lists the businesses and organizations offering Whale Watching trips out of San Francisco Bay and Bodega Bay.
The Whale Trail
The Whale Trail is a series of sites along the Pacific coast where the public may view whales and other marine mammals from shore. The Whale Trail's mission is to inspire appreciation and stewardship of whales and our marine environment by establishing a network of viewing sites along the whales' trails through Puget Sound and the coastal waters of the Pacific.
Whale Sighting Links
Are you wondering whether any whales have been seen recently in the waters off Point Reyes? Or whether any whales may be heading our way? Check out the links below.
Whale Alert - West Coast
Whale Alert - West Coast was formed by The Office of the National Marine Sanctuaries, Conserve.IO, and Point Blue Conservation Science, working in coordination with the International Fund for Animal Welfare (IFAW), to help reduce the number of ship collisions with whales. Conserve.IO developed two smart phone/tablet applications providing a user-friendly way for just about anyone to report whale sightings on the west coast in real time. These apps are a publicly available, so feel free to download either and both and share your sightings of whales with the world. Numerous, accurate reports will hopefully help sailors avoid colliding with whales.
Whale Alert - intended to be used by whale watching enthusiasts
Spotter Pro - intended to be used by researchers, commercial ship operators, charter fishing boat operators, whale watching naturalists, and recreational and commercial fishers


Last updated: January 20, 2022