Pacific Ocean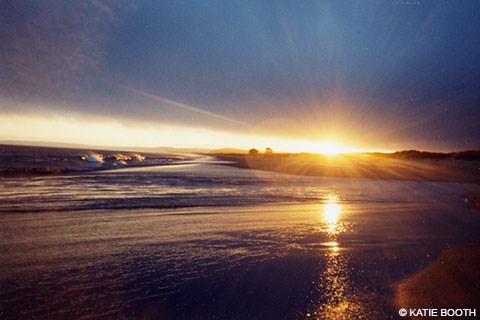 The Point Reyes peninsula is surrounded on three sides by the Pacific Ocean which dramatically affects the daily and seasonal climates, and numerous resident and migratory marine species. These ocean waters are within the California Current ecosystem, one of four major eastern boundary currents in the world, that stretches along the western coast of North America from southern Canada to northern Mexico. Besides the El Niño / Southern Oscillation (ENSO) and Pacific Decadal Oscillation, the most significant oceanic impact on the peninsula is the seasonal upwelling phenomena. Upwelling occurs when nutrient-rich colder waters rise from deeper levels to replace the relatively warm surface waters, and as a result creates summer coastal fog. The transport and cycling of these nutrients to the surface are responsible for the high productivity around Point Reyes that supports a large diversity of species throughout the food web and into the ecosystem.
National Marine Sanctuaries
In 1972, in response to a growing awareness of the value of our coastal waters, the Congress passed the National Marine Sanctuaries Act. The Act authorized the designation of National Marine Sanctuaries to protect: significant waters and secure habitat for aquatic species, shelter historically significant shipwrecks and other cultural resources, and serve as valuable spots for research, fishing, wildlife viewing, boating, and tourism. The Greater Farallones National Marine Sanctuary almost completely surrounds Point Reyes National Seashore, and the Cordell Bank National Marine Sanctuary is located further offshore to the west of the Point Reyes Headlands and Lighthouse.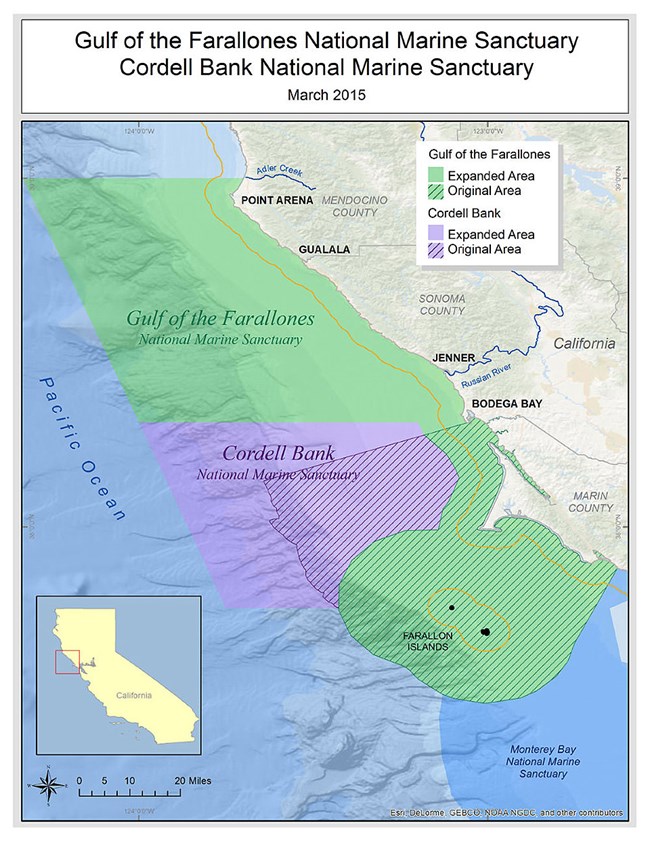 Greater Farallones National Marine Sanctuary
Recognizing the importance of the biodiverse oceanic ecosystem from Bodega Bay south past Point Reyes to the Farallon Islands, President Jimmy Carter designated the Point Reyes - Farallon Islands National Marine Sanctuary in 1981. The national marine sanctuary spanned 1,282 square-miles (968 square nautical miles [nmi2] or 3,320 km2), protecting open ocean, nearshore tidal flats, rocky intertidal areas, estuarine wetlands, subtidal reefs, and coastal beaches within its boundaries. In 1987, the sanctuary was renamed Gulf of the Farallones National Marine Sanctuary. In 2015, the National Oceanic and Atmospheric Administration expanded the sanctuary north and west of its original boundaries to encompass 3,295 square miles (2,488 nmi2 or 8,534 km2), and changed the name to Greater Farallones National Marine Sanctuary.
Greater Farallones National Marine Sanctuary is a globally significant, extraordinarily diverse, and productive marine ecosystem that supports abundant wildlife and valuable fisheries. It provides breeding and feeding grounds for at least twenty-five endangered or threatened species; thirty-six marine mammal species, including blue, gray, and humpback whales, harbor seals, elephant seals, Pacific white-sided dolphins, and one of the southernmost U.S. populations of threatened Steller sea lions; over a quarter-million breeding seabirds; and one of the most significant white shark populations on the planet.
Greater Farallones National Marine Sanctuary maintains an administrative office and public visitor center on Crissy Field in the Presidio of San Francisco.
Cordell Bank National Marine Sanctuary
Cordell Bank is a four-and-a-half mile by nine-and-a-half mile rocky undersea feature located 22 miles (19 nautical miles or 35 km) west of the Point Reyes headlands. In the late 1800s there was a strong incentive to survey the coast of California to promote safer maritime commerce. Cordell Bank was discovered in 1853 by George Davidson of the U.S. Coast Survey while returning from a mapping expedition on California's north coast. Edward Cordell, an accomplished surveyor, conducted additional surveys in 1869 when he was sent to relocate a "shoal west of Point Reyes." The bank sits at the edge of the continental shelf and rises abruptly from the soft sediments of the shelf to within 115 feet (19.2 fathoms or 35 meters) of the ocean surface.
The numerous birds and marine mammals over the bank aided Cordell in locating the submerged hill. The combination of ocean conditions and undersea topography creates a rich and diverse marine community. The prevailing California Current flows southward along the coast, and the annual upwelling of nutrient-rich deep ocean water supports the rich biological community of fishes, invertebrates, marine mammals, and seabirds found around the bank. Although the area was long considered a productive fishing area, not much was known about what life existed on the bank until 1977.
Cordell Bank was first explored underwater in 1977 by a non-profit research association, Cordell Expeditions. Over the next ten years, divers documented the organisms living on and above the bank. Through these efforts, images of the biological diversity of Cordell Bank were available to the public for the first time. This effort was instrumental in creating Cordell Bank National Marine Sanctuary in 1987, which protected 529 square miles (399 nmi2 or 1,347 km2) of ocean waters and seafloor. In 2015, the National Oceanic and Atmospheric Administration expanded the sanctuary north and west of its original boundaries to encompass a total of 1,286 square miles (971 nmi2 or 3,331 km2).
Cordell Bank National Marine Sanctuary maintains an administrative office at Point Reyes National Seashore's Bear Valley. Being that Cordell Bank National Marine Sanctuary is offshore and out of reach for most of us, the sanctuary provides support and/or educational resources to several institutions in the region. Wayside panels and full exhibits that allow visitors to explore this hard to reach place include exhibits within the Bear Valley Visitor Center and the Ocean Exploration Center attached to the Point Reyes Lighthouse Visitor Center.
A Threatened Ecosystem
This high level of biodiversity is at risk, however, from a variety of causes. From the affects of climate change to changing the chemistry and acidity of ocean waters to using the oceans as a dumping grounds for toxic, radioactive, and plastic wastes to overfishing, humans have dramatically altered ocean ecosystems.
Read about the direct climate change impacts to Greater Farallones National Marine Sanctuary (1,971 KB PDF) and Cordell Bank National Marine Sanctuary (2,292 KB PDF).
Read Altered Oceans, a Pulitzer Prize winning five-part series on the crisis in the seas. This series was written by Kenneth R. Weiss and Usha Lee McFarling and published by the Los Angeles Times in the summer of 2006.
How You Can Help
While humans have the capacity to destroy much of the life found in the ocean, we also have the ability to save and restore ocean ecosystems. Visit Cordell Bank National Marine Sanctuary's Ocean Conservation page to find out what you can do to help protect this vital resource. You can also read 50 Ways to Save the Ocean by David Helvarg (2006, Inner Ocean Publishing). Some of Helvarg's recommendations were incorporated into a series of Ocean Updates for World Ocean Day 2008, as well as by Sea Turtle Restoration Project on their 50 Ways to Help Save the Ocean page.
Marine Debris
With bottles, cans, abandoned or lost fishing gear and other marine debris washing up on our shores each year, the University of Georgia and NOAA have teamed up to create the Marine Debris Tracker app to combat the marine debris problem. This app tracks where marine debris is accumulating and gives anyone with a smart phone an opportunity to be a part of the solution.
Tune into the Ocean Currents Radio Program
To learn more about ocean conservation topics you can tune into KWMR once a month for Ocean Currents, a radio program hosted by Cordell Bank National Marine Sanctuary staff that focuses on ocean topics locally and globally. Tune in the first Monday of every month at 1:00 PM on KWMR at 90.5 FM Point Reyes Station, 89.3 Bolinas, or live on the web at www.kwmr.org. You can also subscribe to the Ocean Currents podcast or hear archived shows by going to Cordell Bank's Ocean Currents Podcast page. Learn about rockfish, artificial reefs, humpback whale research, sustainable seafood, history of the Farallon Islands, the Marine Life Protection Act, plastic in the ocean, bioluminescence, and more!
Other Ocean and Coastal National Park Units
As of 2021, 88 national park units protect parts of our oceans and coasts. These ocean and coastal parks are conserved so all may know and experience the nation's ocean and maritime heritage. These spectacular places encompass beautiful coral reefs, kelp forests, beaches, tidewater glaciers, estuaries, sand dunes, islands, and more. Many are also gateways for exploring the nation's rich maritime and military history. Explore the National Park Service's Oceans website to learn more about America's great waters and the ways in which they connect us all.
Press Releases
August 21, 2009
Marine Protected Areas Created in California's North Central Coast
Earlier this month, California's Fish and Game Commission approved a sweeping plan to protect ocean habitats in 24 marine protected areas in state and federal waters, including some within and adjacent to Point Reyes National Seashore.
Altered Oceans
Part One: A Primeval Tide of Toxins, by Kenneth R. Weiss - July 30, 2006
Part Two: Sentinels Under Attack, by Kenneth R. Weiss - July 31, 2006
Part Three: Dark Tides, Ill Winds, by Kenneth R. Weiss - August 1, 2006
Part Four: Plague of Plastic Chokes the Seas, by Kenneth R. Weiss - August 2, 2006
Part Five: A Chemical Imbalance, by Usha Lee McFarling - August 3, 2006
Pacific Ocean Education Team Newsletters


Last updated: March 25, 2023