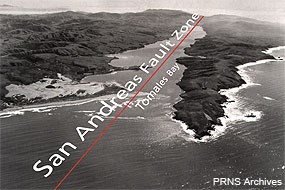 The Point Reyes Peninsula has long baffled geologists. Why should the rocks of this craggy coast match rocks in the Tehachapi Mountains more than 310 miles to the south? The answer lies in plate tectonics and the continual motion of the Earth's crust.
Geologically, Point Reyes National Seashore is a park on the move. The eastern border of the park parallels the San Andreas Fault, which is the current tectonic plate boundary separating the Pacific Plate from the North American Plate. If you draw a line through the middle of Tomales Bay in the north through the Bolinas Lagoon on the south, this is the path of the San Andreas Fault Zone. Faults come in three types: divergent, convergent, and transform. The San Andreas Fault is an example of the third--a transform fault--where plates pass one another like cars on a two way street.
Many visitors of our park are surprised to find that they are unable to look at a single crack, chasm, or other defining feature that is the actual fault. The San Andreas Fault Zone contains many large and small faults running parallel and at odd angles to one another which collectively have resulted in the Olema Valley, and the flooded sections of the valley form Tomales Bay to the north and Bolinas Lagoon to the south. The ridges parallel to the valley are called shutter ridges, a feature typically associated with transform fault zones.