Volunteer: Internships
Thank you for your interest in an internship at Point Reyes National Seashore!
General Internship Inquiries
For general internship inquiries, please email the following information to the park's volunteer coordinator:
Name, email, phone number
Resume and/or list of classes completed
Type of work requested
Availability
Need for housing and/or reimbursement for meals and transportation
Once we receive this information, we will forward it to the park staff and inquire as to what opportunities might be available.
If you have any questions, you may contact us at 415-464-5225 or by email.
Current Internship Opportunities
There are no internships currently available.
Scientists In Parks Internship Program: Point Reyes National Seashore, Natural Resource Interpretive Assistant
This was a 12-week internship (January–March) with the park's Science and Interpretation Divisions. The intern was responsible for assisting Point Reyes National Seashore staff in educating the public on the natural history, research, and protection of elephant seals, ensuring the safety of the elephant seals and visitors at Drakes Beach, and monitoring elephant seals within the park.
This position was offered through the National Park Service's Scientists in Parks (SIP) Program in partnership with Stewards Individual Placement Program and the Geological Society of America's (GSA) Scientist in Parks Program.
Visit the Geological Society of America's Online Application System for more details about the position.
The application deadline was June 13, 2021.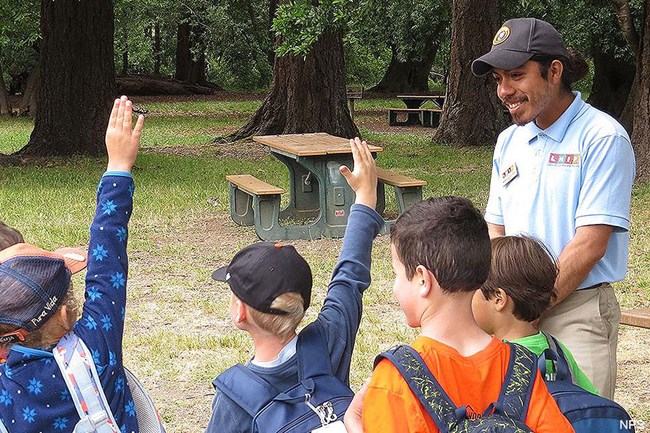 Latino Heritage Internship Program: Point Reyes National Seashore Interpretation, Outreach, and Digital Communication Intern
The intern will be an integral part of the Division of Interpretation during the busy summer season, providing park orientation, presenting interpretive programs, and furthering outreach to under-resourced communities. These will all be mitigated through COVID-19 safety precautions.
There will be two crucial parts to the intern's work. One will be to promote diversity, relevancy, and inclusion through outreach and community engagement, especially in partnership with the Point Reyes National Seashore Association for Latino Conservation Week events. The second will be to promote interpretation and resource education through digital communication, helping create Section 508-compliant content for social media and the park website. 508 compliance means the park's social media will be accessible to all. And, in turn, Point Reyes is a more inclusive place for visitors to have the opportunity to forge connections with park resources.
More Details
The application deadline was February 7, 2021.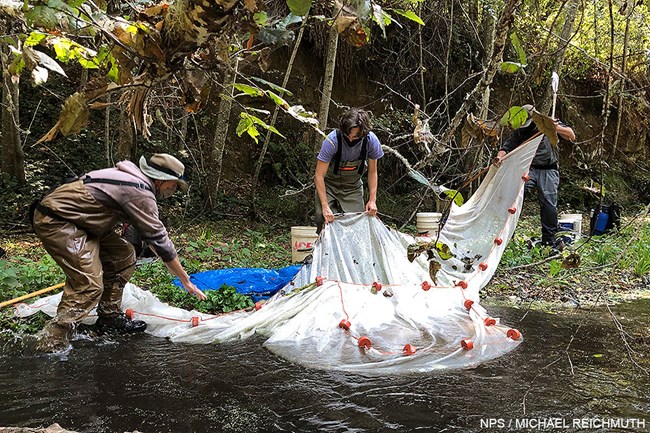 Mosaics in Science Diversity Internship Program: San Francisco Bay Area Inventory and Monitoring Program Coho and Steelhead Monitoring Intern
The Mosaics in Science Diversity Intern will be paired with the San Francisco Area Network (SFAN) Inventory and Monitoring (I&M) fishery biologist in a twelve-week-long (May 2021, through August 2021) biological field assistantship where they will have opportunities for in-depth learning while collecting vital information on endangered coho salmon and threatened steelhead within Point Reyes National Seashore and Golden Gate National Recreation Area. By assisting with the SFAN I&M Coho and Steelhead monitoring program, the Mosaics in Science Intern will receive in-depth education on techniques used to monitor endangered coho salmon and threatened steelhead, along with other fish species.
Application deadline: January 24, 2021
Latino Heritage Internship Program: Point Reyes National Seashore Interpretation and Outreach Assistant
The intern was an integral part of the Division of Interpretation during the busy summer season, providing park orientation, presenting interpretive programs, and furthering outreach to under-resourced communities. There were two crucial parts to the intern's work: one was to promote diversity, relevancy, and inclusion through outreach and community engagement, especially leading up to events; the second was to promote interpretation and resource education through the creation of roving materials and actively roving in different sites throughout Point Reyes National Seashore.
Application deadline: February 7, 2020
Latino Heritage Internship Program: San Francisco Bay Area Inventory and Monitoring Program Coho and Steelhead Monitoring Intern
The Latino Heritage Intern was paired with the San Francisco Area Network (SFAN) Inventory and Monitoring (I&M) fishery biologist in an eleven-week-long (May, 2020, through August, 2020) biological field assistantship where they had an opportunity for in-depth learning while collecting vital information on endangered coho salmon and threatened steelhead within Point Reyes National Seashore and Golden Gate National Recreation Area. By assisting with the SFAN I&M Coho and Steelhead monitoring program, the Latino Heritage Intern received in-depth education on techniques used to monitor endangered coho salmon and threatened steelhead along with other fish species. In addition, members were exposed to restoration techniques being applied to increase the chance of species survival for the enjoyment of generations to come.
Application deadline: February 7, 2020
Historic Preservation Team Intern
Application deadline: December 31, 2017
Volunteer Program Management Internship
The intern in this position assumed, under the direction and mentorship of the park's Volunteer Program Manager, primary responsibility in the management, coordination, and supervision of the Tule Elk Docent Program at Point Reyes National Seashore. The Tule Elk Docent Program is designed to help volunteer docents and the general public strengthen their connections with and foster stewardship of Point Reyes National Seashore. This is accomplished by training and supporting docents to provide opportunities for visitors to view, understand, and appreciate tule elk during the rut, or mating season.
Application deadline: June 9, 2017
Last updated: June 16, 2021