---
Survey of
Historic Sites and Buildings
For the convenience of users of this volume, sites and buildings are listed alphabetically by State. The following code indicates site categories:

Site Categories
| | |
| --- | --- |
| | National Park System unit (managed by National Park Service) |
| | National Park System unit (managed by Bureau of Land Management) |
| | National Historic Landmark |
| | Other Sites Considered |
NOTE: The following descriptions indicate sites that are open to the public. Before visiting any of them, inquiry should be made to the owners or custodians concerning dates and hours of access and admission costs, usually nominal. Special permission should be obtained to visit privately owned sites. Web Edition Note: The description of these sites reflect their status at the time of publication of this document in 1975. The text reflects some minor updates to this material, but the viewer should consult other sources for more accurate up-to-date information.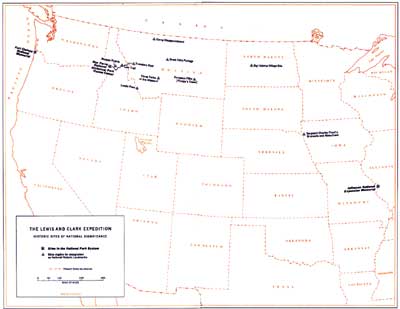 The Lewis and Clark Expedtion — Historic Sites of National Significance.
(click on image for an enlargement in a new window)


Maps

1 The Lewis and Clark Expedition, 1803-1806
2 Up the Missouri, Camp Wood—Camp Fortunate
3 Crossing the Continental Divide, Camp Fortunate—Bitterroot River
4 Headwaters of the Missouri—Columbia River and Pacific Ocean, Westbound and Eastbound
5 Crossing the Bitterroot Mountains via the Lolo Trail, Westbound and Eastbound
6 Exploring the Mouth of the Columbia and the Pacific Coast
7 Travelers Rest (Point of Separation)—Point of Reunion, Eastbound
8 The Lewis and Clark Expedition—Historic Sites of National Significance
9 Location of Camp Wood and Channels of Mississippi, Missouri, and Wood Rivers, 1804 and 1970
10 Portage Route Around the Great Falls and Rapids of the Missouri River, Westbound and Eastbound
11 Fort Mandan and Nearby Mandan and Minnetaree Indian Villages




---
http://www.cr.nps.gov/history/online_books/lewisandclark/sitec.htm
Last Updated: 22-Feb-2004