---
Survey of
Historic Sites and Buildings
Fort Osage
Missouri



Location: Jackson County, northern edge of Sibley.
Although this fort was primarily significant as a fur trading post and one of the first military outposts in the trans-Mississippi West, it also had associations with the Lewis and Clark Expedition and the later career of Clark. On their westbound journey, in June 1804 the two explorers noted that the site, on the south bank of the Missouri overlooking a river bend, would be an ideal one for a fort and fur trading post. Four years later, while serving as a militia general and Superintendent of Indian Affairs at St. Louis, Clark, supported by Volunteer and Regular troops, founded there a "factory" and Army post. That same year, U.S. Government officials signed a treaty at the fort with the Osages, who ceded most of their lands in present Missouri and the northern part of Arkansas.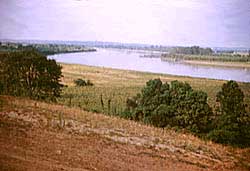 The placement of Fort Osage, looking down on the Missouri, commanded a strategic position, although no remains of the original log post are extant. (National Historic Landmarks collection.)
Fort Osage, sometimes called Fort Clark, was one of the most successful of the 28 Government factories. The ill-fated factory system, inaugurated among the Indians in 1795, sought to win their good will by supplying them with goods from official trading posts, strengthen military policy, promote peace on the frontier, prevent the exploitation of the Indians by private traders, and offset British and Spanish influence over the natives.
Both the Army and the factor abandoned the post during the War of 1812, but returned a year or so later. The Army remained until 1819; the factor until 1822, the year the Government abolished the complicated and idealistic factory system, which had never been very successful. After that time, Fort Osage served as a Government store house and stopping point for Santa Fe Trail traders.
No remains of the original log post are extant. In 1941 the County Court of Jackson County, Mo., acquired the site. Between 1948 and 1961, based on extensive archeological excavation and historical research, the Jackson County Park Department, with the technical assistance of the Native Sons of Kansas City (Mo.), reconstructed the fort. It includes five blockhouses, the main one containing exhibits and cannon; officers' quarters; barracks; the factory, which is furnished with period pieces and has a museum on the second floor featuring exhibits on the factory system and military artifacts; an interpreter's house; blacksmith shop; well; and "Little Osage Village."
---
http://www.cr.nps.gov/history/online_books/lewisandclark/site10.htm
Last Updated: 22-Feb-2004