---
Survey of
Historic Sites and Buildings
Point Ellice Campsite
Washington



Location (approximate): Pacific County, along Wash. 401, about 1 mile east of the Astoria Bridge, at Hungry Harbor.
Of all the campsites utilized by the expedition, this one on the east side of Point Ellice—called by Clark the "blustering point" or "Point Distress"—was probably the most unpleasant.
As the explorers neared the mouth of the Columbia, beginning on November 6, 1805, and lasting through the 14th, severe rainstorms and high winds buffeted them almost continuously. On November 10 giant waves prevented the five tiny craft from rounding Point Ellice, a 500-foot-high rocky promontory on the north bank of the river. That night, a miserable one, camp was made on a pile of drift logs that for awhile were whipped about by the tide in the raging waters. For the next 4 days, until the weather abated, the cold, drenched, and hungry men took shelter inland on adjacent high ground. On November 15 the group moved ahead to a better location on Chinook Point.
The Point Ellice campsite is unmarked.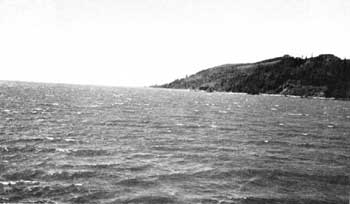 Point Ellice, Wash., on the north bank of the Columbia about 10 miles from the Pacific and directly opposite Astoria, Oreg. One of the most disagreeable campsites (November 10-15,1805), because of rain and high winds, was located at this 500-foot-high rocky promontory. (National Park Service (Mattison, 1958).)
---
http://www.cr.nps.gov/history/online_books/lewisandclark/site41.htm
Last Updated: 02-Apr-2004