---
Survey of
Historic Sites and Buildings
Saltmaking Camp (Salt Works)
Fort Clatsop National Memorial
Oregon



Location: Clatsop County, on the southern end of the ocean-front promenade at Q Street, in the city of Seaside. A unit of Fort Clatsop National Memorial.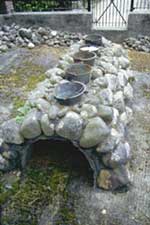 Salt Works.
To augment their low supply of salt upon arrival at the Pacific coast, Lewis and Clark assigned high priority to the task of producing this commodity. On January 2, 1806, Privates Joseph Field, Bratton, and Gibson established a saltmaking camp about 10 air miles southwest of Fort Clatsop near the mouth of the Necanicum River, which provided fresh drinking water. The camp operated until February 21. Usually at least three men were assigned there, though the number varied and personnel were rotated. Salt was obtained by laboriously boiling sea water in five large kettles. About 3 of the approximately 4 bushels produced at the camp were packed in kegs and carried eastward from Fort Clatsop with the expedition on March 23.
Parts of the trail running from the camp to Fort Clatsop may still be traced today. In 1900 the Oregon Historical Society authenticated the site of the saltmaking camp, known today as the salt cairn. It is now a unit of Fort Clatsop National Memorial. The cairn, originally constructed of boulders cemented together with native clay, was rebuilt in 1955 and five kettles placed on it. The area is now enclosed with an iron fence, and a plaque describes its significance.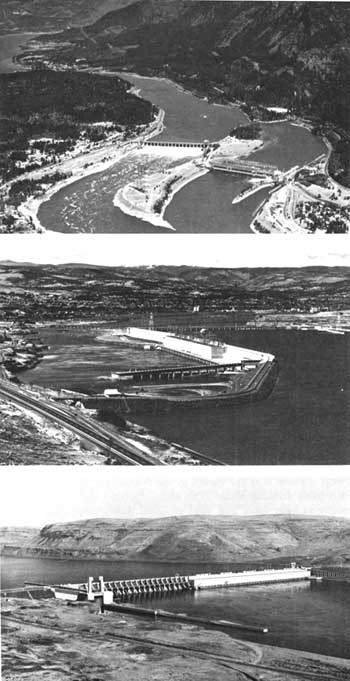 Bonneville (top), The Dalles (middle), and John Day (bottom) Dams convert the powerful waters of the Columbia into electrical energy for the homes and factories of Oregon and Washington. Mount Hood, Oregon's highest peak, 36 miles distant, graces the skyline behind The Dalles Dam. (U.S. Army Corps of Engineers.)
---
http://www.cr.nps.gov/history/online_books/lewisandclark/site35.htm
Last Updated: 22-Feb-2004