---
Survey of
Historic Sites and Buildings
Slant (Mandan) Indian Village
North Dakota



Location: Morton County, along the west, or south, bank of the Missouri River, in Fort Lincoln State Park,just off N. Dak. 6, nearly opposite Bismarck and about 5 miles south of Mandan.
Fort Lincoln State Park, on the Missouri River near the mouth of the Heart River, primarily commemorates the sites of Fort Abraham Lincoln (1872-91), an Army post during the Indian wars, and its predecessor, Fort McKean (1872), about 5 miles to the north. An interesting subsidiary feature in the park, however, are five replicas of Mandan earthlodges. They are located on the 6 to 8 acre site of an abandoned village, just above which the Lewis and Clark Expedition camped on the night of October 20-21, 1804. While returning from the Pacific, on August 18-19, 1806, it bivouacked across the Missouri on its east bank. Probably because of its location on the side of a hill, the village on the west bank has been called Slant Indian Village. The explorers noted vacated settlements along both sides of the river.
In 1738 the French trader-explorer Pierre Gaultier de Varennes, Sieur de la Vérendrye, and his two sons had visited the place. By that time, the Minitaris, who had resided with the Mandans, had likely moved away; by 1740 they were living along the mouth of the Knife River, around 60 river miles to the north. About 1764, apparently pressured by encroaching Sioux, the Mandans moved upriver about 40 miles and stayed there for awhile. By 1770 they had pushed another 20 miles up the Missouri and established two villages along that stream near the Minitari Knife River settlements. It was at these locations that Lewis and Clark first encountered the two tribes.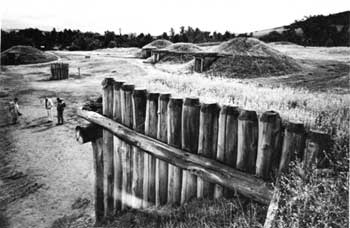 Reconstructed Mandan earthlodges at Fort Abraham Lincoln State Park. (Bureau of Outdoor Recreation (Blair, 1964).)
The mounded, circular earthlodges in Fort Lincoln State Park are the only full-sized replicas extant on an original site. Construction materials and techniques were based on archeological excavations and documentary sources, including the Lewis and Clark journals. Besides the earthlodges, the park includes the sites of the two forts. Locations of various buildings have been marked, and three blockhouses of Fort McKean have been reconstructed. A museum interprets the history of the forts and the Mandans.
---
http://www.cr.nps.gov/history/online_books/lewisandclark/site33.htm
Last Updated: 22-Feb-2004