---
Survey of
Historic Sites and Buildings
Clark Gravesite and Monument
Missouri



Location: Bellefontaine Cemetery, bounded by Broadway, W. Florissant, and Calvary Avenues and I-70, St. Louis.
Atop a hill overlooking the Mississippi River in Bellefontaine Cemetery rises an impressive stone monument marking the gravesite of William Clark. A prominent citizen of St. Louis in the years following the expedition, he served there for about three decades as a U.S. Government official. On September 1, 1838, at the age of 69, he died at the home of his eldest son, Meriwether Lewis Clark. Burial, with military and Masonic honors, occurred 2 days later on the farm of the elder Clark's nephew Col. John O'Fallon. Bellefontaine Cemetery later absorbed the gravesite.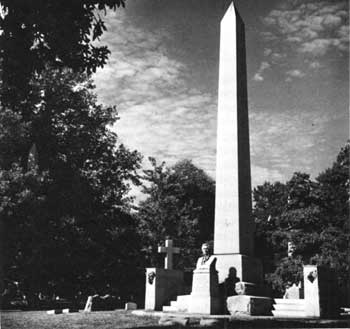 Clark Gravesite and Monument, in Bellefontaine Cemetery, St. Louis. (Bureau of Outdoor Recreation (Blair, 1964).)
Jefferson K. Clark, who died in St. Louis in 1902, then William Clark's only surviving son, bequeathed money for the monument and his widow supervised its construction. Unveiled in 1904, it consists of a tall obelisk on a pedestal. At its base stands a bust of Clark inscribed with the following epitaph: "William Clark—Born in Virginia August 1, 1770—Entered Into Life Eternal September 1, 1838—Soldier, Explorer, Statesman, and Patriot—His Life Is Written in the History of His Country."
The memorial is located in the northern part of the cemetery above Meadow Lane near the Broadway Avenue entrance. The 333-1/2-acre burial ground also contains the graves of such noted personalities as Gens. B. L. E. Bonneville, Stephen W. Kearny, and Sterling Price; fur traders Manuel Lisa, William Sublette, and Robert Campbell; Senator Thomas H. Benton; physiologist Dr. William Beaumont; and engineer James B. Eads.
---
http://www.cr.nps.gov/history/online_books/lewisandclark/site9.htm
Last Updated: 22-Feb-2004