---
Survey of
Historic Sites and Buildings
Confrontation with the Teton Sioux Site
South Dakota



Location (approximate): Stanley County, along County Route 514, on the west, or south, bank of the Missouri River, about 4 miles north of the city of Fort Pierre and 2 miles south of Oahe Dam.
The confrontation with the Teton Sioux late in September 1804, one of the few incidents on the entire journey involving hostile Indians, represented the Lewis and Clark Expedition's first major test. The initial council with chiefs of the tribe occurred on a sandbar at the mouth of the Bad River on September 25, and ensuing ones about 5 miles farther upriver at an Indian village (present site) on September 26-27. The councils were amicable enough, but the Tetons demonstrated hostility on several other occasions, including the departure of the expedition on September 28. For this reason, all its members were on the alert for an attack. Had it not been for a show of firmness and astute handling of some delicate situations, Lewis and Clark, as well as their command, might have been killed or captured.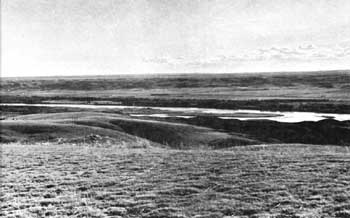 This view from the east bank of the Missouri looks westward across the river. The Confrontation with the Teton Sioux Site, S. Dak., was situated somewhere in the bottom land along the west bank of the river. (National Park Service (Appleman, 1964).)
The site of the meeting on September 25 is apparently lost in the mouth of the Bad. The unmarked second site is probably situated in the bottom land upstream about 5 miles and is either traversed or closely approached by County Route 514, which runs north from U.S. 14 near the city of Fort Pierre. The area is privately owned farmland, but is partly covered with native grass. The river bottom at this point is about a mile wide, a width that is rather uniform from just above the mouth of the Bad nearly to Oahe Dam, a distance of about 7 miles. Across from the confrontation site, the east side of the river is lined by high bluffs. Viewed from them, the west river bottom and bluffs have a tawny brown-light green appearance and must look much like they did in 1804.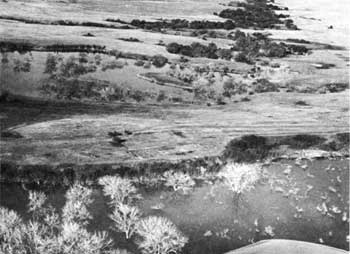 Aerial view looking southwestward over the site of Fort Manuel, S. Dak., before Oahe Reservoir inundated lt. Sacagawea probably died at the fort in 1812 and was undoubtedly buried nearby. Archeological excavations, completed before water obscured the site in 1966, are noticeable on the bluff edge just beyond the rising reservoir waters in the foreground, which are covering the cottonwood-forested Missouri River bottom land. (River Basin Surveys, Smithsonian Institution (1966).)
---
http://www.cr.nps.gov/history/online_books/lewisandclark/site36.htm
Last Updated: 02-Apr-2004