---
Survey of
Historic Sites and Buildings
Camp Chopunnish
aka Lewis and Clark Long Camp
Nez Perce National Historical Park
Idaho



Location: Idaho County, along the north, or east, bank of the Clearwater River, on the eastern edge of the Nez Perce Indian Reservation, about 1-1/2 miles downstream, or northwest, from the bridge over U.S. 12 that crosses the river at Kamiah, and some 2 miles below the mouth of Lawyer's Creek. The site is accessible by a secondary road running off U.S. 12. As of 1992, it is now a part of the Nez Perce National Historical Park.
Arriving back among the Nez Perces on May 3, 1806, far too early to cross the Lolo Trail, the homeward-bound expedition was forced to spend several weeks with the tribe while waiting for the snow to recede in the Bitterroot Mountains. Most of this period, almost a month (May 14-June 10), was spent at what has come to be known variously as Camp Chopunnish, after the two captains' name for the Nez Perces; Long Camp, because of the duration of the stay; and Camp Kamiah, for its location. The Indians had recommended the site for the availability of pasturage and the good hunting nearby.
Mingling with the Nez Perces, the men used the time to relax. Their commanders counciled with the chiefs and learned much about the tribe. Practically all the horses that had been left with it the year before were recovered. Because of the food shortage, a problem shared with the Indians, the hunters were busy, not only to satisfy immediate needs but also to lay in a supply of food for the crossing of the Bitterroots.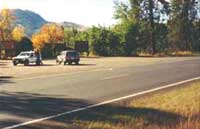 Long Camp. (National Park Service (Nez Perce National Historical Park).)
On June 10 the explorers moved northeastward from Camp Chopunnish about 8 miles to the southern part of Weippe Prairie to be near the starting point of the Lolo Trail, which was crossed the last week in June after the failure of an earlier attempt.
In 1902, when historian Olin D. Wheeler visited the site, he could still see the sunken circular ring where Lewis and Clark had established their camp. Since that time, however, the integrity of the site has been destroyed. A large sawmill now covers it, and numerous other buildings are located in the vicinity. The area may be viewed from an unmarked turnout on U.S. 12 along the opposite, or south, side of the river.
---
http://www.cr.nps.gov/history/online_books/lewisandclark/site2.htm
Last Updated: 22-Feb-2004