Hiking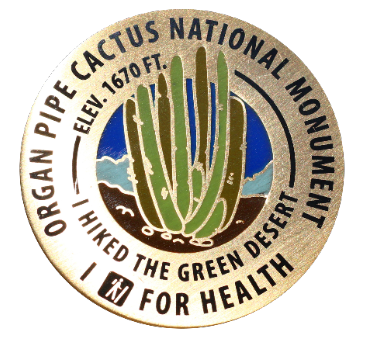 Hiking in the "Green Desert"
Hiking is a great way to exercise while exploring the surprisingly lush Sonoran Desert either by yourself or with your family. There are miles and miles of trails laced around Organ Pipe Cactus National Monument. Some are easy, others are strenuous, most of them fall somewhere in between; Organ Pipe Cactus has trails for everyone. For backpackers or those seeking to adventure in an unexplored area, some of the best hiking is off the beaten trails and out in the canyons with only a map and compass to guide you. Ask a ranger at the Kris Eggle Visitor Center or learn more about the different trails below and see what's right for you.

Remember when hiking in the desert to always carry plenty of water and avoid hiking during the hottest parts of the day. Visit the Desert Safety page to learn more about how to best enjoy your time safely in the monument. Visit the Leave No Trace page to learn simple actions you can take to help preserve your public lands.
Hike For Health Challenge
Hike the Green Desert and earn a reward for being active in Organ Pipe Cactus! The "I Hike For Health" challenge will reward you for hitting the trails and achieving distance goals. By hiking 5 miles of trails, visitors are presented with a "Hike For Health" pin as a momento of their treks across Organ Pipe Cactus. Stop by the Kris Eggle Visitor Center to pick up the rules and receive your pin.

Hiking is a great way to exercise and stay in shape. For every mile you walk, you will burn around 70 calories (1/2 candy bar). Count your steps at home and challenge yourself to keep hiking in the over 400 units of the National Park System not only for your enjoyment but for your health too!
Program Rules
1. In order to qualify for the award, you must hike a minimum of 5 miles (8 km).
2. Each individual seeking the reward must have a photograph of each person on each trail hiked. Present picture to a ranger at the Visitor Center for verification.
3. Use the hiking chart from the visitor center to track your progress.
4. Please only one reward per person.
More Parks Offering "I Hike For Health" Pins In Arizona
Chiricahua National Monument
Coronado National Memorial
Fort Bowie National Historic Site
Tumacacori National Historical Park
Hiking Trails
Organ Pipe Cactus has over 28 miles in established trails to explore! Several of these trails are pet-friendly or ADA accessible for everyone to enjoy! Ask a ranger at the visitor center for more information about the trails or call 520-387-6849.
Visitor Center and Campground Trails
Ajo Mountain Drive Trails
Alamo Canyon
2 miles roundtripThis scenic trail leads out of Alamo Canyon Campground and is great for birding and is an easy hike to the old ranching sites. Drop into the wash at the end for a "make your own adventure" experience!
Puerto Blanco Mountain Trails
2.5 or 8.2 miles roundtrip
This trailhead begins at the end of Senita Basin Road. A picnic table and trashcans may be found at the trailhead. This trail may be hiked as a 2.5 mile loop into Senita Basin or combined into a larger 8.2 miles loop to the Milton and Baker mine areas.

Red Tanks Tinaja

8/10 mile one way
This easy hike leads to a collection of tinajas in a wash. It may be combined to make a large 8.2 mile loop to Milton and Baker mines in the Senita Basin area.

Baker Mine

5.4 miles roundtrip
Begins at the Red Tanks Tinaja trailhead and meanders in between beautiful desert mountains filled with organ pipe to Baker Mine, an old copper mine. This trail becomes rockier and climbs in elevation ~150 feet past Red Tanks Tinaja, so make sure to wear sturdy footwear.

4.2 miles one way, 8.4 miles roundtrip
The Lost Cabin Trail begins at Victoria Mine, 2.1 miles from the trailhead. From Victoria Mine, follow the road another 2.1 miles to Lost Cabin, an old mining site nestled at the base of two mountains. The rocks around the mine are incredibly colorful due to copper minerals.

Milton Mine

3.6 miles roundtrip
The Milton Mine trailhead is located off the Senita Basin road. This moderate trail dips through several washes to arrive at Milton Mine, an old copper mine. A beautiful blue copper mineral, chrysocolla, decorates the rocks across the area here; explore around the mine to find a large vein nearby!

4.2 miles roundtrip
The Victoria Mine trailhead begins at the back of the Twin Peaks Campground loop. Enjoy a moderately challenging hike across the desert to Victoria Mine, an old silver mine. Enjoy spectacular views as you explore the old mine store and equipment along with several mine shafts.

1 mile roundtrip
Located off the one-way section of North Puerto Blanco Drive, enjoy a hike through the base of several mountains to climb 150 feet in elevation to discover Dripping Springs nestled in the crevices of the mountain.

2.8 miles roundtrip
Located off the one-way section of North Puerto Blanco Drive, this trail follows an old historic mining road to Dripping Springs Mine, located at the end of the road across the wash to the west.


Last updated: November 9, 2023