Thing to Do
Hike to Victoria Mine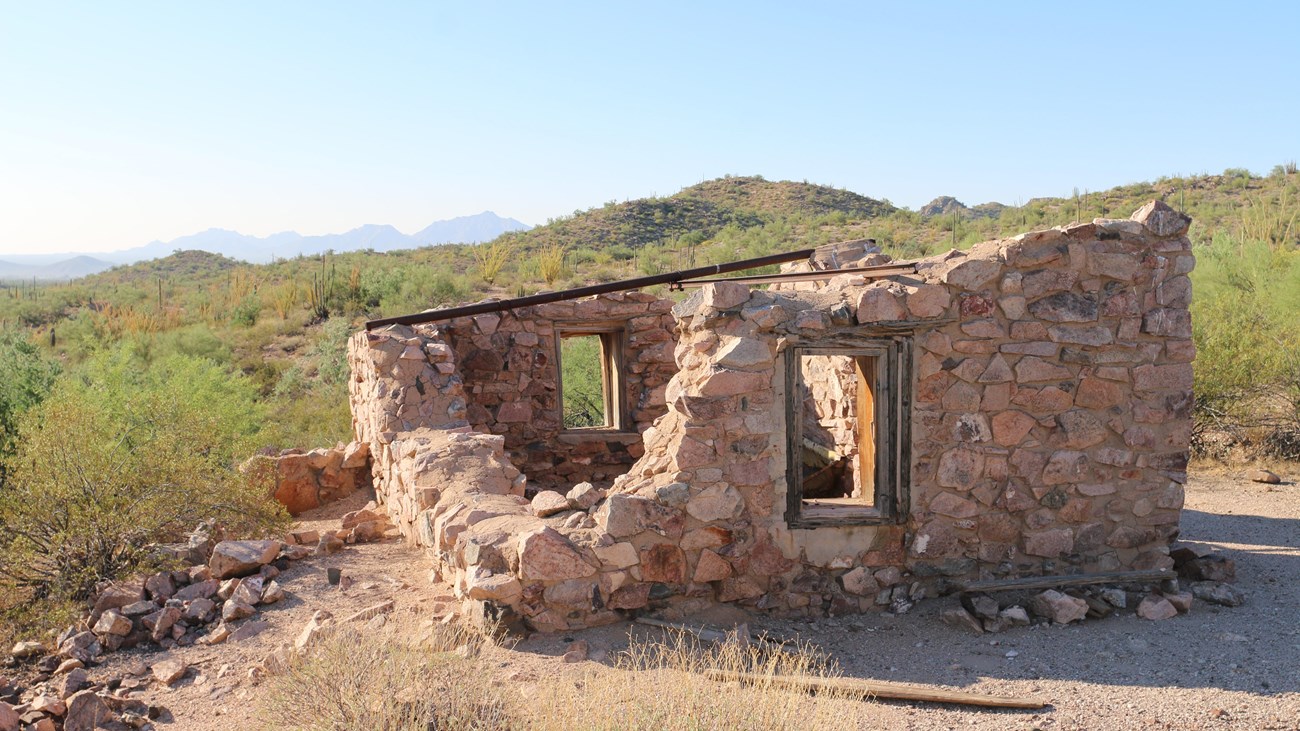 Experience Organ Pipe's mining history by hiking to Victoria Mine, one of the oldest gold and silver prospecting sites in southwest Arizona. An easy/moderate hike will take you to the Victoria Mine site, where you can view mine shafts, the remains of the store building, tailings, and other artifacts of this once robust operation. 
How to get there
The Victoria Mine trail starts at the southwestern end of
Twin Peaks Campground
, where there is a small parking area and trailhead information. The trail to Victoria Mine is easy to moderate and is generally flat, but does include some ups and downs crossing arroyos (washes). Victoria Mine is 2.2 miles (3.5 kilometers) from the trailhead. All mine shafts are closed and fenced off. For your safety do not enter the mine.
Distance: 4.4 miles (7.2 kilometers) round-trip
Time: 3 - 4 hours round trip
Difficulty: Easy-Moderate
  
History of Victoria Mine
The history of the initial establishment of Victoria Mine is unknown, but it rose to prominence when Cipriano Ortega, a notorious businessman in Mexico, acquired the mine in 1880. Under Ortega, the mine was known as "La Americana," and brought in about $80,000 worth of silver ore. Ortega carried an unsavory reputation, and some accounts say he was a ruthless gunman and had killed several men. In 1899, Mikul G. Levy, an American businessman who operated several mines in Ajo and Sonora, purchased the mine. He also operated several general stores, including one in Ajo and one at Quitobaquito. He renamed the mine "La Victoria" in honor of Victoria Leon, the wife of Levy's storekeeper, Jose Leon.
During his ownership, they only extracted another $40,000 of silver ore, partially because of the high-water table of the area and the resulting technical problems. Peak mining activity occurred between the 1890s and 1910s, though sporadic mining efforts took place until 1976 under special use permits from the National Park Service. When Organ Pipe Cactus National Monument was designated a wilderness area in 1976, mining ceased.
While pets are not allowed on this trail, service animals are allowed. 
Fee included in general park entry fee. 
While this trail can be experienced all year round, please be aware that summer and fall temperatures can reach upwards of 110 degrees Fahrenheit. Please plan your activities accordingly and practice desert safety.  
Accessibility Information
Trail terrain is uneven, rocky, and steep in some sections. Hikers of many different abilities have hiked this route in the past. If you are curious about accessibility for your needs please 
contact the park.
While pets are not allowed on this trail, service animals are allowed.  
Last updated: August 24, 2021