Thing to Do
Hike the Senita Basin Loop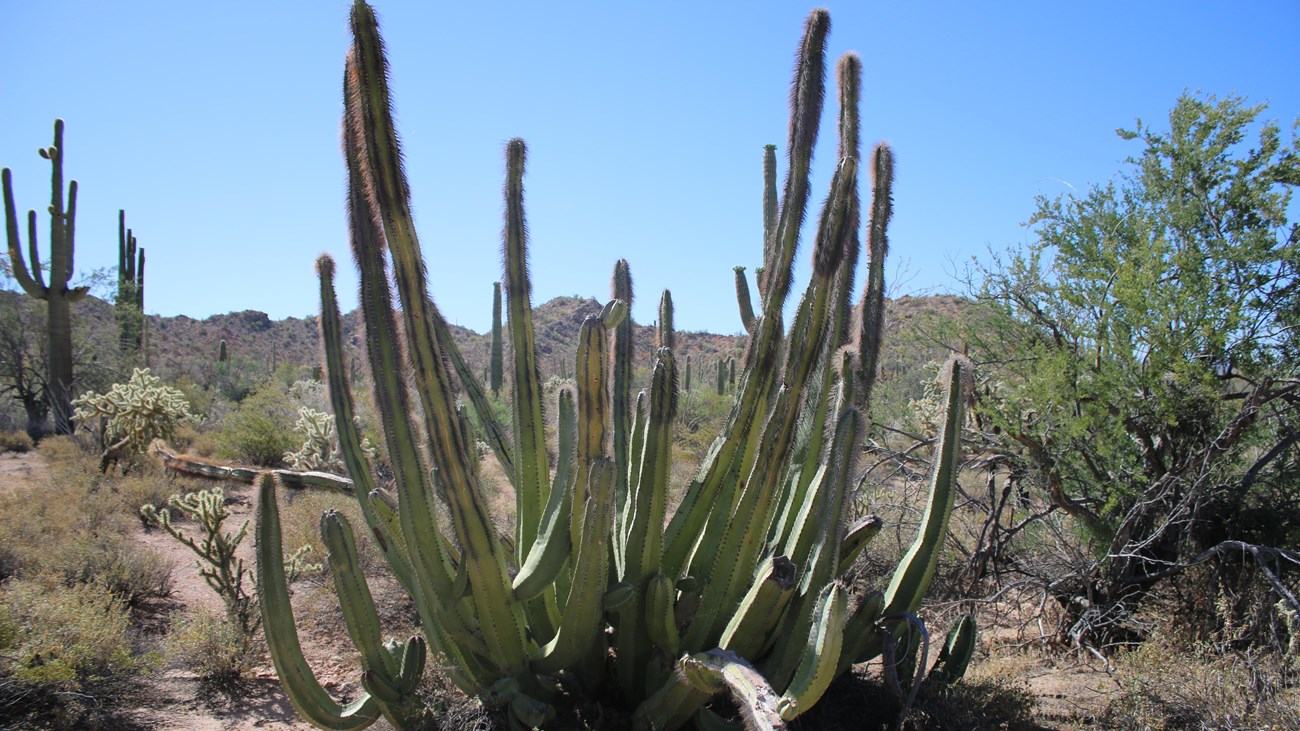 Easy loop trail located in a low elevation area on the south side of the Puerto Blanco Mountains. This lush basin is one of the few places you can see all three of the park's columnar cacti coexisting: saguaro, organ pipes, and the senita cacti. The most impressive groves of senita cacti are along the road into Senita Basin and near the trailhead. There is a picnic table located by the trailhead.

Distance: 2.9 miles (4.6 kilometers)
Difficulty: Easy
Horses are allowed on this trail. 
The Senita Cactus
(Pachycereus pringlei)
Though similar in form to the organ pipe cactus, the senita cacti is mainly found only in Senita Basin. They grow 10 to 13 feet (3-4 m) tall with multiple arms coming from the base, but unlike organ pipes their stems only have 5 to 7 ridges, giving them a more angular appearance. Long gray hairs grow on the ends of mature stems, inspiring common names like "whisker cactus" and "old man cactus" in English, and "cabeza de viejo" and "hombre viejo" in Spanish.

Senita cacti grow in the desert and thornscrub of Sonora and Baja California, but several small populations persist in Organ Pipe and the Tohono O'odham Reservation. While they are more frost tolerant than organ pipe cacti, they prefer highly arid habitats and the fine-textured soils of valley bottoms and thus do not occur as far north as the organ pipe.

The senita cacti have pale pink flowers that emerge April through August to be pollinated by a specific species of moth. These flowers are followed by grape-sized red fruit with juicy red pulp.  
While pets are not allowed on this trail, service animals are allowed. 
Fee included in general park entry fee. 
Location
Senita Basin Trailhead
While the Senita Basin Loop trail can be experienced all year round, please be aware that summer and fall temperatures can reach upwards of 110 degrees Fahrenheit. Please plan your activities accordingly and practice desert safety.  
Accessibility Information
Trail terrain is unpaved, uneven, and rocky. Hikers of many different abilities have hiked this route in the past. If you are curious about accessibility for your needs please 
contact the park.
While pets are not allowed on this trail, service animals are allowed. 
Last updated: August 24, 2021