Pets

Pets are always welcome at Organ Pipe Cactus National Monument! We love our furry friends here in the monument and want to make sure they have as great a time here as their human companions. Trained service animals are welcome inside the Visitor Center.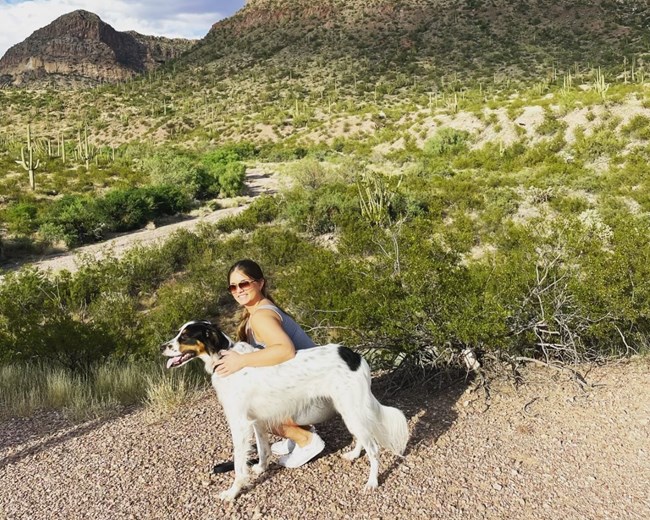 Hiking
The desert can be a precarious place for your faithful Fido: cholla easily (and painfully) attach to them, venomous animals inhabit the area, predator animals like coyote may see smaller animals as a tasty snack, and sharp rhyolitic rock can cut their feet. Many trails in the monument are not open to pets to help protect them from these hazards. However, Organ Pipe Cactus has several trails that pets are welcome to hike!
The Palo Verde Trail – 1.3 miles one way
The Campground Perimeter Trail – 1 mile one way
The Visitor Center Nature Trail – 1/10 mile one way
These pet-friendly trails are safe for furry friends! All roads and paved campground areas that are open to visitors are also safe areas to walk pets. Please be a good pet owner and clean up after your pet.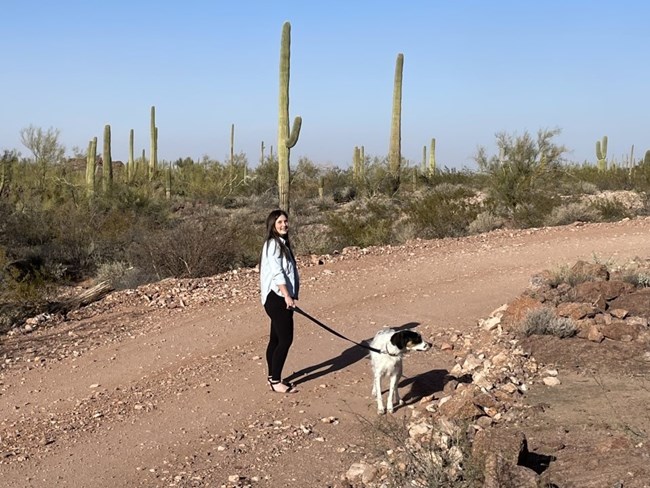 Safety
Your pet's safety is important to us. We want ALL of our visitors to enjoy their stay! Prickly cacti, venomous critters, predator animals, and sharp rocks can make the desert a dangerous place for pets. Other hazards might not be so obvious. Temperatures can soar above 110 degrees in the summer and above 90 degrees other times of the year. Cars, bikes, and even unsuspecting people might be a danger to your pet.

For the safety of both our pet friends and people:
Pets must be kept on a leash of 6 feet or less at all times
Are only allowed on the trails listed above or roads
Booties help protect their feet from hot asphalt and spines
Carry tweezers, pliers, or a small comb to help with removing cactus spines
Carry plenty of water for both you and your pet
Never leave a pet alone in a vehicle
Provide warm bedding in the winter
Not only do thiese tips help protect your pet, but also the wildlife who live in the Sonoran Desert. Coyotes and foxes can catch common pet diseases such as parvo, and pets can catch diseases wild animals may carry. Pets may also think wildlife is for eating or playing with, and unfortunately may only find out once it's too late. These tips will help ensure both your and your pet have an wonderful, safe stay in Organ Pipe Cactus!
Last updated: January 14, 2023
Information For a Safe Stay