Driving and Biking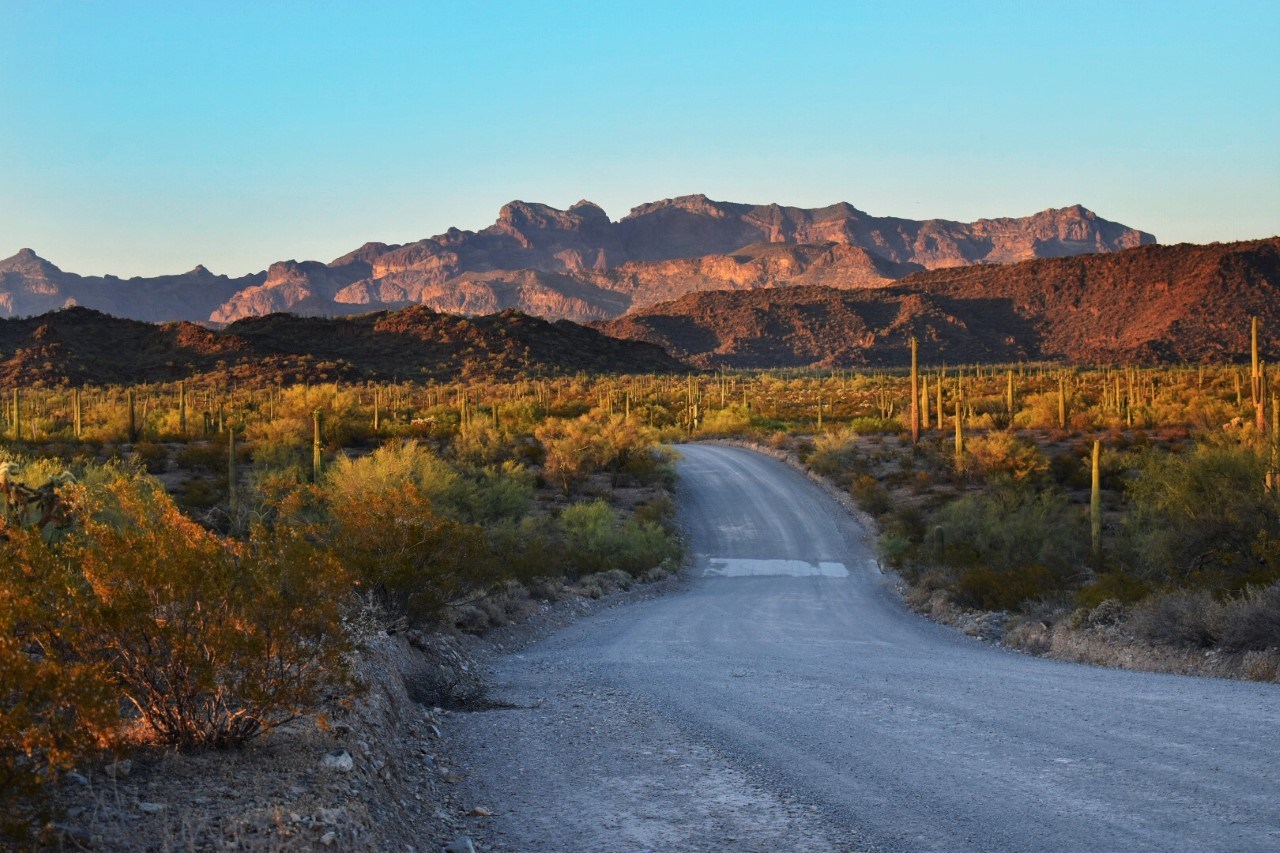 Scenic Drives: The easiest way to see the splendor of this park is to take a scenic drive. Many hiking trails are accessed using these scenic drives.
Ajo Mountain Drive is the most popular scenic drive in the monument. It is a 21 mile, mostly gravel road usually passable by normal passenger car. RVs over 25 feet are prohibited, due to the twisting and dipping nature of the road. The free Ajo Mountain Road Guidebook is available in the Kris Eggle Visitor Center.
Puerto Blanco Drive Puerto Blanco Drive is the other popular road in the park. This drive provides access to the Pinkley Peak Picnic Area, Red Tanks trail head, Dripping Springs, and Quitobaquito Springs.

Several stops along the way provide wonderful views and information on the ecology and culture of the Sonoran Desert.

The Puerto Blanco Drive was completely reopened in 2014. Be advised that many travel books and websites do not reflect this change. The North Puerto Blanco and South Puerto Blanco Loop is 41 miles (66 kilometers) in total and will take roughly 4 to 5 hours round-trip. High clearance vehicles are recommended beyond Pinkley Peak.

Bates Well Road is rugged in many sections and extends for 23 miles from Hwy 85 to the boundary with Cabeza Prieata Wildlife Refuge. There is access to the Bates Well ranch site, and access to El Camino de Diablo. High clearance vehicles are strongly recommended.
Pozo Nuevo Road is a 14 mile road that connects Puerto Blanco Drive with Bates Well Road. Offers views of the CIpriano Hills, the Growler Valley, and the historic Pozo Nuevo line-camp. High clearance or 4x4 recommended.
Camino de Dos Republicas to Gachado line-shack goes for about 2 miles off of Hwy 85. This road is rough and crosses several washes. Please read the caution signs at the beginning of this road. The road beyond Gachado line camp to Dos Lomitas is currently closed for public safety.

Biking: Bikes are allowed on all roads open to vehicle traffic. Biking is not allowed on any trails.
The Ajo Mountain Drive (21 miles) is a popular biking road. Please bike defensively, many drivers are looking out the windows at the beautiful scenery and may not be expecting a bicyclist. There are no hiking trails open to bicycling. Please also carry a way to secure your bicycle, if you plan on leaving it for any period of time, anywhere in the monument. The road is open for biking only during daylight hours.


Last updated: October 20, 2021