Plan Your Visit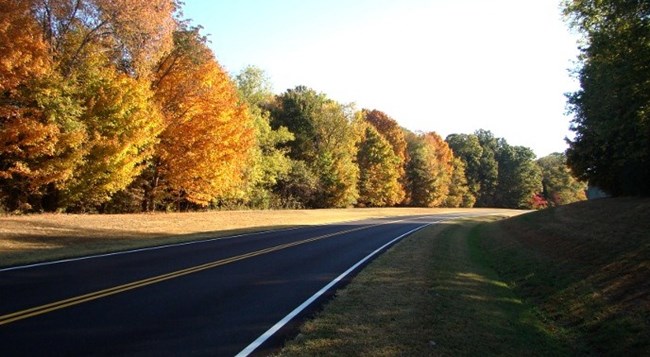 A trip on the Natchez Trace Parkway is enjoyable anytime of the year. Although the scenery changes with the seasons, the stories of the wildlife, American Indians, Kaintucks, white settlers, enslaved persons, and all who traveled the Old Trace have been told for hundreds of years. In the spring, the wildflowers and blooming trees welcome travelers, signaling the end of short winter days. The long days of summer provide extra hours for exploring, while crisp fall days highlight the changing leaves' vibrant colors. In the winter, the open vistas allow visitors to see deep into the forests for a few months of the year.
Whether you are planning a short afternoon visit, drive, or hike to a multiple day journey to follow the whole route, there are many ways of visiting and traveling on the Natchez Trace. By design, there are no food, gas, or lodging services "on" the Parkway. However, just beyond the trees in communities throughout the Parkway's 444-mile length, you can find everything that you will need and many places worth exploring.
Be sure to check out the recreational vehicle page if traveling by RV, and the bicycling the Parkway page if you are pedaling your way. No matter how you travel the Natchez Trace, knowing where to get food, gas, and lodging can make your trip a much more enjoyable one.
Weather Emergencies on the Natchez Trace Parkway
It is easy to have an enjoyable visit on the Natchez Trace Parkway, but when mother nature has a bad day, you need to
be prepared for weather emergencies
.  
Mississippi, Alabama, and most of Tennessee are classified as humid subtropical climates. The weather ranges from mild winters to hot summers. Average high temperatures reach into the high 80's in summer, and into the high 40's in winter. Thunderstorms are common in Mississippi, especially in the southern part of the state, and from June through November, the state is occasionally affected by hurricanes moving north from the Gulf of Mexico. Check local forecasts to plan your trip.


Last updated: January 13, 2021