Lodging & Eating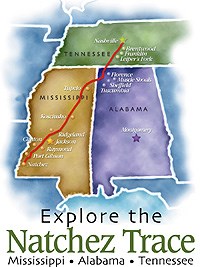 There is no lodging or food available on the Natchez Trace Parkwa, but communities along the Parkway provide restaurants, convenience stores, hotels, or bed and breakfasts. The Natchez Trace Compact is an organization comprised of community businesses along the Parkway. Visit their website, scenictrace.com, for more information about the communities along the Parkway.
Cabin rentals are available at state parks near the Natchez Trace Parkway.
Mississippi State Parks
Alabama State Parks
Tennessee State Parks
Below is a list of communities along the Parkway. The communities are listed from Natchez to Nashville, left to right. The park map is available to assist with your trip planning.

Local businesses have teamed up to provide information about lodging and other activities adjacent to the Natchez Trace Parkway. You can visit the Natchez Trace Compact website at scenictrace.com.
Natchez, MS
Natchez Convention &Visitors Bureau
640 S. Canal St.
Box C
Natchez, MS 39120
(800) 647-6724
Port Gibson, MS
Claiborne County Chamber of Commerce
P.O. Box 491 Port Gibson, MS 39150
(601) 437-4351
Raymond, MS
Raymond Chamber of Commerce
P.O. Box 1162
Raymond, MS 39154
(888) 543-1863

Clinton, MS
Clinton Chamber of Commerce
100 E. Leake St.
Clinton, MS 39056
(601) 924-5912

Jackson, MS
Jackson Convention and Visitors Bureau
P.O. Box 1450
Jackson, MS 39215
(800) 354-7695

Kosciusko, MS
Attala County Chamber
of Commerce
124 N. Jackson St.
Kosciusko, MS 39090
(662) 289-2981

French Camp, MS
French Camp Welcome Center
Hwy 413 S.
French Camp, MS 39745(662) 547-9464

Houston, MS
Chickasaw Development Foundation
P.O. Box 505
Houston, MS 38851
(800) 330-9146

Tupelo, MS
Tupelo Convention and Visitors Bureau
P.O. Box 47
Tupelo, MS 38802
(800) 533-0611

Iuka, MS
Tishomingo Co. Development Foundation
1001 Battleground Dr. Iuka, MS 38852
(800) 386-4373
Florence, AL
Florence-Lauderdale Tourism
1 High Tower Place Florence AL,35630
(888) 356-8687

Muscle Shoals, Sheffield, Tuscumbia, AL
Colbert County Tourism &Convention Bureau
P.O. Box 740425
Tuscumbia, AL 35674
(800) 344-0783

Lawrenceburg, TN Lawrence County Chamber of Commerce P.O.Box 86
Lawrenceburg, TN 38464 (931) 762-4911
Hohenwald, TN
Lewis County Chamber of Commerce
112 Main St.
Hohenwald, TN 38462 (931) 796-4084
Columbia, TN
Middle Tennessee Visitor Bureau
8 Public Square
Columbia, TN 38401
(931) 381-7176
Franklin, TN
Williamson County/ Franklin Chamber of Commerce P.O. Box 156
Franklin, TN 37065
(800) 356-3445
Nashville, TN
Nashville Convention &Visitors Bureau
One Nashville Place, Suite G-250
150 Fourth Ave North
Nashville, TN 37219
(800) 657-6910
For bed and breakfast Information near the Parkway and surrounding areas, visit: bbonline.com, missbab.com, bbbiking.com, natcheztracetravel.com.
Note: This is a general information list. No claims are made as to the completeness of the listing or the quality of services provided.
Last updated: September 15, 2022