Article
Insider Tips - Before You Visit the Natchez Trace Parkway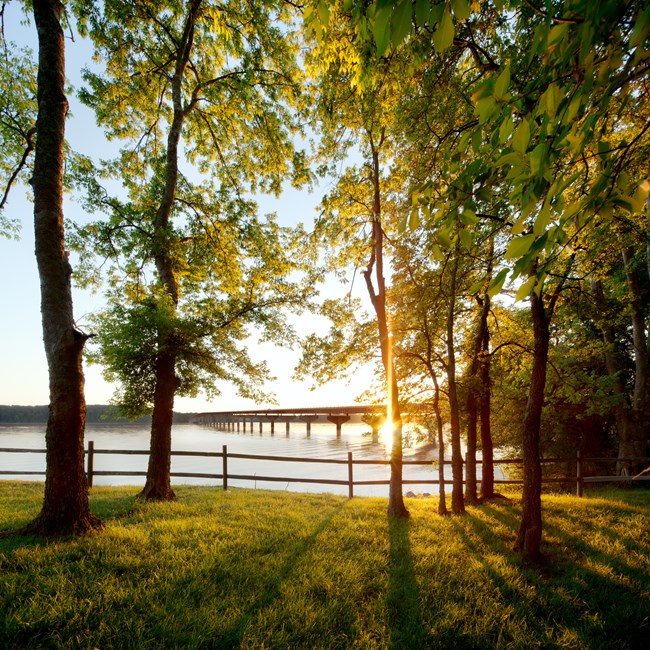 The Natchez Trace Parkway is more than a scenic drive. There are many recreational opportunities along the way. If you prefer, you can just sit back and relax while you cruise a beautiful drive through the rural southeast. The Natchez Trace has so many different things to see, it's a great idea to plan your trip ahead of time. The best planning tool is the free National Park Service APP. Look up
Natchez Trace Parkway
(not our hiking trail, the Natchez Trace National Scenic Trail)
Below are 10 tips that will help you prepare for and enjoy your journey and avoid the crowds. The Parkway is one of the 10 most visited park units, but because everyone is spread out over 444 miles, you can almost always find solitude, and enjoy a relaxing drive.
The busiest places on the Parkway are Meriwether Lewis Campground, Garrison Creek, and Jackson Falls. If you are looking for solitude, check out other places on the Parkway.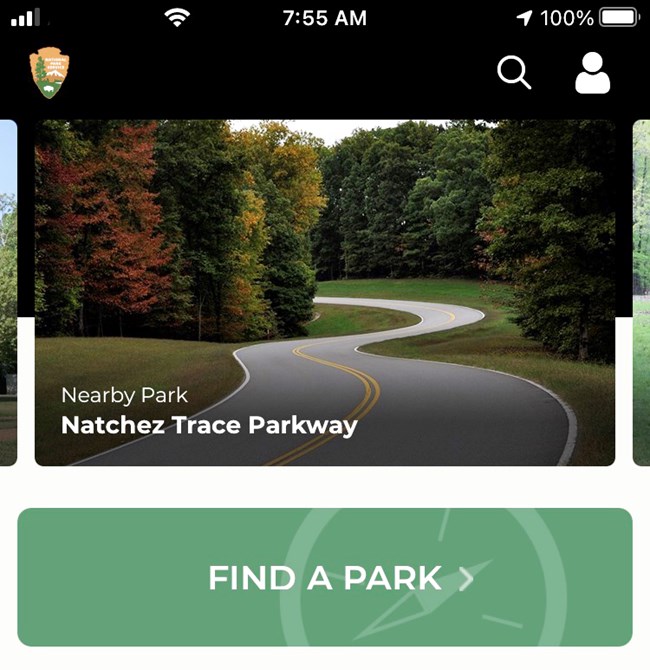 Tip #1: Look at a map. Pick your travel distance and entry point. The Parkway is 444 miles long with an end-to-end driving time of about 10 hours (The speed limit is 50 MPH, and lower in congested areas). It travels near a few cities and near many small towns. Add time so you can stop and enjoy the sites. For each nature trail, add about 30 minutes. For each larger historic site, add about an hour.
You can find some highlights of the Parkway experience at Places to Go.
(NOTE: HWY 840 in TN, and HWY 45 in Tupelo, MS are not entry points)
Check out our
Directions page
And
Getting Around
Tip #2: There are places on the Parkway where cell phone coverage is weak or non-existant. Download the free National Park Service app and save the Natchez Trace Parkway section to your phone.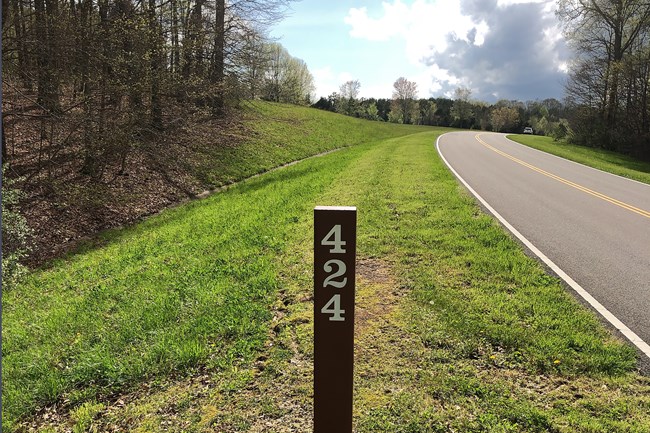 Tip #3: Mile markers, AKA mileposts, are your friend! Starting at mile 0 on the Natchez, Mississippi end of the Parkway, you will see 3' high brown posts emblazoned with white numbers. (HINT: look on the east side of the roadway.) These numbers tell you how far you are from the beginning of the Parkway, and if you subtract the number from 444 and you will know how far you are from the northern terminus near Nashville, TN.
NOTE: Please do not ask a ranger why there are only 442 mileposts. We all have therories but the real answer has long been forgotten.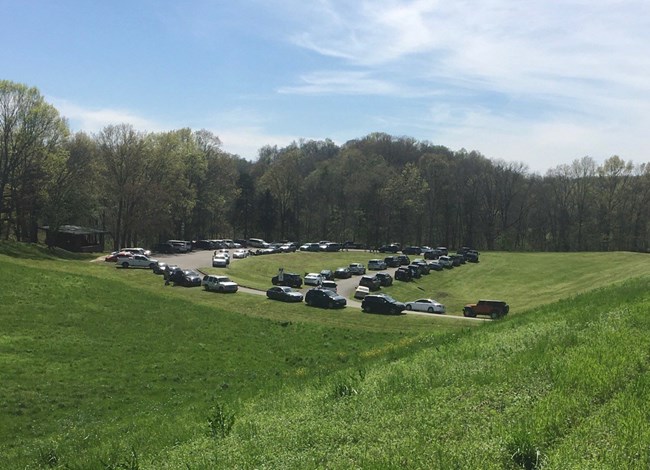 Tip #4: Closures and detours happen often. To find the most recent information about hours and closures, go to
While driving the 444-mile long Parkway, you may need to make a pit stop or two. Established in the 1930s, sometimes our plumbing is not always cooperative, and restrooms may be closed. Restrooms can be many miles apart so take advantage of functional facilities when you have a chance.
If you have a personal urge emergency, this is what to do.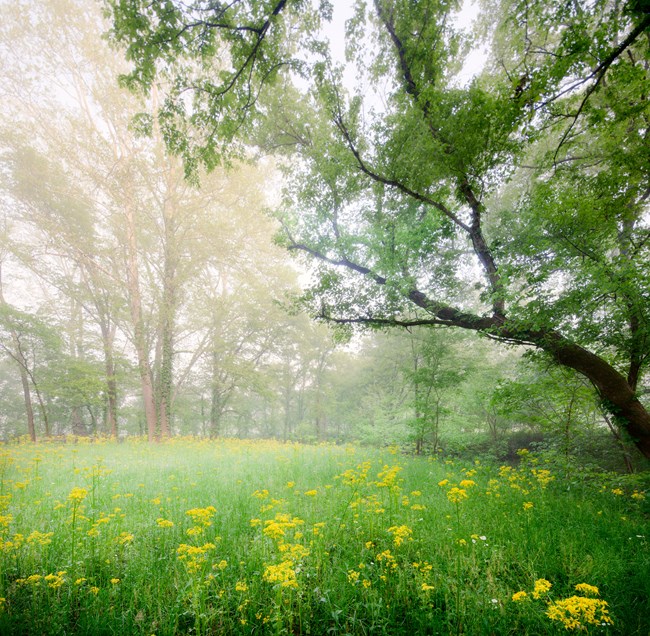 Tip #5:
Weather:
Along your journey, you may want to get out of your car and stretch your legs on one of our many trails. The climate here is sub-tropical, so remember to bring water, use sun screen and insect repellent, stay on the trail, and pace yourself.
Sub-tropical means it rains a lot, and it can be hot eight months out of the year. Be prepared. Keep track of the weather because we occasionally get strong and dangerous storms that can develop suddenly. Winter weather is usually mild, but snow or ice is not that unusual.
Pet Safety:
Your pup is welcome everywhere except buildings. Don't forget parked cars can overheat very quickly, so don't leave your dog in the car. When outside, your dog always needs to be on a leash 6' or shorter.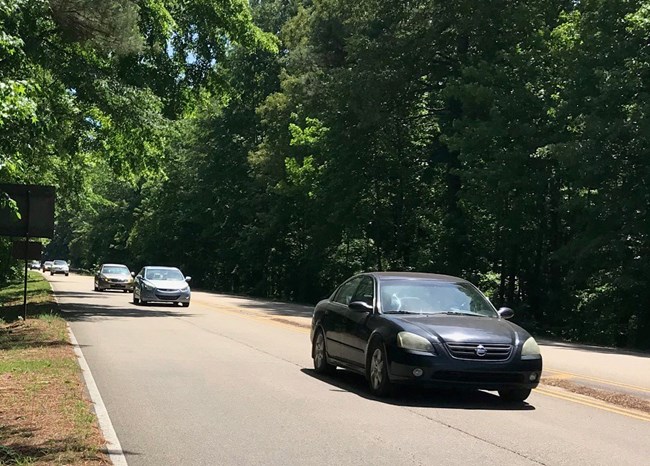 Tip #6: Our neighbors love to travel the Parkway. Traffic can be heavy around cities during rush hour, as local folks like to use the Parkway to commute. If you are seeking a peaceful drive, stay away from the cities, especially Jackson, MS and Tupelo, MS, when people are heading to or from work.
Bicylists should make note of this and plan to avoid congested areas during rush hours.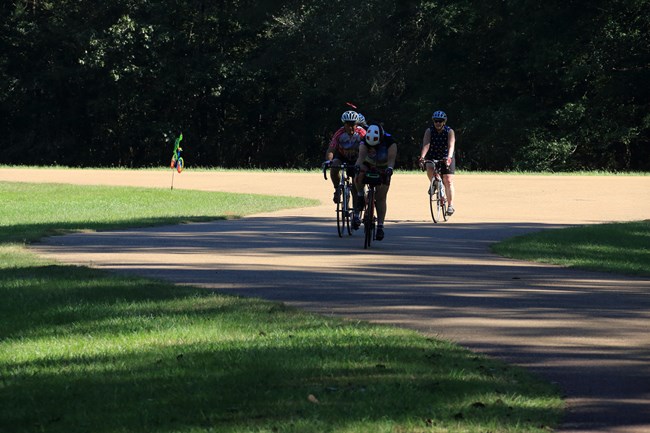 Tip # 7: The Natchez Trace Parkway is also a bicycle route. Bicyclists may use the entire lane and unfortunately, if they are not wearing high visibility clothing, they can be difficult to see. Keep in mind a bicycle might be around the next corner.
The Parkway should be considered for experienced bicyclists because of traffic. Bicyclists are encouraged to wear high-visibility clothing and helmets, use lights at all times, and avoid citiy areas at rush hour.
Learn more about riding the Parkway by going to our bicycling web page.
We suggest families and inexperienced riders stick to campgrounds and picnic areas.
Or:
Rails to Trails, Tanglefoot Trail
, near Tupelo, MS.
Chisha Folka Multiuse Trail
, near Jackson, MS.
Trail bike riding can be done at Trace State Park
near Tupelo, MS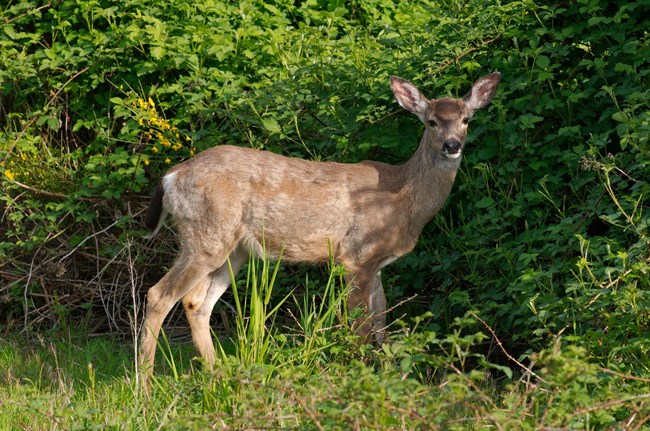 Tip #8: Oh, deer, you turkey. There are a lot of animals that hang out on the roadside and have no qualms about jumping or flying out in front of your car. Hint: If you see a deer or a turkey cross the road, don't focus on it after it has gone across. Immediately slow down and look for its buddy who may be following and the next to cross the road. Honking your horn is sometimes helpful.
Please remember that all wildlife is protected. This includes snakes which are vital to help keep the natural world balanced.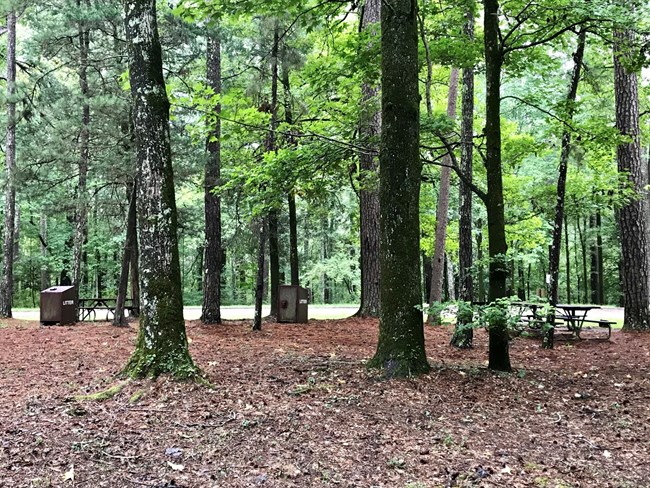 Tip #9: If you are planning to camp, our three campgrounds are first come, first served with
no reservations
, so have a back-up plan. Our campgrounds accommodate RVs and tents, but there are
no hookups or showers
. Please leave accessible sites open for those that require an accessible spot. If all other sites are occupied, the accessible site may be used by anyone.
Tip #10: If you don't want to rough it, there are accomodations at small towns and large cities spaced out along the length of the Parkway. Make your reservations in advance especially during the fall football season. The folks in the south love their college football.
Last updated: October 13, 2023