Recreational Vehicles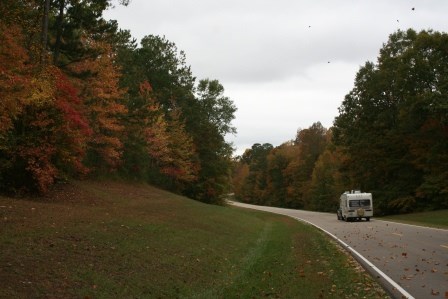 Recreational vehicles are a popular way to see the parkway. The length restriction for RVs is 55 feet, including a tow vehicle, and the height restriction is 14 feet.

Be on the lookout for bicyclists! The Natchez Trace Parkway is a designated bicycling route. With a lane width of 11 feet and little to no shoulder, it is important to slow down, pass with care, and avoid distracted driving when bicyclists are present. Bicyclists are permitted to use the entire lane.

Please note that when Mount Locust, at milepost 15.5, is closed, there is no circular drive available for RVs to easily turn around. To make the most of your trip, be sure to check the park's current operating hours before you head out on the road!
Pulloffs Closed to RVs
The following pulloffs are closed to RVs. Sites without a circular drive are marked "no circular drive."
MP 17 - Southern trailhead for Potkopinu section of the National Scenic Trail
MP 45 - Mangum Mounds (bridge clearance of 11'6")
MP 278.4 - Twenty-mile Bottom Overlook
MP 375.8 - Old Trace Drive
MP 394 - Devil's Backbone State Recreation Area
MP 401.4 - Old Trace Drive
Parkway Underpass Clearances Less than 15 Feet
Listing of bridge clearances under 15 feet along the Natchez Trace Parkway

| Milepost | Height Clearance | Road |
| --- | --- | --- |
| 66.6 | 14' 8" | MS Hwy 27 |
| 118.9 | 14' 7" | Beall Road |
| 120.8 | 14' 1" | Rocks Road |
| 416.3 | 14' 10" | Old Trace Drive |
| 419.1 | 14' 7" | Old Trace Drive |
County Roads Going Under the Parkway (at exits)
Please note that there are county roads that underpass the Parkway that may be low. We do not have listings of all of these. RVers might consider consulting a motor carrier atlas that indicates roads with adequate clearance.
Camping
The three campgrounds along the parkway are open to RVs, but there are no hookups available. These campsites are first-come, first-served, and can fill up quickly in March and April, as well as October and November. If you require hookups, try one of the other campgrounds along the parkway.
Last updated: February 8, 2022