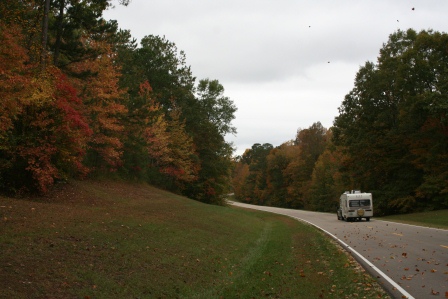 Recreational vehicles (RVs) are a popular way to see the Parkway. The length restriction for RVs is 55 feet, including a tow vehicle, and the height restriction is 14 feet. The Parkway can accommodate an RV weighing up to 40,000 pounds. The Natchez Trace Parkway is a designated bicycling route. With a lane width of 11 feet, it is important to slow down, pass with care, and avoid distracted driving when bicyclists are present.
Most stops along the Natchez Trace Parkway are accessible to RVs, with the exception of those marked "no circular drive". The following sites are NOT accessible to RVs.
Southern trailhead of the Potkopinu section of the National Scenic Trail at milepost 17.
Grindstone Ford/Mangum Mound at milepost 45.7 (height restriction of 11 feet 6 inches).
Twenty-mile Bottom Overlook at milepost 278.4.
Old Trace Drive at milepost 375.8.
Devil's Backbone State Recreation Area at milepost 394.
Old Trace Drive at milepost 401.4.
The three campgrounds along the Parkway are accessible to RVs, but there are no hook-ups available. These campsites are first-come, first-served, and can fill up quickly in March-April, as well as October-November. If you require full hook-ups, you may try one of the campgrounds on this list.