What is Open and What is Closed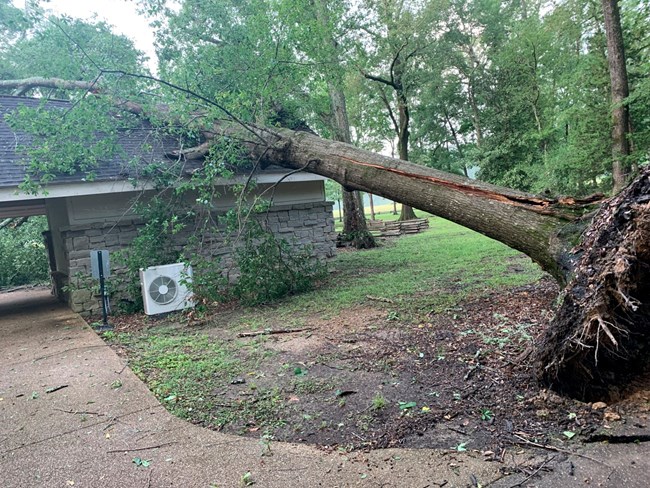 Mount Locust - Visitor Center Closed - Grounds Open Intermittently Throughout The Fall And Winter of 2023-2024
Due to storm damage the Mount Locust Visitor Center will be open intermittently throughout the fall and winter, we apprecate your patience while we get this resolved.
Road Closures
It is not possible to predict time frames as the road work is done by contractors whose work time frame changes with repaving complications and weather. When we have an expected time frame, we will post it on here.
Highway 32 to Highway 6 South of Tupelo - 239.2 to 256.7 - Current Closure
The current closure includes the portion of the Natchez Trace Parkway between mp 239.2 at Mississippi Highway 32, about 27 miles south of the Parkway Visitor Center, and it ends at Milepost 256.7 at Highway 6. Follow the posted orange detour signs labeled "TRACE". Do not follow the brown Natchez Trace Parkway signs.
Temporarily Closed Trails & Pull-off Sites
Some pulloffs and trails are closed due to storm damage and/or unsafe conditions. Please check the current alerts for short term closures.
Rocky Springs Hiking Trail - Partial Closure
Milepost 55 to Milepost 59
Hiking: The trail is open from the north terminus to about a mile north of Owens Creek Waterfall.

Equestrian: The Rocky Springs section of the Natchez Trace National Scenic Trail is closed from Rocky Springs Campground to Fisher Ferry Road for equestrian traffic due to unsafe conditions caused by trail erosion and bridge deficiencies.
Yockanookany Hiking & Horse Trail - Partial Closure
Milepost 108 to Milepost 131
The Yockanookany section of the Natchez Trace National Scenic Trail is closed to equestrian use due to safety concerns with bridges and boardwalks. The trail remains open to pedestrians.
Cole Creek parking lot (Milepost 175.6)
Closed due to erosion issues. Repairs are in progress.
Blackland Prairie Hiking & HorseTrail - Closed between Chickasaw Village Site to West Jackson Street in Tupelo. (Milepost 260.8 to Milepost 261.8)
The Blackland Prairie section of the Natchez Trace Scenic Trail from West Jackson Street to Chickasaw Village Site is closed to pedestrian and equestrian use due to storm damage sustained in 2020. Pedestrians may access the trail from milepost 261.8 to milepost 266. The entire trail is closed to equestrian use due to lack of horse trailer parking availability.
The culverts will be replaced with bridges. The repair work is scheduled for 2023.



Closed Comfort Stations
Mount Locust (mp 15.5) Due to storm damage. Portable toilets are available.
Rocky Springs (mp 54.8) contact station restrooms are closed. There is no potable water anywhere at Rocky Springs due to a leak on the line before it enters Natchez Trace Parkway. The Rocky Springs campground restrooms toilets are open.
Jeff Busby Picnic Area (mp 193.1). Other restrooms at Jeff Busby are open.
Jackson Falls (mp 404.7) due to septic tank issues.
Coles Creek (mp 17) restrooms are closed. One regular and one accessible portable toilet are available.
Potable Water
NOTE: we do not have RV filling stations.

Most comfort station have potable water.
The water is off for Winter in the Tennessee section of the Parkway.

Water is NOT potable at the comfort stations below:
Rocky Springs, milepost 54.8
Holly Hill, milepost 154.3
Witch Dance, milepost 233.2

Closed Exhibits and Buildings
Closed Mondays and Tuesdays: Meriwether Lewis Contact Station (mp 385.9) and Mount Locust Inn and Plantation (mp 15.5)
Parkway Information Cabin (mp 102.4) in Ridgeland, MS
Please check Operating Hours & Seasons for information on specific sites.


What is Open:
Outdoor spaces such as roadways, trails, pullouts, and roadside exhibits, except for those listed above.
All bicycle-only campgrounds with no potable water access
Parkway Visitor Center (mp 266) in Tupelo, MS.
Mount Locust Inn & Plantation, historic house and grounds (mp 15.5) are open Wednesday-Sunday 9:00AM-4:30PM (weather permitting).
Jeff Busby (mp 193.1) campground.
Meriwether Lewis Campground. (mp 385.9)
Meriwether Lewis Information Cabin is open Wednesday-Sunday 9:00AM-3:00PM (weather permitting).
Rocky Springs Campground (mp 54.8)

Restroom toilets are open, but there is no potable water.
Open Comfort Stations
Tennessee to Mississippi State Line

Comfort Station at Garrison Creek (mp 425)

Gordon House Comfort Station (mp 407.7)

Restrooms at Meriwether Lewis Site and Campground (mp 385.9)
Jack's Branch Comfort Station (mp 377.8)
Comfort Station nearest the Parkway at Colbert Ferry & Boat Dock/Picnic area. (mp 327.3)

Mississippi State Line to Jackson

Comfort Station at Pharr Mounds (mp 287)
Parkway Visitor Center restrooms (mp 266)
Witch Dance ( mp 233.2) (no potable water)
Jeff Busby by Parkway (mp 193.2) (Picnic comfort station closed)
Holly Hill (mp 154.3) (no potable water)
River Bend (mp 122.6)

Jackson to Natchez, MS

Comfort station at the Parkway Information Cabin in Ridgeland (mp 102)
Rocky Springs campground (not the contact station). No potable water anywhere at Rocky Springs.
Mount Locust (mp 15.5) with limited access to restrooms (please check Open Hours)
Last updated: November 25, 2023