Eastside Trail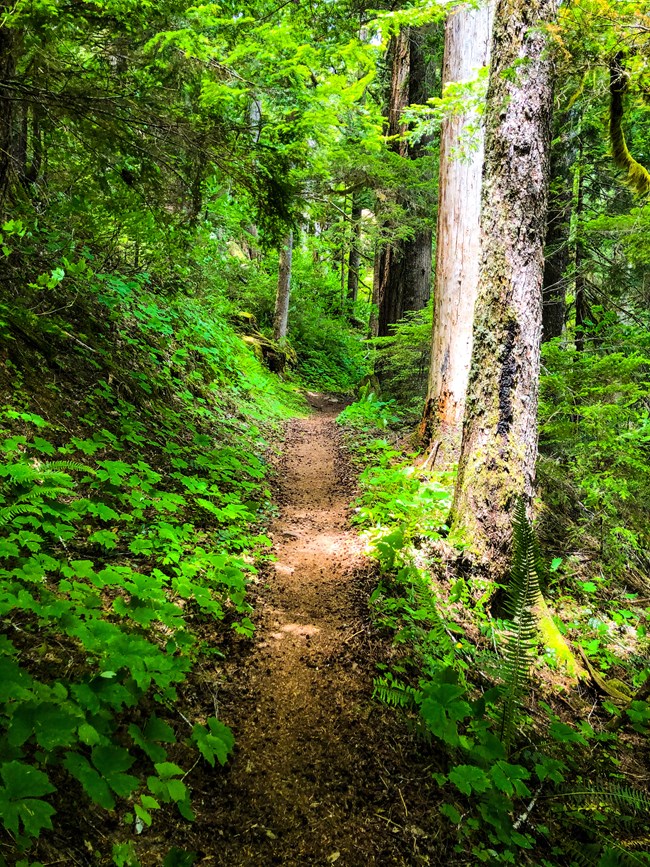 Eastside Trail
Distance, round trip: 26.2 miles
Elevation gain: 3,532 feet (1077 meters)
Hiking time, round trip: 12 hours
Wilderness Camps: Deer Creek
Trail Description
No matter which direction you go, be prepared to see a multitude of waterfalls, wildflowers and unique forest ecosystems. Excellent views of Mount Rainier from the Chinook Pass/Tipsoo Lake parts of the trail. This trail is an charming escape from the busy areas within the park. With several locations to begin your trek:
Chinook Pass: Park at the parking area adjacent to the park boundary on SR 410, next to the Pacific Crest Trail's pedestrian footbridge.
Tipsoo Lake: Park at the Tipsoo Lake picnic area, 0.5 mile (0.8 km) west of Chinook Pass on SR 410.
Owyhigh Lakes Trail: Park on SR 123 at the small roadside pulloff about 200 feet (61 m) south of the trailhead. Follow the Owyhigh Lakes Trail 0.4 mile (0.6 km) downhill, past Deer Creek Falls, to join the Eastside Trail.
Grove of the Patriarchs/Stevens Canyon Road: Park in the parking lot at the Grove of the Patriarchs trailhead on Stevens Canyon Road.
Ohanapecosh: Park in the parking areas adjacent to the Ohanapecosh Visitor Center and Campground.
See a detailed map of trail mileage for the Eastside Trail.
PROTIP: Take two cars and park on opposite ends of the trail to cut your hiking time in half.
NOTE: Always check
current trail conditions
before heading out. Log footbridges frequently wash out during the winter or other conditions could be affecting the trail.
Along the Trail
The upper section of the trail showcases a prime example of the park's delicate subalpine ecosystem as it winds through the meadows and patchy forest surrounding Tipsoo Lake.
Please stay on the trail to protect these fragile meadows!
The remainder of the trail follows the courses of Chinook Creek and the Ohanapecosh River. Outstanding examples of old-growth forest are seen in all life zones along the trail––subalpine, mid- mountain, and lowland forest. Take the spur trail into the Grove of the Patriarchs to view a cathedral of ancient trees, some over 1,000 years old. Enjoy the refreshing sights and sounds of numerous waterfalls cascading down the canyons. Late-season hikers might hear elk bugling in the forest amidst colorful fall foliage.
Backpacking
There is a wilderness camp at Deer Creek. Be sure to camp in designated sites only. Permits are required for camping. Permits and current trail conditions are available park-wide from Wilderness Information Centers, Ranger Stations, Visitor Centers and on our web site. Fires are prohibited. No pets on trails. Treat water before drinking.
Last updated: January 8, 2021