Place
Nisqually Vista Trailhead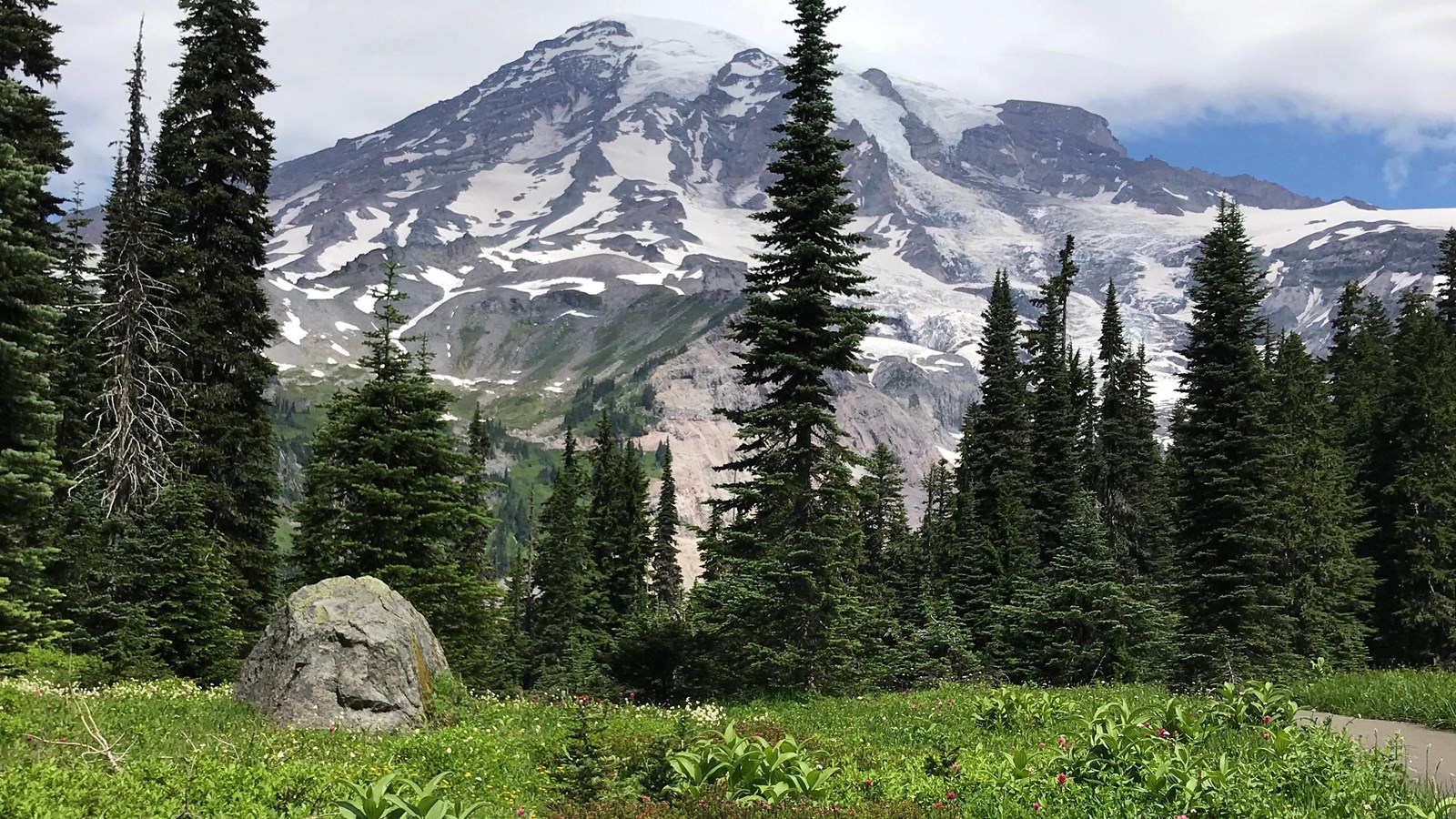 Location:
West end of the lower Paradise parking lot.
Scenic View/Photo Spot, Trailhead
Season: Year-Round
Winter/Spring (October - June): The trail is covered in deep snow in winter, but is open for snowshoeing. The road to Paradise closes nightly at the gate at Longmire typically from November to mid April depending on weather; always check road status before starting your trip. Snow can linger well into June or even July. 
Summer/Fall (July - September): Wildflower peak bloom is typically late July or early August, with fall color starting in September. Paradise is an extremely popular destination. To avoid congestion, visit earlier or later in the day or on a weekday. 

This easy 1.2 mile (1.9 km) loop trail is one of the only paved trails in the park and is suitable for families with strollers. It leads through the subalpine meadows of Paradise to several viewpoints overlooking the Nisqually River Valley with views of Mount Rainier and the Nisqually Glacier. Watch for wildlife, including black-tailed deer, marmots, and birds, but please do not feed any wildlife. Stay on the trail at all times to protect the delicate subalpine vegetation. Pets are not allowed on trails.

From the west end of lower Paradise parking lot, head up an initial short section of steps to the a trail junction, then take the left-hand path to start the Nisqually Vista Trail. The trail to the right connects to the larger network of trails in the Paradise Meadows, including the Skyline Trail. Families with strollers may prefer starting from the upper Paradise parking lot which has ramps to access trails.

During the winter, the Nisqually Vista Trail is covered by a deep layer of snow. It is usually marked once the snow is deep enough, making this a great route for beginning snowshoers. However, always check current conditions before heading out and be prepared with the Ten Essentials. The trail is not marked at all times, and snowstorms can obscure the route.
Last updated: November 7, 2021