News Release
Mount Rainier National Park Summer 2020 Operations Update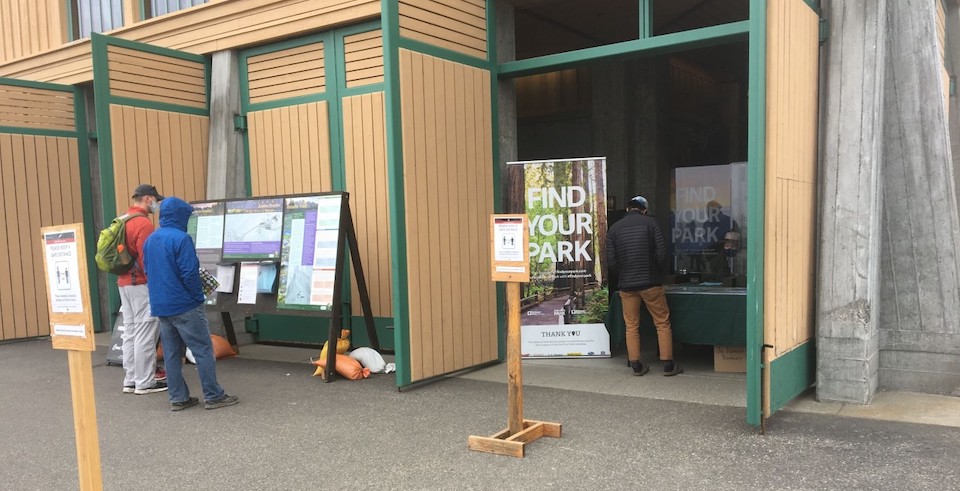 News Release Date:
July 28, 2020
Contact: Mount Rainier Media Line, 360-569-6510
While summer has been in full swing in communities surrounding Mount Rainier for weeks, the mountain has just finally emerged from its snowy cloak, although some snow remains at higher elevations. As of today, all public roads have reopened for the summer, giving access to some of the most spectacular landscapes in Washington State.  
The road outside the park's northwest (Carbon River) entrance was damaged by winter storms. Visitors can park along the road outside the entrance and walk or bicycle in. 
While all areas of the park are open, not all services are available this summer due to the current pandemic. For information to planning your visit use the park's website and current update on conditions through the park's Twitter feed. 
Notable changes in services include: 
In addition to the trip planning information on the park's website, information is also available on site, outside visitor centers. Visitor and wilderness information centers, including the Carbon River Ranger Station remain closed for public safety during the COVID response. Look for information stations set up outside visitor centers and information boards at Paradise. 
Backcountry camping permits are required and are available online.  They are not available inside the park but must be obtained prior to visiting the park.  
There are no food, lodging, or gift shops available at Paradise. The Paradise Inn is closed this year. The picnic area is open for use and food and lodging facilities outside the park are open.  
The National Park Inn at Longmire is open for gifts, grab and go food only, and lodging at a limited capacity.  
Grab and go food service only and the gift shop are available at the Sunrise Day Lodge. 
Campgrounds throughout the park are partially open with some sites closed due to hazard trees. Visit the park website for more information on campgrounds.  
Seek the most current information on trails prior to setting out for a hike.  Snow remains on some of the trails and stream crossings can pose hazards due to high water.  Be cautious and use good judgement. 

Beautiful sunny days, amazing mountain views, and glorious wildflower meadows make for heavy visitation during summer. We ask that you pack your patience and expect long waits at entrances and traffic congestion in parking lots. Plan your visit mid-week and early or late in the day to avoid the heaviest crowds. 

Visit the COVID-19 Visitor Guide for Healthy Access webpage for the latest in operation status and safety information.  We request that all visitors are prepared to keep themselves and others healthy by Recreate Responsibly while visiting: 
Know Before You Go - Check the status of the place you want to visit. If it's crowded, have a Plan B. 
Plan Ahead - Prepare for facilities to be closed, pack lunch, and bring essentials like hand sanitizer and a face covering. 
Practice Physical Distancing - Keep your group size small. Be prepared to cover your nose and mouth and give others space. If you are sick, stay home. 
Play It Safe - Slow down and choose lower-risk activities to reduce your risk of injury. Search and rescue operations and health care resources are both strained. 
Explore Locally - Limit long-distance travel and make use of local parks, trails, and public spaces. Be mindful of your impact on the communities you visit. 
Leave No Trace - Respect public lands and communities and take all of your garbage with you. 
Keep it Inclusive - Be an active part of making our nation's parks and public lands safe and welcoming for all identities and abilities. 

Be aware that road repair is underway on the east side of the park. Delays of up to 30 minutes in the construction areas may be encountered throughout summer. Additionally, a short section of Stevens Canyon Road is currently open to one-way, alternating traffic due to rockfall that occurred over winter. 

For updates on current conditions check the park's website, or join the Mount Rainier community on Facebook, find out breaking news and road status updates through Mount Rainier's Twitter feed.  

Share your favorite Mount Rainier memories, photos, and stories with us and other fans of Mount Rainier by using the hashtags #ShareMyRainier, #RainierSummer, #FindYourPark, #EncuentraTuParque, and #RainierWildflowers. Follow @MountRainierNPS on Twitter, Facebook, Instagram, and Tumblr. 

Finally, if you are "Parked" at home this summer, or want help planning your next trip we invite you to explore the park virtually from home:  
NPS 
Last updated: July 28, 2020