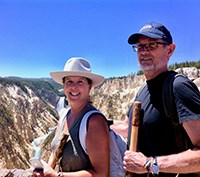 Words of Preservation
Poets Laureate Poetry Reading
Friday, September 14, 2018
3:00 pm | Kohm Yah-mah-nee Visitor Center
7:30 pm | Manzanita Lake Amphitheater
Enjoy a reading of selected poetry by Texas Poets Laureate Karla K. Morton and Alan Birkelbach. Meet and ask questions of the adventurous pair who are in the midst of a three-year poetry tour titled: Words of Preservation: A Poets Laureate National Parks Tour. You can also listen to the North State Public Radio's Blue Dot episode National Parks & Poetry featuring Karla and Alan.