Ranger-led Programs
Lassen Volcanic National Park offers a wide variety of Ranger-led and Junior Ranger programs throughout the summer and winter seasons. View information about ranger-led program below or learn more about special events.
Summer Ranger-led Programs
Discover your park through a ranger-led program from Junior Ranger activities to evening talks. Programs are offered mid-June through early September. Program details will be posted outside the Loomis Museum and Kohm Yah-mah-nee Visitor Center on the day a program is offered.
Night Sky Viewing Programs
There will be no more night sky programs in 2023. Check back in summer 2024 for programs about the night skies.

See More Stars: It can take 15 to 30 minutes for your eyes to adjust to darkness and see more stars. Avoid using bright lights or white lights, these can disrupt your night vision and the timer for your eyes to adjust will start over. Using a red light will be much better for preserving night vision. If you don't have a red flashlight, you can cover a white light with red cellophane to make it a dark sky friendly light.
Park partner, Lassen Park Foundation has made these events possible. Learn more about the Foundation.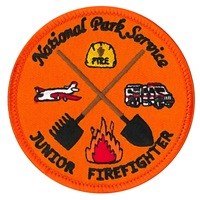 Junior Firefighter Program
Please check back for the return of this program in summer 2024.
Outside the Discovery Center (across from the Loomis Museum in the Manzanita Lake Area)
Learn how US Forest Service and National Park Service firefighters manage fire to promote forest health and protect lives and property. Learn how firefighters use engines and firefighting gear to support the important role that fire plays in the ecosystems of our national parks. Participants who complete the program will earn a Junior Firefighter patch. Program is 45 minutes long and is open to all ages. *Scheduled programs may be affected by firefighter availability, visit the Loomis Museum for updated information.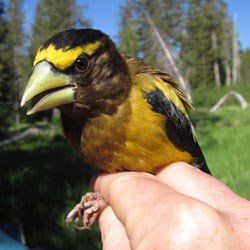 Public Bird Banding Demonstration
Please check back for dates in 2024.
Each year Lassen's natural resource team uses nets to capture and band migratory birds. This monitoring provides information on population abundance and health. Join us for a public bird banding demonstration. Meet a ranger at the Manzanita Lake boat ramp area at one of the times list above for a five minute walk to the banding site. Don't forget your camera!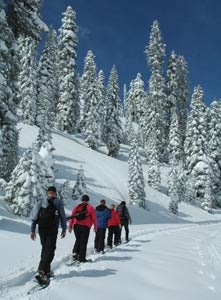 Ranger-led Snowshoe Hikes
Snowshoe walks will be offered at the Kohm Yah-mah-nee Visitor Center January 7th through March 26*.
Due to the abundance of snowpack, programs are extended through April 29, 2023.
Join a ranger-led snowshoe hike and explore the wild and wintry red fir forest environment off-trail. First, a ranger will demonstrate how to put on your snowshoes and how to move safely on the snow. Once basic techniques are covered, the group will head out into the snow and the adventure begins! Ranger-led snowshoe hikes cover one to two miles of moderately strenuous terrain, and they don't follow a trail. The exact route can vary with snow and weather conditions. There are no ranger-led programs offered at the park's northwest entrance (accessible from Hwy 44).

Where: Meet at the Kohm Yah-mah-nee Visitor Center, located at the Southwest Entrance via Hwy 36.

When: Saturdays and Sundays. Hikes begin promptly at 1:30 pm and are approximately two hours long. Since the hikes do not follow a distinct route or visible trail, we are not able to accommodate late-comers. Please Note: Hikes may be canceled at the last minute due to extreme weather conditions. Please feel free to call (530) 595-4480 ahead to check on conditions or you can check current conditions.

How to Participate: A free ticket* is required to participate. You can pick-up a free ticket the day of the hike at the information desk inside the Kohm Yah-mah-nee Visitor Center. We do not take reservations in advance or hold spots. Tickets are offered on a first-come, first-served basis, beginning at 9 am on the day of the hike. Space is limited. Sometimes weekends can be busy and snowshoe hikes fill, especially if it's a holiday weekend. If you're concerned about getting a spot, we recommend arriving before 11 am to secure a free ticket.

What is Provided: Snowshoes are provided only for the ranger-led activity; the park does not rent snowshoes or other winter equipment. Donations are welcome and support snowshoe maintenance.

What to Bring: Appropriate clothing and footwear is recommended such as; water-resistant hiking boots or snow boots, layered clothing and water or wind resistant outerlayer, hats, gloves and sunglasses.

Who Can Participate: Snowshoe hikes are open to individuals eight years of age and older; children in carriers are not allowed due to safety concerns.
Organized groups (such as church groups, Scout groups, hiking clubs, etc.) of 10 or more will not be accomodated on the public walks due to limited space. We cannot schedule a seperate tour in 2022- 2023 for organized groups due to staffing shortages.
Winter Ecology Snowshoe Program
Lassen's Education Program offers ranger-led snowshoe walks and winter ecology programs for school groups grades 3 through 8. Programs are by reservation only. Please visit our Field Trips page for more information.


Last updated: September 17, 2023