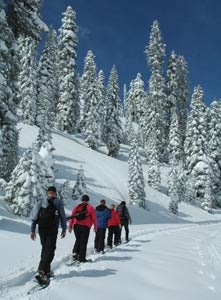 Ranger-led Snowshoe Walks
Saturdays and Sundays January 5 through March 31, 2019
Kohm Yah-mah-nee Visitor Center | 1:30 - 3:30 pm
Ranger-led snowshoe walks are an excellent way to learn or practice snowshoeing techniques and explore Lassen in its winter form. The walks cover one to two miles of moderately strenuous terrain. They don't follow a trail—the hike is an off-trail exploration through the forests near the Visitor Center. At the beginning of each snowshoe walk, a ranger will demonstrate how to put on snowshoes and how to move around. Once the basic techniques are covered, the group heads out into the snow and the adventure begins!

Please Note: Walks may be cancelled at the last minute due to extreme weather conditions. Please feel free to call (530) 595-4480 ahead to check on conditions.


Location is at the park's Southwest Entrance off of Hwy 36.
There are no ranger-led walks at the park's Northwest Entrance.
Snowshoes are provided, a $1 donation is requested to cover maintenance costs.
Organized groups or groups larger than 10 planning on attending a regularly scheduled walk must schedule a ranger-led snowshoe walk outside of regularly scheduled walks.
Space is limited; obtain a free ticket at the front desk the day of.
Walks are open to those eight years of age and older; children in carriers are not allowed due to safety concerns.
Appropriate clothing and footwear is recommended such as; water-resistant hiking boots or snow boots, layered clothing and water or wind resistant outerlayer, hats, gloves and sunglasses.
Snowshoes are only provided for the ranger-led activity; the park does not rent snowshoes or other winter equipment.
Winter Ecology Snowshoe Program
Lassen's Education Program offers ranger-led snowshoe walks and winter ecology programs for school groups grades 3 through 8. Programs are by reservation only. Please visit our Field Trips page for more information.