Hiking Lassen Peak Trail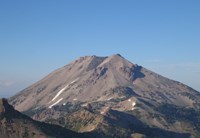 Start: Lassen Peak parking area
Round Trip Distance: 5 miles
Round Trip Time: 3-5 hours
Terrain: steep 2000 foot elevation gain
Elevation: 8500 feet at trailhead, 10,457 feet at summit
The Trail: The trail to the top of Lassen Peak begins at the peak parking area at an elevation of 8500 feet. The popular trail is 2.5 miles one-way to the summit. There are many fantastic vistas of the park and surrounding areas from the trail (see picture gallery below). The summit provides one of the most spectacular views of the Devastated Area, a view from the top looking down (see picture in gallery below). This view is the best vantage point to contemplate the power of the 1914-17 eruptions. The lingering rotten-egg smell of hydrogen sulfide near the summit reminds visitors that Lassen is still considered an active, but dormant, volcano.
There are many switchbacks and the trail can be steep and rocky at times. Hiking boots are recommended. Round-trip takes 3 to 5 hours.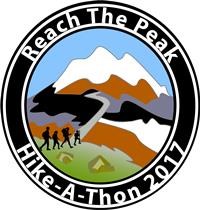 Reach the Peak Hike-a-Thon
August 11, 2018 | Lassen Peak Trail | 8 am - 4 pm
Participants in the second annual Reach the Peak Hike-a-Thon will hike the Lassen Peak Trail to raise money for youth camping programs. This fundraiser is organized by the Lassen Park Foundation, which provides a fueling station at the trailhead with water and snacks to take with you on the trail (there will not be aid stations along the route). Please bring a water bottle or hydration pack to reduce disposable bottle waste. Kids under 12 are free! Learn more or register here.
Reach the Peak Trail Restoration Project
The multi-year project to restore and rehabilitate the Lassen Peak Trail was completed in October, 2014. Learn more about the Reach the Peak Project.


Last updated: October 4, 2018