National Public Lands Day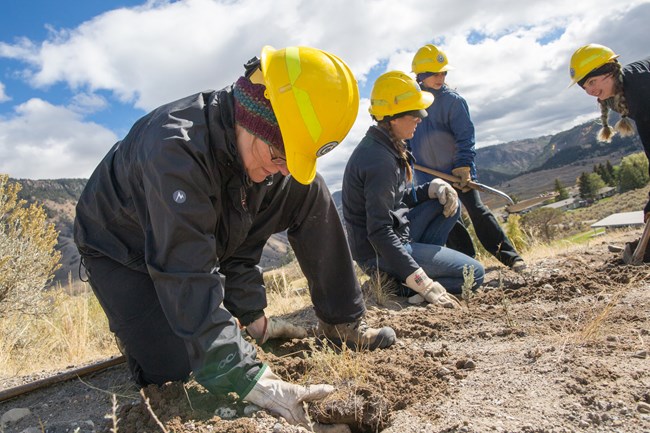 Established in 1994 and held annually on the fourth Saturday in September, National Public Lands Day is the nation's largest single-day volunteer effort. It celebrates the connection between people and green space in their community, inspires environmental stewardship, and encourages use of open space for education, recreation, and general health.

There are many ways to participate in National Public Lands Day.
Take part in a volunteer work project. If you volunteer on this day, you will receive a fee-free day coupon to be used on a future date. See the list of National Public Lands Day events below or check out all volunteer events.
Share your favorite outdoor activity on social media channels with the hashtag #NPSVolunteer, #FindYourPark, and #NPLD!
National Public Lands Day is organized annually by the National Environmental Education Foundation, in cooperation with Department of the Interior, Department of the Army, and Department of Agriculture. The National Park Service is one of the event's largest providers of sites and volunteers. Other participating federal agencies include the US Fish and Wildlife Service, Bureau of Land Management, Bureau of Reclamation, US Forest Service, and US Army Corps of Engineers.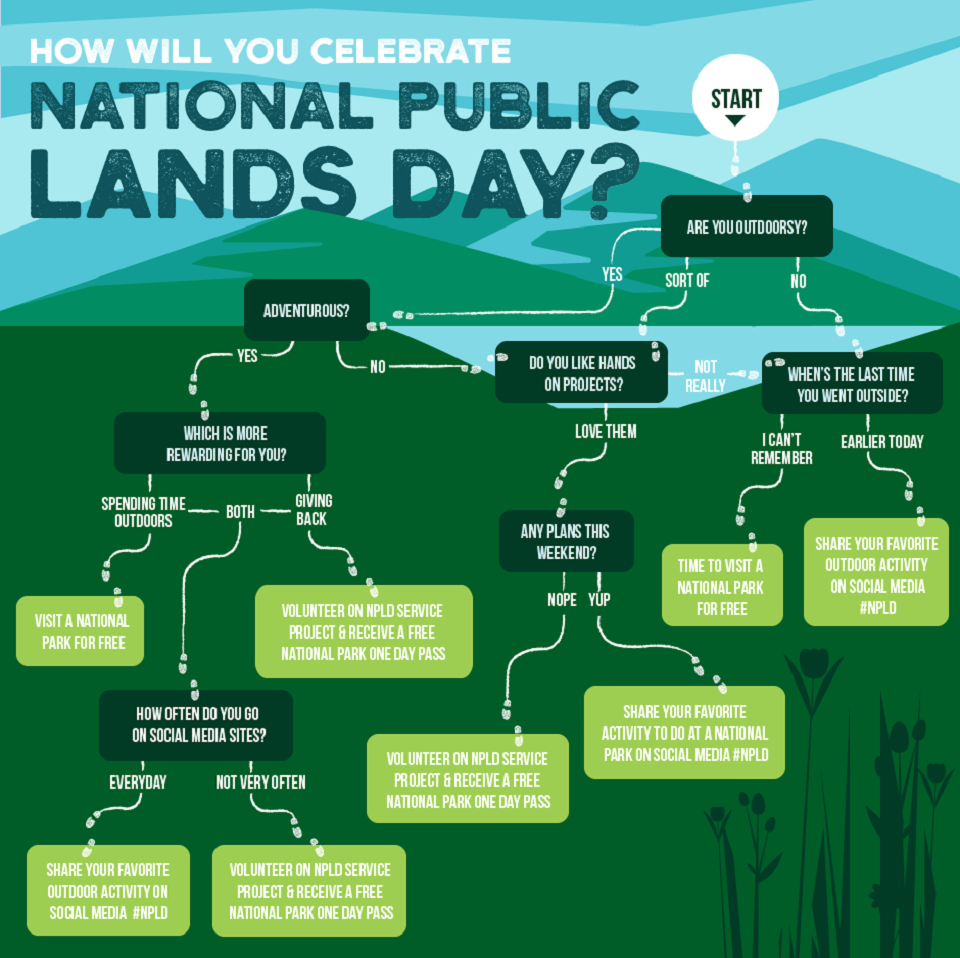 Events
Volunteer your time at one of the event listed below. To see what's available, select the month of September on the calendar.
Search Filters
By Park
By State/Territory
By Event Type
---
Text Alternative for the National Public Lands Day Infographic
Title : "HOW WILL YOU CELEBRATE NATIONAL PUBLIC LANDS DAY?"
Top of chart begins with: "START" to "ARE YOU OUTDOORSY?"
If "YES", then "ADVENTUROUS?"

If "YES", then "WHICH IS MORE REWARDING FOR YOU?"

If "SPENDING TIME OUTDOORS", then "VISIT A NATIONAL PARK FOR FREE"
If "GIVING BACK", then "VOLUNTEER ON NPLD SERVICE PROJECT & RECEIVE A FREE NATIONAL PARK ONE DAY PASS"
If "BOTH", then "HOW OFTEN DO YOU GO ON SOCIAL MEDIA SITES?"

If "EVERYDAY", then "SHARE YOUR FAVORITE OUTDOOR ACTIVITY ON SOCIAL MEDIA #NPLD"
If "NOT VERY OFTEN", then ""VOLUNTEER ON NPLD SERVICE PROJECT & RECEIVE A FREE NATIONAL PARK ONE DAY PASS"

If "NO", then "DO YOU LIKE HANDS ON PROJECTS?"

If "LOVE THEM", then 'ANY PLANS FOR THE WEEKEND"

If "NOPE", then "VOLUNTEER ON NPLD SERVICE PROJECT & RECEIVE A FREE NATIONAL PARK ONE DAY PASS"
If "YUP", then "SHARE YOUR FAVORITE ACTIVITY TO DO AT A NATIONAL PARK ON SOCIAL MEDIA #NPLD"

If "NOT REALLY", then "WHEN'S THE LAST TIME YOU WENT OUTSIDE?"

If "I CAN'T REMEMBER", then "TIME TO VISIT A NATIONAL PARK FOR FREE"
If "EARLIER TODAY", then "SHARE YOUR FAVORITE OUTDOOR ACTIVITY ON SOCIAL MEDIA #NPLD"

If "SORT OF", then "DO YOU LIKE HANDS ON PROJECTS?"

If "NO", then "DO YOU LIKE HANDS ON PROJECTS?"

If "LOVE THEM", then 'ANY PLANS FOR THE WEEKEND"

If "NOPE", THEN "VOLUNTEER ON NPLD SERVICE PROJECT & RECEIVE A FREE NATIONAL PARK ONE DAY PASS"
If "YUP", then "SHARE YOUR FAVORITE ACTIVITY TO DO AT A NATIONAL PARK ON SOCIAL MEDIA #NPLD"

If "NOT REALLY", then "WHEN'S THE LAST TIME YOU WENT OUTSIDE?"

If "I CAN'T REMEMBER", then "TIME TO VISIT A NATIONAL PARK FOR FREE"
If "EARLIER TODAY", then "SHARE YOUR FAVORITE OUTDOOR ACTIVITY ON SOCIAL MEDIA #NPLD"

If "NO", then "WHEN'S THE LAST TIME YOU WENT OUTSIDE?"

If "I CAN'T REMEMBER", then "TIME TO VISIT A NATIONAL PARK FOR FREE"
If "EARLIER TODAY", then "SHARE YOUR FAVORITE OUTDOOR ACTIVITY ON SOCIAL MEDIA #NPLD"
Last updated: August 13, 2019