Dena'ina Athabascan Culture
"Our culture has all the tool passed on from our ancestors: we are meteorologists, diplomats, artists, architects, linguists, botanists, biologists, midwives, and astronomers. The essence of being Native is ingenuity and creativity."

—Dena'ina Steering Committee quote from "Dena'ina Ełnena, A Celebration," page 32.
Visit our keyboard shortcuts docs for details
Duration:

12 minutes, 1 second
Traditional ecological knowledge gained over generations has helped the Dena'ina people come to know this area in a way that few others ever will. Learn how western and native science understand the brown bears of Lake Clark.
"They used to tell us how to take care of the animals,
bones and stuff like that.
Even the trees, we didn't knock down trees for nothing,
if we did we limbed it right to the end
and pile the boughs, not scatter it all over the woods.
This is so it's not wasted.
Anything that's alive,
we see leaves growing, same with trees,
anything alive need to be treated with respect.
A tree is like a person,
when it gets old it falls down, bends over,
just like a person, when they get old,
then they're gone.
That's why you got to treat the things that are growing
with respect."
–Agnes Cusma

More to explore:
Visit our keyboard shortcuts docs for details
Duration:

18 minutes, 39 seconds
Quk' Taz'un, 'The Sun Is Rising', is a Dena'ina outdoor learning camp that encourages youth to engage with Dena'ina history and culture. The Dena'ina people have called Qizhjeh Vena, also known as Lake Clark, home for thousands of years. The camp takes place near the ancestral site of Kijik or in Dena'ina - Qizhjeh- 'a place where people gather'. Through language classes, archeology, and traditional crafts, the camp passes cultural knowledge to future generations.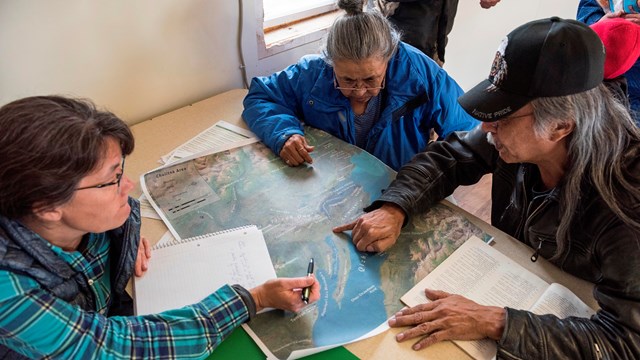 Sharing a Living Culture: Ethnography
Cultural anthropologists and historians identify, document, and interpret ethnographic resources and so much more.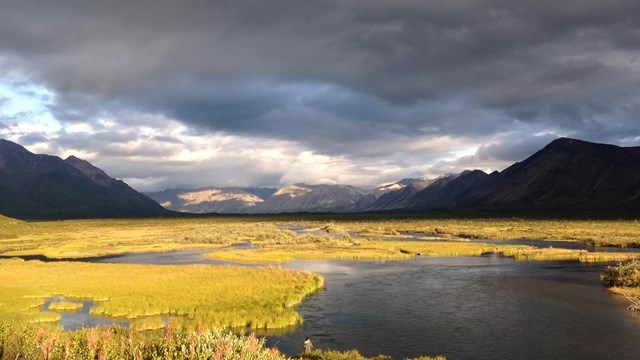 Meanings of Dena'ina Tinitun (Trails)
The cultural value of tinitun (trails) have deep, multilayered meanings and uses in inland Dena'ina tradition.
Dena'ina Stories, People and Places
Last updated: August 29, 2022