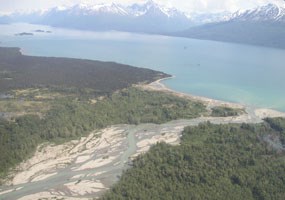 The Kijik area -- which includes Kijik Lake and the portion of the Kijik River that flows between the lake and Lake Clark -- holds great cultural importance. It is a National Historic Landmark and an Archeological District, one of only three areas in Alaska with both of these designations. Kijik is also considered a "documented cultural landscape."
Kijik National Historic Landmark contains more than a dozen archeological sites, including a village abandoned at the beginning of the 20th century. The sites are affiliated with the inland Dena'ina Athabascan people, who continue to live in the Lake Clark area.
The word Kijik is an English language spelling of Qizjeh, which roughly translates to "where people gather" in Dena'ina.